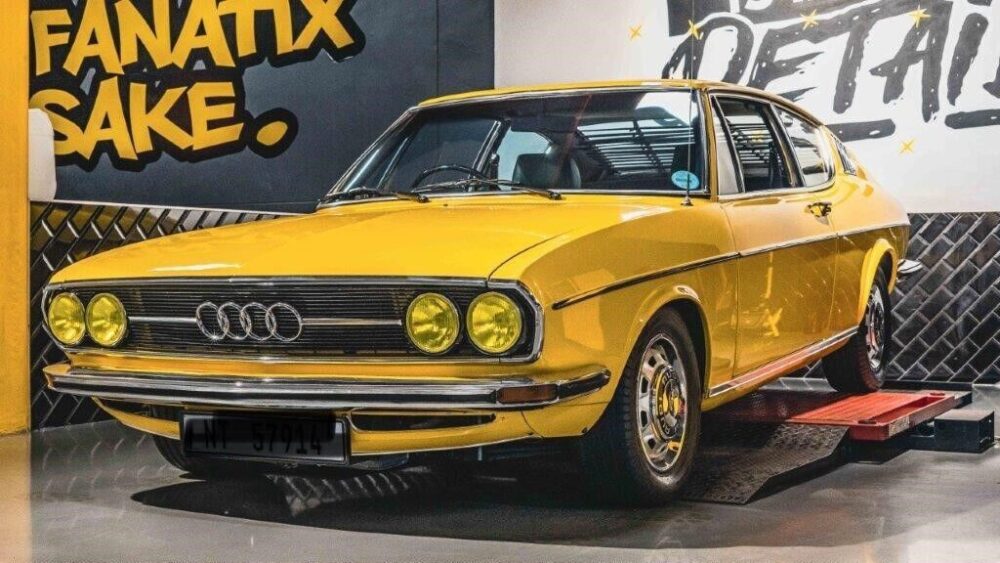 Were it not for the four rings on the front, it would be pretty easy to mistake the Audi 100 Coupé S for any number of other late 1960s to early 1970s GT cars. There's a loose resemblance to the the second-generation Mustang, for example, but a much stronger link to cars like the Datsun B210 and original Toyota Celica. Too pedestrian for you? How about the Fiat Dino, Jensen Interceptor, Ferrari 365 GTB/4 and Aston Martin DBS? Indeed, there were many coupes that shared the relative same profile in this era, though truth be told it's not likely that you'll mistake the Audi for a Ferrari once the curves beckon. Underneath, the Coupé S was, after all, a C1 Audi, not known to be the best drivers out there but good cars on the highway. With only 113 horsepower on tap, even with the 4-speed manual you won't win any drag races. However, it's a sharp-looking and rarely seen classic, with only a handful in the Western Hemisphere. That makes this Audi even more rare to see on these shores than a Sport Quattro, for argument's sake, if you chose to import it. Though it's not as desirable, there is nonetheless a fanbase that love these very pretty early Coupes:
1976 Audi 100 Coupé S for sale on eBay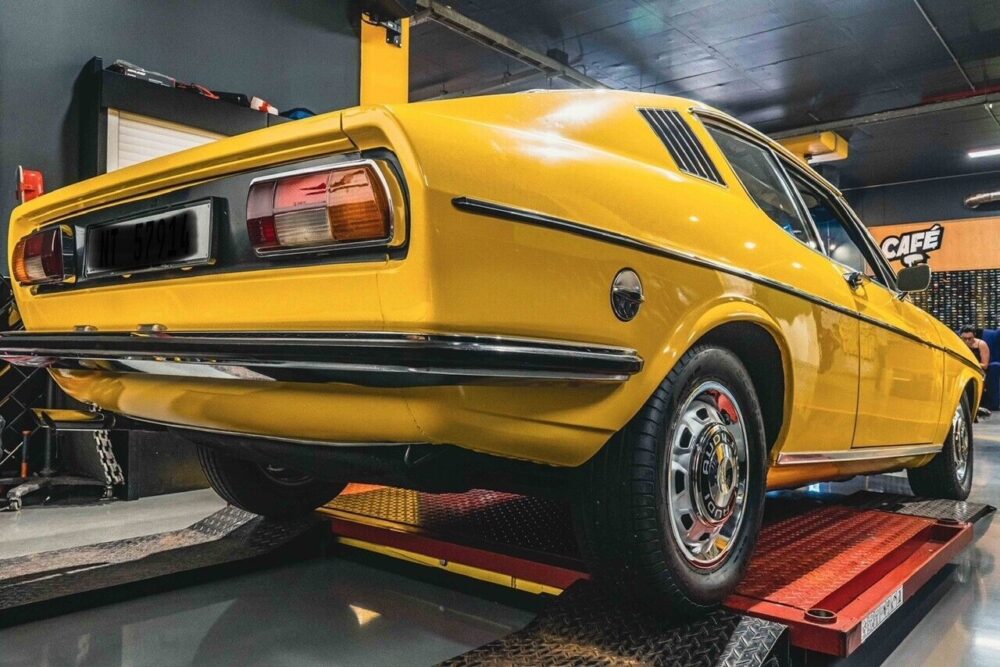 From the seller:
1976 AUDI 100 Coupe S For Sale | Ballito, South Africa

Key facts 

This vehicle is a 'largely' original example of the stylish and lesser seen but classic Coupe – still with relatively low mileage from new. 
It is powered by its original 1.9-litre inline-four, which is fed by a single carburettor and sends 112hp to the front wheels via a four-speed manual transmission system. 
The odometer displays just 123,127km – supported by the car's impressive, documented maintenance history. 
This 2 owner Audi 100 Coupe S comes with a complete mechanical overhaul, carried out by Auto 911 in Ballito, South Africa.  
The vehicle starts, drives and runs beautifully.

Equipment and Features

The paintwork of this Coupe S is finished in a fresh coat of Audi's select 'Vegas Yellow', while the cabin seating is trimmed in a suitable replacement green suede velour seat insert, accompanied with handsome, original wood inlays on the dashboard as well as on the door panels. All of the the original vinyl green on the seats and door panels throughout the vehicle have remained in place.
The vehicle rides on a set of refurbished 14-inch original steel wheels and a set of new Accelera tyres. All wheel caps are also present some with minor, yet mostly unnoticeable scratches. 
Suspension has been somewhat 'adjusted' in order to level the vehicle out – but is almost entirely still in its original form.
The cabin comes equipped with the standard fitment Rally Radio and a VDO time clock (currently not operational).  
The original owners' manuals and service book is included, along with a collection of other maintenance invoices and local SA motor show accolades, as acquired by the previous owner.  

Condition 

There has been no known bodywork damage and there is no reason to believe that there might have been.  
The Vegas Yellow paintwork is in very good condition – having benefited from some specialist localised repairs, and now only very  recently, presenting a few very minor rust blemishes on the bottom of the front doors. 
Some light scratches can be seen on the chrome body trim panels such as the bumpers and fuel filler cap. 
Inside, there are some small tears on the driver's vinyl-trimmed seat bolsters, as well as on the roof lining against the left rear window but which remains almost invisible to any occupants. 
The gear knob is a replacement – keeping with the car's age and use. 
No electrical issues have been detected, and there are currently no other mechanical faults known of. 

There's something about this Audi 100 Coupé S

Probably the least known, and certainly one of the most beautiful classic coupes, the Coupé S is the model that influenced the design of the modern Audi. This 1976 Audi 100 Coupé S has only had two owners since new and has been stored in a garage and protected from sunlight and is such, still in very good condition. As per above, it is powered with a 1.9. L engine producing a maximum power of 112hp with an estimated top speed of approximately 185 km/h. It is finished in the topical Audi Vegas Yellow that further accentuate and capture the Coupe lines and the modern-day timelessness of the vehicle – albeit resembling a modern-day colour of sorts. Since the Coupe S was a low-production model that was usable, affordable, and very attractive, examples in such a preserved state are quite rare to find. 

Short History of the Audi Coupé S

The Audi 100 Coupé S is a sports fastback coupe GT developed by Audi under its VW group ownership. The car was first presented at the Frankfurt Motor Show in 1969 and put into production shortly thereafter.

Originally, only 30.787 units were produced.

This vehicle is a special one. Own it.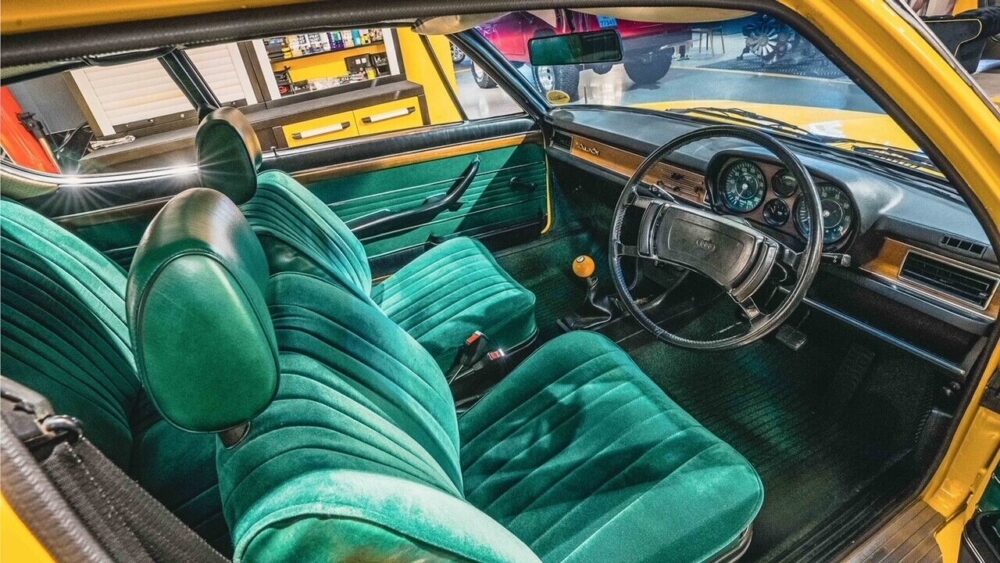 Check out that green interior!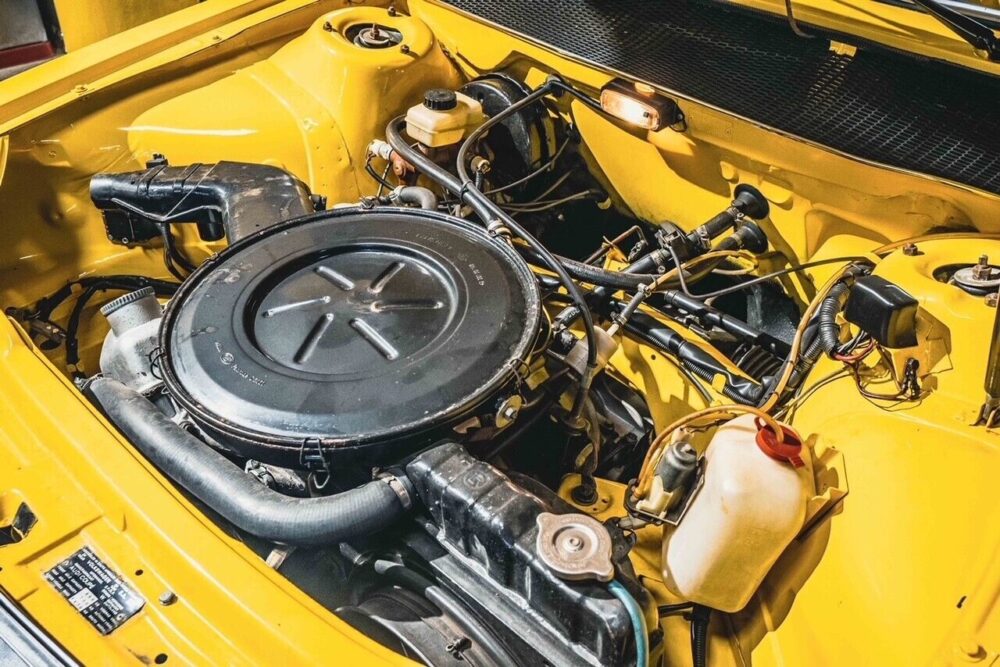 Lots of space in here for a more potent engine! I bet a 7A would fit in here perfectly!
The seller is asking about 1/2 the price of the GT Dan just wrote up; for me, the problem is that I'd probably rather get something like a Ford Galaxie 500 for around the same money.
-Carter