The late 1970s was a about the halfway point for the R107 Mercedes-Benz SL. Here in the US, the only SL on offer was the 450SL, powered by the 4.5 liter V8 producing 222 horsepower. This engine was teamed exclusively with a 4 speed automatic in the US market. If, however, you lived in other parts of the world, you could order the 182 horsepower, 2.8 liter twin cam inline six and even opt for a manual transmission with four or five gears. In the case of our feature car, it has the desirable combination of the 2.8 liter six with the five speed manual transmission.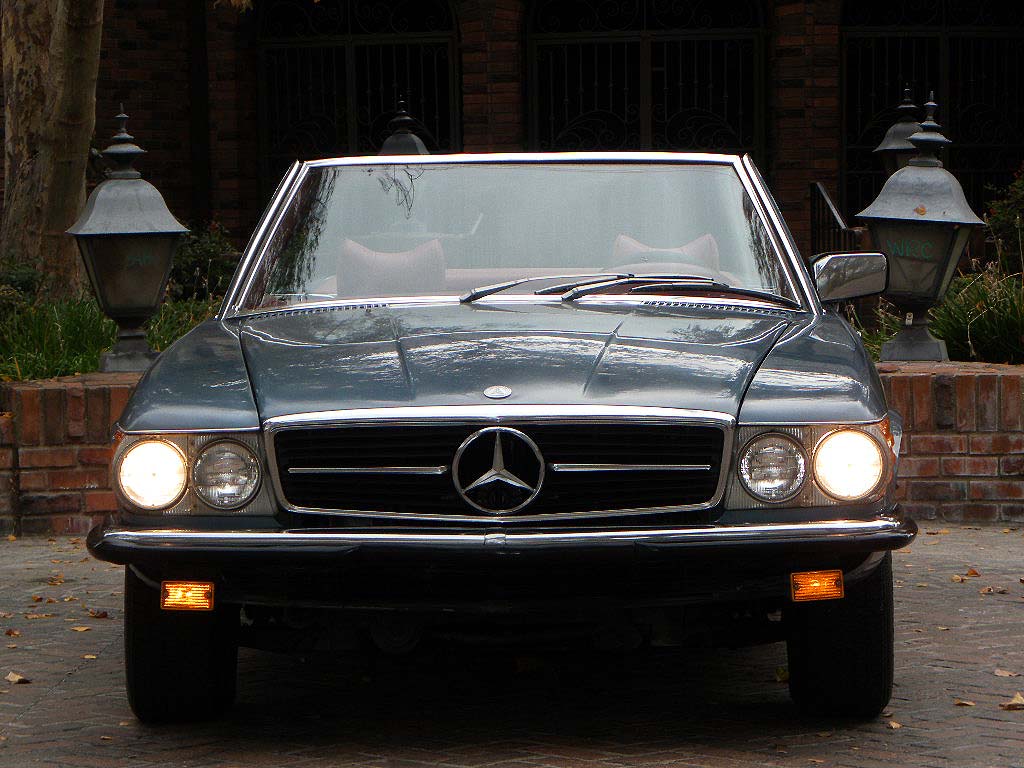 A Mercedes SL with a 5 speed transmission? A rare car in the USA, because it was never directly imported by the Mercedes-Benz factory, but rare even in the home markets, with 1347 produced in 1977. This car was privately imported early in life to California, so has NO RUST and no evidence of accident history. We purchased the car some time ago, with a previous history of a long term owner. We bring our favorite Mercedes-Benz cars right away to a Mercedes-Benz Factory trained technician, for a thorough inspection and repair program.

The car runs great!! The low total mileage of 115,031 represents a large amount of remaining use. Driving feel is fantastic: maneuverable, tight, responsive are all words that come to mind. Most W107 SL cars were produced with V-8 engines, mostly to satisfy the US market. The MUCH lighter twin cam six cylinder engine coupled with a 5 speed transmission gives a completely different feel. The high output engine has a definite growl and the manual transmission is a perfect match. Also, as a technical note: automatic transmissions absorb approximately 35 horsepower, where a manual transmission absorbs only 8 -10 horsepower. It makes for a better feel when the engine starts out with 185 horsepower.

While going over the car, we check over and service the brake system, cooling system, all fluids, electrical systems etc. We are happy to report that all systems are go, only needing basic operations to bring them up to date. As usual, the electrical systems on 107 Mercedes-Benz cars are quite trouble free, and this car has all working gauges, lights horns etc. Air conditioning and heating systems have been serviced and are operating properly. Water temperature and oil pressure all operate at proper levels, as befitting a low mileage car.

Chrome fittings are in excellent condition, including grille, bumpers handles and body trim. Lenses and lights all operate properly, and look great. The no-rust body and chassis is very straight and original, complemented by the blue metallic paint color. We do a polish operation on all of our cars, to bring up a fresh shine, and while the paint is presentable, there are a few chips and nicks etc, as well as varying levels of paint shine quality over the totality of the body panels. Overall, the paint is in good condition.

The red interior of this car is in excellent condition, and also very outstanding visually. All the chrome trims on the sides of the seats are intact, which is a bit rare. Carpets and dash trim look great with only a few cracks on the top of the dash pad (see photos). Also, there is a matching body color hardtop included in the sale, in excellent condition. Please note: the convertible top canvas is not present. The top frame work is stowed under the metal boot lid.

In summary, this is probably the best specification W107 SL to buy, and this car in specific is a recommended buy. It is such a different feel than a regular V-8 / automatic car, the difference is night and day, as well as a great color combination.
Blue metallic teamed with a red interior is a combination not often seen on the R107. The slimmer Euro bumpers also lend a more lithe look to this roadster than the heavy crash bumpers mandated by the US government. The only thing I'd change to finish off the package would be to add the flush fitting Euro headlights. Values of R107s have been rising across the board, as enthusiasts begin to recognize the strengths of the series. This is a nicely kept example for someone who wants a little more sporting of a drive. If this SL could be had for between $12,000 to $15,000, it would be well bought.
-Paul