I'm not a fan of large vans and trucks. While they are good for some things, I don't foresee the day when I'll be needing that much space or hauling capacity, given my hobbies. If I did, however, I'd want to be creative about it. This is where the Eurovan comes in. I've seen less and less of these vans on the road as the years pass and was surprised that Volkswagen had the audacity to replace this workhorse, known as the Transporter in other markets, with a rebadged version of the Dodge Caravan. Unfortunately, most of the US market is too unaware to notice.
While not as legendary as the Vanagon that preceded it, the Eurovan initially came to the US in 1992 as a 1993 model with a 2.5 liter five cylinder engine that produced an unimpressive 108 horsepower. Volkswagen sold the Eurovan for one year before pulling it from the lineup. The Eurovan was reintroduced to the US market in 1999 and the second time around it packed a more potent version of the 2.8 VR6, putting out 201 horsepower. They stopped importing the Eurovan in 2003 and sadly, the traditional big VW box van has yet to be seen stateside once again. Here is a relatively well kept example of the MV trim level, with rear facing seats, table and rear bench that converts into a bed.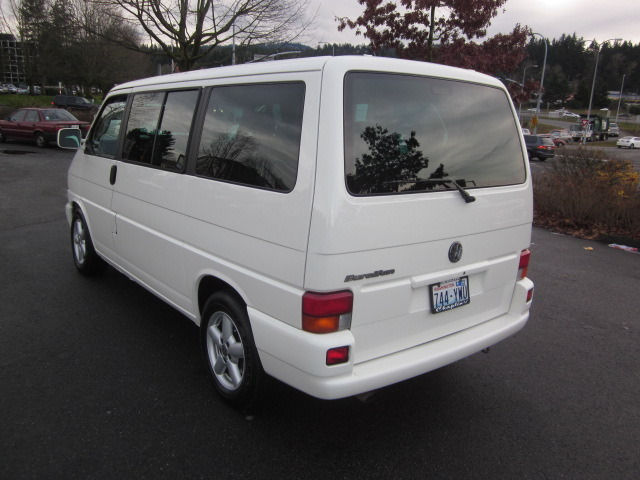 2001 Volkswagen Eurovan MV, 70,428 miles. VIN #WV2MB47021H129757

SAFETY FEATURES: Dual airbags, ABS, Traction Control, Child Safety Door Locks
EXTERIOR FEATURES: Alloy Wheels
INTERIOR FEATURES: Power Windows, Power door locks, heated seats, cruise control, tilt steering wheel, AM/FM Cassette, AC
MECHANICAL FEATURES: Full Size Spare Tire
Yet again, another underwhelming dealer description, but looking at a few of the Eurovans currently on the market, this seems to be a good combination of price, mileage and condition. The price is a few grand optimistic. On a good day, you may get close to $10,000 for such a Eurovan. When I owned two GTIs about ten years ago, I remember seeing a few of these around the dealer lot when they were new. They usually would only have one or two sitting around at any given time, and maybe one in the showroom. I was impressed with it's build quality; the doors had a nice Geländewagen "thunk" to them. In time, I'm sure these vans, especially with the VR6 engine, will become more appreciated. They are certainly practical and a good option for the family man who dares to be different.
-Paul