This is the first of four black W126 AMG cars on sale now in a range of prices. Take your pick.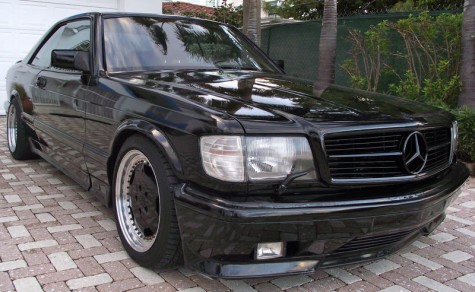 This first one is a Euro spec car sporting only 32,000 miles. The car looks to be a stage 2 AMG model with cosmetic and suspension work. The AMG kit and wheels along with the sleekness of the Euro headlights and body really make this a nice looker. The car includes the taller trunk spoiler, which you don't always see on AMG cars, more commonly just seeing the shorter lip spoiler. Perhaps this is not an AMG part, but that would seem odd.
This being a later model W126 it has some refinements that the earlier models didn't have inside. This one has an AMG steering wheel and also has a modern radio.It also still retains the 300 kph AMG speedo.
This car looks great, shiny paint, clean interior. The chrome has all been blacked out, black rims, and even blacked out emblems complete the murdered look. Clear corner lenses also help the look.  This is a car for more than just a casual Benz enthusiast, but one who wants a truly nice original specimen. The 300 horsepower engine will provide for easy highway cruising though if the car was pressed into daily service.
The car is up with no reserve and has bids up to $13,000. The low miles, no reserve, and this being the big 5.6 liter engine make for a good buying opportunity. There aren't too many left out there in this shape, expect a premium for sure. With high mile run of the mill W126 coupes trading hands for less than $5,000 you can expect to see close to 4x that for this one. If you prefer the widebody version of this car there is a nearly identical one in that flavor for sale now too which I'll post up as well.
~Evan