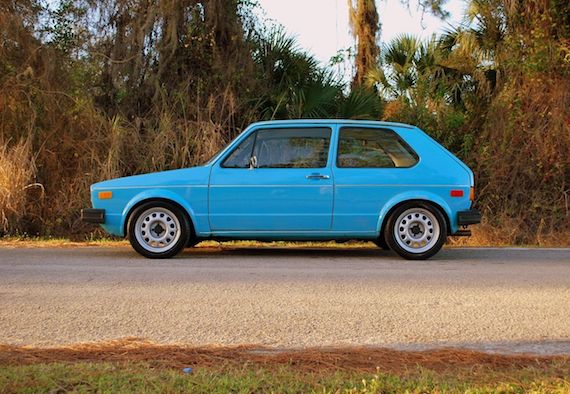 It's a good week for Mk1 Volkswagen Rabbits. After featuring a remarkably well kept 1982 Rabbit L Diesel from a reader yesterday, here we have this 1977 Rabbit with a 24V VR6 swap. I remain firm in my assessment that the VR6 engine is one of the best engines of the last three decades. I've driven a few later model Volkswagens with this lump under the hood and the smooth power and awesome sound is enough to hook you every time. A VR6 swap into what we would now consider vintage VWs is nothing new, but contemplating just how fast a lightweight car like the Mk1 Rabbit would be boggles the mind.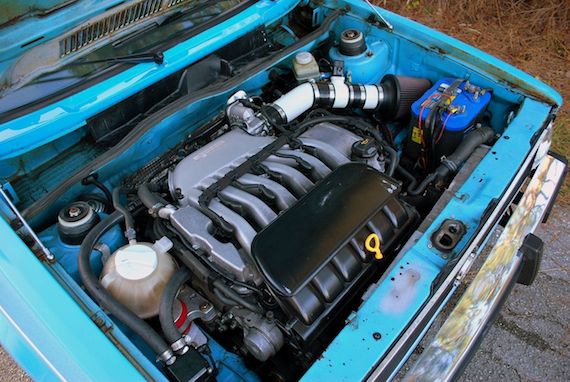 Year: 1977
Model: Rabbit VR6 24v swap
Engine: 2.8 liter VR6
Transmission: 5-speed manual
Mileage: 36,100 mi
Price: No reserve auction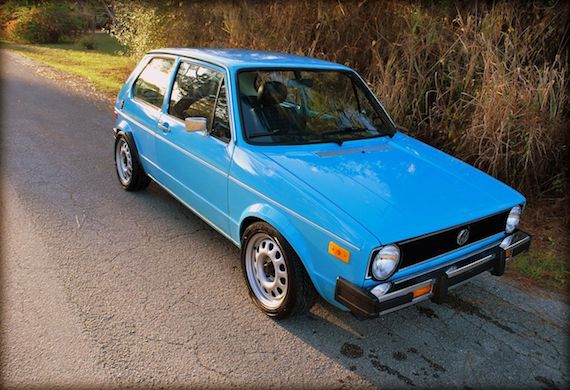 Up for sale is my Miami Blue 1977 Volkswagen Rabbit 24v VR6. While that should be enough to have you interested, here are the details:

I purchased this car locally a few months ago. Don't be scared. The previous owner was in a jam and had to unload the car quickly in order to purchase a new truck for work. I jumped at the opportunity simply because I wanted to drive it! If you're reading this you're probably like me…I've owned and driven numerous A1 cars, but never one with a 24v VR6! According to the previous owner all it needed a brake master cylinder. So, I towed it home. In reality it ended up needing a brake master cylinder, a brake line, a coil pack, and tires, but otherwise I was overly happy and I had a 24v Rabbit! I also fitted it with new Corrado steel wheels, new tires, Genuine VW center caps, and high-speed polished the paint. Other than that, I've taken it to a couple shows and enjoyed it on weekends.

As was my plan when I originally bought the car, I've decided to sell it and pass on this absolute bundle of fun to a new owner. This car is mechanically flawless and has a unique look with the Miami Blue paint and the right amount of patina. The car is quick, sounds great, and turns heads everywhere!

Here are the details from the previous owner, and upon my visual inspection, and inspection of the records, found to be true and accurate:

– 2.8L 24v VR6 100% rebuilt in April of 2013 by Engine Lab in Tampa, FL. After a year or so of ownership, the engine spun a main bearing and was COMPLETELY rebuilt and several upgrades added. Receipts for over $4,000 worth of work!!!

Short List:

– Unitronic IBM defeat and Stage 1 flash (230hp)

– Custom CAI with 3″ MAF housing

– SAI delete

– Working OBD2 port

– Billet catch can

– Short. Shifter

– 42DD "crack pipe"

– 42DD billet/Polly Passenger side MKIV motor mount

– 2.5″ cat-less exhaust…….sounds simply mean

– NLS muffler

– Billet hood struts

– External hood release

– PS & AC Deleted

– MKV .:R32 high volume oil pump

– Shorty .:R32 oil pan

– Rokkor Coilovers

– Extended early front strut mounts

– Dual-drilled hubs——4×100 & 5×100

EXTERIOR: Some minor rust in the rear arches, surface rust on the roof, and a small area under the river side foot are that could be addressed. The hatch looks great on the outside, but also has some rust. I would replace it before choosing to do paintwork. You could respray the car or enjoy its beautiful patina.

INTERIOR: VERY good condition, 100% original. No tears and very clean. It does have some cracking in the dash which has been covered by a dash cap.

I'm willing to assist the buyer with shipping arrangements. For international buyers, I can deliver the car to the Florida shipping port of your choice for a reasonable fee.

If you have additional questions, or would like to view the car in the Tampa, FL area prior to bidding, please message, email, or call me to discuss. Good Luck and Happy Bidding!

-Patrick

Phone: (eight one three) 956-3183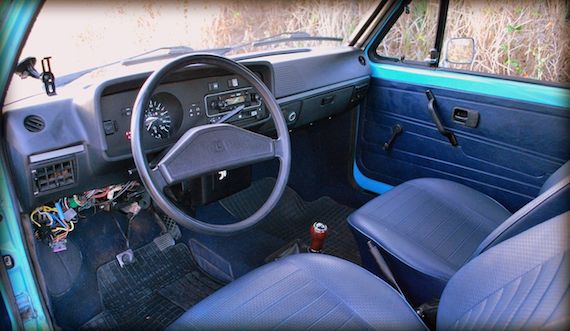 I like everything about this swap. I've always been a fan of the steel rims on this particular car and it gives just enough of a hint that this isn't your ordinary Rabbit. The color and original interior are nice but it appears there's a bit of an issue under the dash with the wires hanging down. That would certainly need to be addressed. Given where Mk1 prices are, a swap like will probably pull somewhere around the $8,000 mark if the right buyer comes along.
-Paul