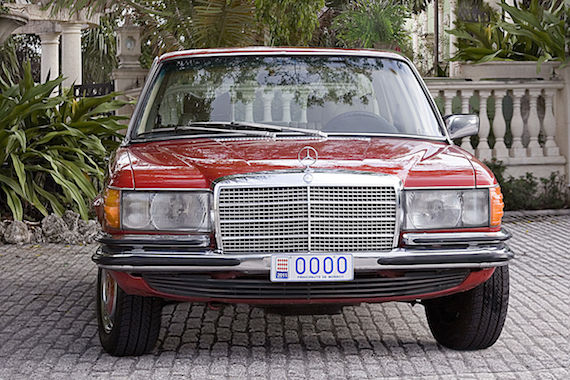 Base model luxury sedan. A contradiction in terms, no? But, as the old saying goes, the world needs ditch diggers, too. And so it goes with the Mercedes-Benz S class. One model is going to have to be labeled as the "entry-level" model, so to speak. In the 1970s, that would be the 280S, a W116 with a dual carb version of the M110 inline-6. While not sold on these shores, naturally a few found their way over here via private importers. This one for sale in Florida is an eye popping shade of Signal Red with matching hubcaps and sans sunroof that comes with an interesting history.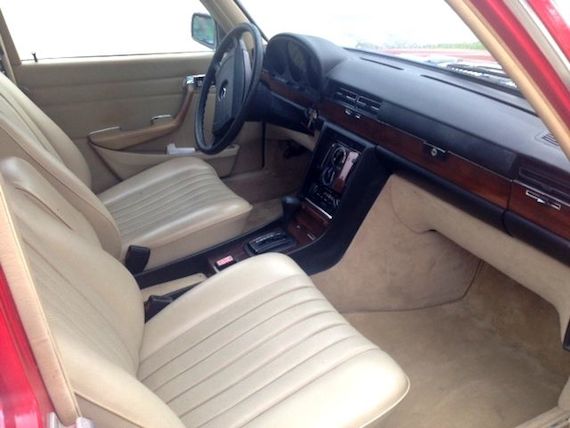 Year: 1979
Model: 280S
Engine: 2.8 liter inline-6
Transmission: 3-speed automatic
Mileage: 143,750 mi
Price: $10,900 Buy It Now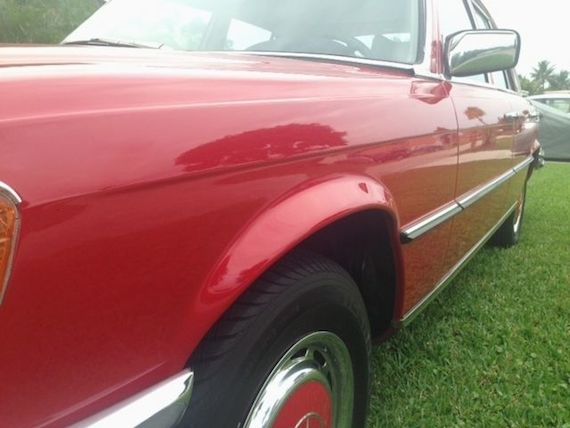 This beautiful 1979 Mercedes 280S is truly like going back in time. Unfortunately for this car, a place and time that wasn't pleasant for many people. It is a survivor in the sense that most of the 116 cars were used primarily as regular cars and were not treasured or taken care of like SL's. Most have long been scrapped due to rust issues, and were mostly used year round in hazardous climates (winter, salty, rainy conditions).

This S-Class, despite being top of the line in its day, has very few options. It has a double overhead cam inline 6 carburated engine. Known by most Mercedes experts to be one of the most durable and prettiest engines Mercedes every made. The engine runs smoothly and quiet. The transmission shifts tight and smooth, no lad time in reverse. The car starts easily every time and is as reliable as any car built today, if not more. The carbuerated engine makes this a simple car to run, however she is no speed demon.

The car is finished in Signal Red with a Parchment interior in MB-tex. There are no cracks on the dashboard, The seats are not sagging or worn out and the interior looks brand new. The carpets are perfect and the wood is beautiful with a deep dark luster. The car has manual air conditioning, which unlike the automatic climate control unit in US spec cars (which had an unreliable servo unit, impossible to repair hard to find and expensive to buy if you do find on). This simple and easy system with manual round dials for fan speed and temperature, blows ice cold and is very durable.

This car also has no sunroof, very rare on an S-class. Sunroofs are usually the place where rust starts, causing leaks, floor board rot, and eventually a trip to the scrap yard. This at the very least is problematic to fix and usually is cost prohibitive to repair. The car also has no power windows. Yet again less to go wrong. The car has rear headrests, no rear seat belts, and no right side mirror. All options you had to purchase separately when buying a car in Germany at that time.

This car has no US modifications whatsoever, no catalytic converter, no US bumpers, or US headlights. Speedometer is in Kilometers. The Euro lights and Euro bumpers make these 116 cars look very elegant.

The entire brake system has been replaced. The master cylinder, brake booster, calipers, rotors, pads, and hoses. The coolant, oil, and transmission fluids have been changed as well.

The car has no rust or never had. I had the car repainted in the original color, as red is a natural pigmant and a color that fades quickly as these were standard colors and not clear coated like metallic paint choices were. The rubber gaskets around both front and rear windows were replaced as they were dried out and brittle. Everything was stripped off the car when they painted it. The car had 35 year old paint on it and it needed to be freshened up. It has brand new Uniroyal tires as well. In addition, I have the original owners manual, and maintenance books.

Now for the interesting part. The previous owner, who I will not name, is unfortunately a sensitive subject to people who lived in that area at the time. There is no need to open past wounds unnecessarily. I will only give the new owner this information. The car ordered in Germany, to the owners specification and shipped to El Salvador, was delivered new to the Mercedes Dealership in San Salvador,in late 1979. Being one of the last 116 cars built. The last service entry was at the Mercedes dealership in San Salvador in March of 1981 with 1255 KM. The owners manual and service booklet are in Spanish. The wiring diagram, little bag of fuses and the original plastic booklet are intact as well. The Civil War that erupted in the early 1980's made it inevitable that the "highest" of Government officials, "others" and wealthy private citizens had to flee for their lives in exile, hence bringing their assets with them including this Mercedes. This car made it to Miami in 1982 and remained in Florida ever since. I purchased it after many months of negotiation and brought it back to Palm Beach for restoration. If you want more information on what happened there in that region google it yourself.

This car can be seen and driven in Palm Beach, FL. You may also speak with the mechanic that works on the car. Please call me with any questions. Michael 561.801.2668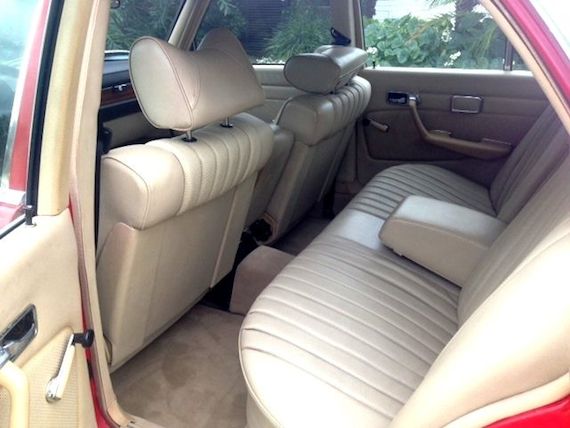 The W116 is an interesting Mercedes. It's gone rather unloved over the years and as a result, there are few good ones left out there, regardless of the model. This car is sort of a double edge sword. It's rare since it was never sold here but will it appeal to those who traditionally buy an S class, even if it is a classic version? With crank windows, no sunroof and a basic radio, it may be a tough sell for some. But, for those Mercedes enthusiasts who appreciate it for what it is, it might be worth every penny. And apparently it comes with an interesting backstory.
-Paul