After the W111 coupe faded into the sunset in the early 1970s, Mercedes-Benz decided to replace the S class coupe with a new coupe based not on the new W116 S class sedan, but the smaller R107 roadster. With a stretched wheelbase and rear quarter windows with their distinctive louvers, this car had a lower, sportier stance than its predecessor, but it was still every inch a Mercedes touring coupe. Just under 63,000 SLCs were produced over a nine year time span, during which time they campaigned a 500SLC and won the 3,300 mile Bandama Rally in the Ivory Coast in 1980. This would be the last rally car to be campaigned officially by Mercedes-Benz.
Today, the SLC is a bit lesser known when it comes to classic Mercedes-Benzes, not sharing the same popularity as its open roofed sibling, the SL. But this obscurity does make for a more affordable classic. This 450SLC for sale in Philadelphia is a good driver quality vehicle and still looks sharp in basic black.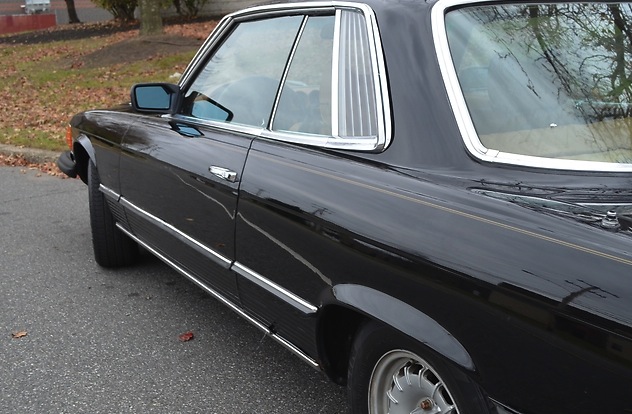 The mileage represented on this vehicle is accurate. This vehicle has a smooth shifting transmission. All power equipment is functioning properly. This is a smoke-free automobile. The engine on this vehicle is running properly. Overall, this vehicle's exterior is clean. The interior is clean and in good condition. There is 50% of tire life left on this auto.
This car looks fairly straight on the outside, but the mismatched interior is a glaring fault. It appears as if the front upholstery was replaced, leaving the worn out leather on the back bench. This prompts me to question where other shortcuts were made in the care and upkeep of this vehicle. If in fact the mileage is correct and mechanically it is sound, I'd say it might be worth taking a flyer on this car. The Buy it Now price is not terribly high, but with the bit of freshening up the interior needs, along with other cosmetic issues like the rear window lamination failing, an offer of somewhere between $5,000 to $6,000 would represent a decent buy.
-Paul