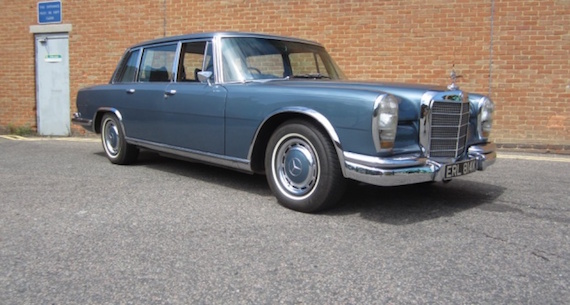 While we're probably all familiar with the legendary Mercedes-Benz 600, one little fact of which enthusiasts may be unaware is that these behemoths were produced all the way up until 1981. It's fairly amazing this über sedan that was introduced in 1963 outlasted the W116 S-class that was introduced in 1972 and lived on to see the birth of the W126 S-Class. In its time, this was quite possibly the best car money could buy, favored by dictators, celebrities and the well-to-do alike. The car wasn't just a pretty face, however. It was also a technical tour de force, with a SOHC 6.3 liter V8 under the hood, a hydraulic pressure system that powered everything from the windows to the self closing doors and trunk as well as adjustable air suspension. This right-hand drive example for sale in London is not only rather uncommon due to its late build date, but has a rather muted cloth interior in place of the usual leather we see in these limousines.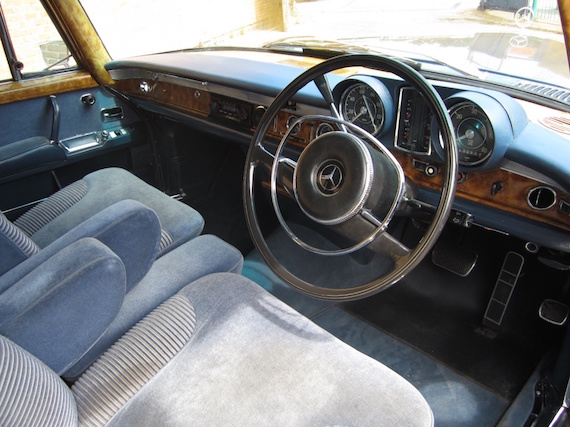 Year: 1978
Model: 600 SWB
Engine: 6.3 liter V8
Transmission: 4-speed automatic
Mileage: 49,310 mi
Price: $122,820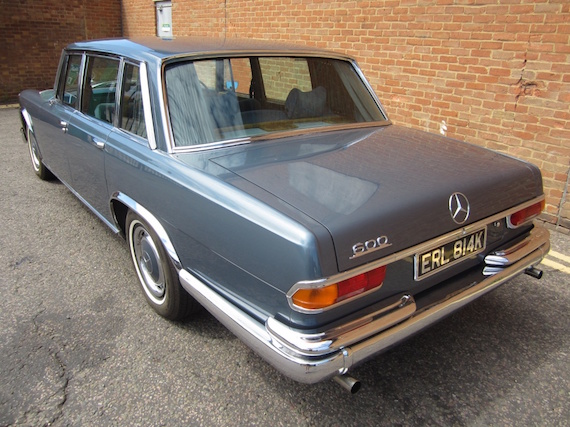 The Merecedes 600 needs no introduction at all, it was a beautiful yet imposing technological tour de force and for that reason, famous owners of the 600 have included the Pope and celebrities such as Coco Chanel, Hugh Hefner, Elizabeth Taylor, John Lennon, George Harrison, Karen Carpenter, Jay Kay, Aristotle Onassis, Jack Nicholson, Simon Spies, Ronnie Wood, Bob Jane, Frank Packer, Elvis Presley, Rowan Atkinson and Jeremy Clarkson.

Notable heads of state included Park Chung-hee, Josip Broz Tito, Nicolae Ceauşescu, Pol Pot, Enver Hoxha, Francois (Papa Doc) Duvalier, Leonid Brezhnev, Ferdinand Marcos (who owned four, including a Landaulet, a 1981 bulletproof and a six-door version.), [5] Kim Il-sung, Kim Jong-Il also owned a landaulet (both seen in the 65th anniversary parade in Pyongyang on October 10, 2010), and Sadaam Hussein, who owned a long roof landaulet that was recovered after the fall of Baghdad today owned by the Petersen Museum in Los Angeles.[6] Iranian Shah Mohammad Reza Pahlavi and the royal court owned multiple 600 models.[citation needed] Former Chinese Foreign Minister Chen Yi, Deng Xiaoping, wife of the first Chinese Premier Zhou Enlai – Deng Yingchao, and the former King of Cambodia Norodom Sihanouk, all used the 600.[7] The first Senegalese regime (1960–1980) under president Leopold Sedar Senghor had three 600s, a short wheel base, a long wheel base, and a Landaulet, later replaced by the W126 based Carat Limousine.[citation needed]

Religious leader Guru Maharaj Ji owned one, [citation needed] as did Colombian, drug dealer Pablo Escobar, a LWB six door 600. [citation needed] destroyed in an attack on Escobar in 1988 in Medellin. [citation needed]

In cinema the Mercedes 600 was featured in the James Bond films, most notably as transport of the villain Ernst Stavro Blofeld in On Her Majesty's Secret Service and Diamonds Are Forever. Kamal Khan is also seen leaving Sotheby's in a 600 in Octopussy. In television, a Mercedes Benz 600 limousine was used by fictional Channing/Gioberti family matriarch Angela Channing in the American television series Falcon Crest. Images of the car driving from San Francisco over the Golden Gate Bridge to the Falcon Crest vineyard were featured in the opening credits of the first four seasons. This particular example is finished in Steel Blue with Sumptuous Blue Velour, the mileage of 49000 miles is believed to be correct and the condition would certainly testify to this.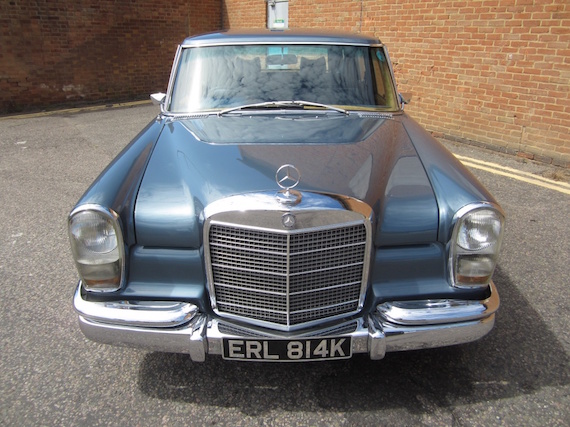 I'm not sure I've ever seen a used car ad with "citation needed" as a part of the text. If you couldn't find the source, I probably wouldn't have included it as part of the ad. Regardless, the price for this example is about on par with what you would expect to pay for a 600 SWB in this sort of condition with this kind of mileage. We saw a 1966 600 SWB with around 60,000 miles sell for $139,900 two years ago. That car had the rare divider option, so the premium was probably just about right in that case. These are very complex machines and it pays to buy one that is well sorted. This one in the UK looks the part and if it passes a thorough inspection, you can go play tyrant for a day.
-Paul