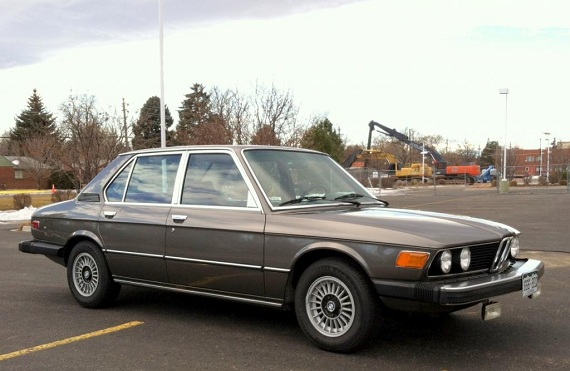 While the BMW faithful and converts have flocked to the E28 and E30 as the next collectable and drivable classics, nearly ignored in BMW history are the E21 and E12 predecessors; cars that both revolutionized the small luxury sport sedan market and set the stage for their more sought after replacements. If you're not in as much of a hurry and don't mind the more 70s, less 80s approach of the earlier cars, finding a clean example is a much cheaper proposition than the market stars that everyone is looking for. Truth be told, finding those clean examples – especially the E12 variety – can be difficult, but today there is a mint condition, lower mile 1979 528i example on Ebay: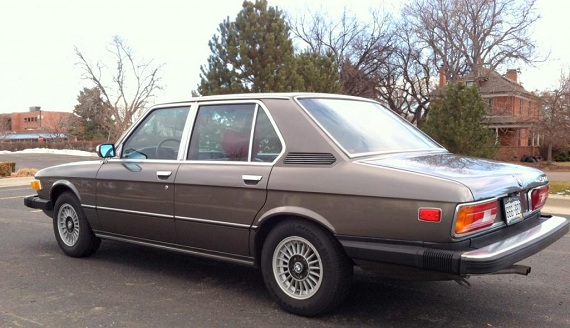 Year: 1979
Model: 528i
Engine: 2.8 liter inline-6
Transmission: 4-speed manual
Mileage: 63,845 mi
Price: Reserve Auction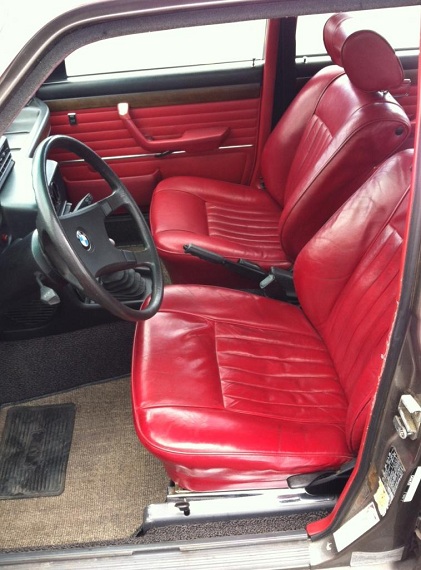 Up for auction: One 1979 BMW 528i E12 Sedan:

63,845 original miles
Anthracite Gray paint in very good condition
Red leather interior in very good condition
Good original carpet & BMW mats
Uncracked dash
Excellent glass all around
4 speed – runs & drives very well – professionally maintained
New battery
A/C seems to work well (though it is a bit hard to test in winter)
All lights/gauges/windows work well
New Alpine CD stereo with Rockford Fosgate rear speakers
New Firestone tires
Muffler fairly new
Clean trunk with original spare rim & tire, jack & full tool kit.
Clear CO title in my name

I am the third owner. A lifetime dry climate Colorado car. NO RUST. Original owner was a Denver doctor. Since his death, the car has been lovingly & sparingly driven by his widow, the 2nd owner and myself. You'll be hard pressed to find such a low mileage E12 in this condition and desirable color combination!

Included historical records: I have 2x manila folders full! Included are the original dealer window sticker (1979 price $19,992!), owners manuals, service manuals, warranty information, vintage brochure, and years of service receipts. Some of the earlier receipts have mileage, but later ones do not. However, considering this car's condition I have no reason to doubt the mileage. The original owner LOVED this car enough to keep copies of 1978 & 1979 Road & Track magazines with related E12 articles.

Noted flaws: The sunroof paint seems a bit more oxidized than the roof, but may buff out. Some of the window trim has aged brown and has been covered with foil tape. There is one driver's seat repair of what looks to be a tiny puncture or burn (pencil eraser size). BMW badges are not original.

E12 history & 1979 historical perspective: The E12 was made from 1972 to 1981, and was the first 5 series BMW built. This was a top luxury car, and I suspect quite a sign of success for the original owner. In 1979 the US economy was mired in a stagnant economy with double digit inflation ("stagflation") as well as an energy crisis due to war in the middle east. Also during this time period new emissions regulations were strangling automotive engine power output. The most powerful 5.7-liter V8 offered in the Chevrolet Camaro produced just 155 horses! The 528i's much smaller 2.8L six was rated at 169 hp, and Road & Track clocked a 528i accelerating from zero to 60 mph in just 8.2 seconds! Luxury, meet performance. 🙂

Note that this vintage 5 series is approximately the size or smaller than a current 3 series BMW.

This car's condition prompted an E12 BMW enthusiast to call it a "time capsule."

Thanks for looking. I hope that you'll bid!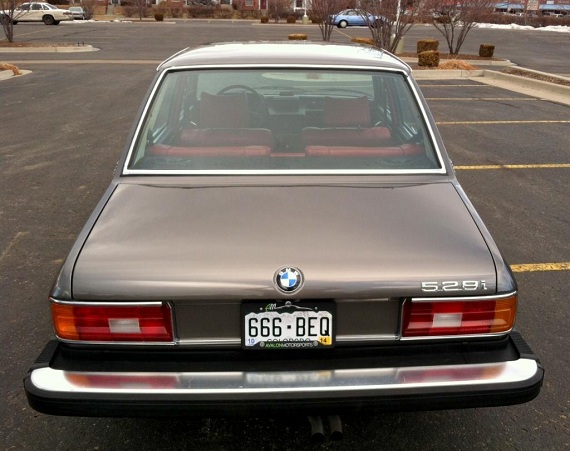 When I bought my first Audi, I was pretty astounded to think it was a $20,000 car in 1986. This was a $20,000 car in 1979; hard to conceive of, though it corrects to a predictable $52,000 in today's dollars – about what it would cost to get you into a new 528i today. I love the anthracite/cardinal color combination and the condition overall is pretty amazing – it's just not often you see these at all anymore, and usually when you do they're in a sad state. This car bucks that tradition right down to the pristine toolkit. At one point a family member owned a 1980 528i; while it wouldn't win any drag races or cornering competitions, it was a fun car to drive and looked great. That particular car suffered from far too many New England weathers and it showed, but remove the life in salt and suddenly there you have a viable alternative to the E28. Bidding hasn't started at $4,500 with the reserve still on; I'd expect that reserve is set in the $6,000 – $7,000 range. Yes, you can get an E30 or E28 for that amount, but that's what everyone would be expecting….
-Carter