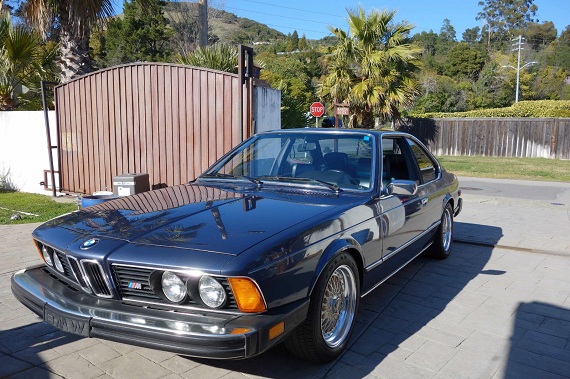 Earlier in the week I wrote up a pristine, lower mile E12 528i that was a very pretty color combination and rare to see. The early generation cars of the 1980s – the E12, early E24 and E21 – are still in collector no man's land; they're in general not sought after enough to justify expensive restorations, and they're not valuable enough for people to keep in pristine condition. They're also not the best performers that BMW has produced; but in spite of that they're all pretty cars and when well presented it's a reminder of how clean and desirable some of these early BMW designs were. Few are as pretty as the original Paul Bracq designed E24 with it's low, lean and long stance. Bespoilered later in life the design become increasingly cluttered and more aggressive, and while that has a certain appeal the early cars really do express the original design better. Today there are two examples, surprisingly, of the early run 630CSi – in your choice of original or modified "extra-spicy". Which would you prefer? Let's start with the modified version:
Year: 1977
Model: 630CSi
Engine: 3.0 liter inline-6
Transmission: 4-speed manual
Mileage: 134,779 mi
Price: No reserve auction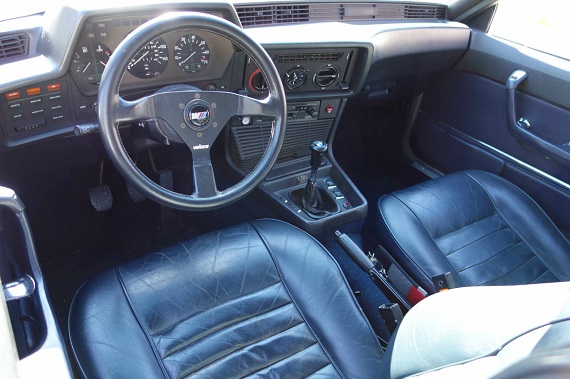 First year, Karmann bodied US 6-series, factory 4-speed 630csi in original condition, as intended by designer Paul Bracq. Looks perfect without the wings and spoilers giving it a classic car look already!

Engine was rebuilt/enhanced by "Phaedrus" (Google them) at 119,065 miles – (new cylinder head, Shrick cam, Stahl headers) – see receipt in photo link below.

Apparently transmission has also been rebuilt a year after the engine rebuild, with a stock clutch, but I did not get a receipt for it.

Has ST springs and sway bars with Bilsteins. Above work was done by PO#1.

PO#2 added a new starter, battery and modified the exhaust (straight pipes), etc.

Both prior owners are car enthusiasts and turned out I actually knew the owner I bought it from!

This car does not have a smog pump – it was deleted at some point at or after the rebuild. Web research indicates the smog equipment was detrimental to this engine, so the car may be better off if kept as-is – i.e. ownership in a State that will not require it to be smogged!

For this reason it is not for sale in California other than as a parts car.

It was driven about 500 miles since I purchased it about a year ago. I have done the following work and have the invoice ($1,000++):

– front brakes and rotors

– front control arms left, right and center

– new water pump (luckily it went out in my driveway!)

Will need:

– new tires (sidewalls are cracked from age and rears are worn).

Tires are staggered: 205/55/16 fronts and 225/50/16 rears. Available for < $400 at Tire Rack. - valve cover gasket ($150 +/-) as oil leaks - power steering hose replacement ($150 +/-) leaks - there appears to be a minor leak from rear diff. area (seal?) - the sunroof does not open (I can hear the motor when the switch is pressed - maybe needs cleaning)? Was inoperable when I got it. - there is a clicking sound when the car rolls (wheels?) that goes away when you brake (?) - antennae has been stuck in closed position! - may need a new battery or charge as I had to jump start it last week! This 630csi is in very good shape. A few imperfections as shown in pictures and videos, minor surface rust. Straight body with a nice low stance, period correct Enkeis. Clean interior, headrests in rear are specific to this model. There is no passenger rear view mirror - another clue to the knowing that this is a 630csi! Driving impressions: Handling really improved after the control arms were replaced. I have driven it to work and back a few times - 45 mile run each way, hills and commute traffic! Fun to drive with the radio off and windows down, just so the exhaust notes can be enjoyed! This car turns heads and gets a lot of compliments. Has the complete tool kit, two sets of keys, Clifford alarm/FOBs (disconnected by PO#2), sheepskins for the front, car cover and manuals for the Blaupunkt and service book (owner's manual is missing). I am selling it due to lack of space and I don't want it deteriorating outside. The barn find Alfa Romeo GTV6, which I had been looking for, recently showed up and took over! BEING SOLD AS-IS WITH NO WARRANTY EXPRESSED OR IMPLIED. The start price is very low with no reserve - this model should appreciate in value soon! Link to additional photos and details: https://www.dropbox.com/sh/es3jvxgyu5nfpul/I8qi0l14d5 Link to video: https://www.dropbox.com/s/hsaiew1mcqgtx7y/video%20sound.MTS Some other photos in the link have been taken previously. Please send me a message if you have any questions or need photos of a specific area. This "blue plate" CA car is currently on PNO with all fees current. I have a clear title in my possession. This car has to be sold through a California licensed retail dealer: California buyer must pay applicable title transfer fees and sales tax - these amounts will be collected in addition to the winning auction bid. Out of state buyer must pay their applicable DMV fees and sales tax independently. Seller will cooperate with Buyer's transport / shipping company - all shipping/delivery arrangements and charges are buyer's responsibility. The car must be paid for within 5 business days and must be picked up within 10 business days of auction ending. Payment must be in the form of cash in person or bank wire transfer. I reserve the right to end this auction if an error is noticed in the listing OR if a local sale occurs - car is listed for sale locally. Thank you and Good Luck!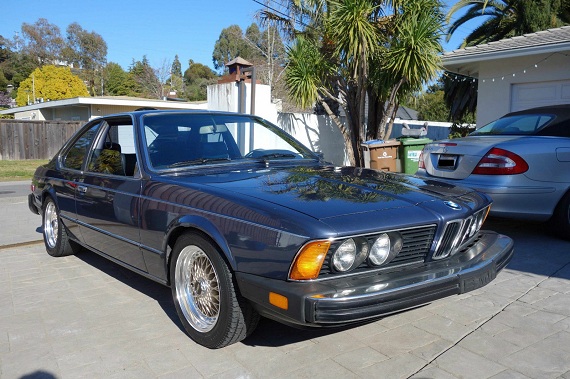 There's quite a bit to like, from the dark blue exterior which is one of my favorites to compliment the E24 shape to the Enkei mesh wheels. The car has been lowered and the engine turned up a notch, as well as running reported straight pipes (unlikely, but probably a freer sounding exhaust). There are a few noted problems that would be pretty typical of this age car and mileage, which is still fairly low for the age. Condition overall appears to be pretty good and if you're not looking for originality but a fun driver, this could suit your needs. Prefer something a little more original?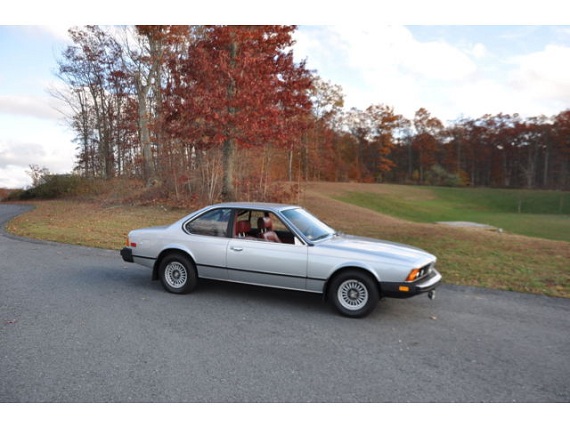 This 630 appears to be very similar in combination to the 528i I wrote up; the cardinal leather looks awesome under this time a lighter silver exterior. The same original 14″ turbine wheels are there, as is the "off-road" and correct original stance; the original 6s did sit quite high. Condition appears to be great, though the pictures are woefully out of focus and fail to present much detail. It is, however, very rare to see one of these early cars in New England anymore, so take a look: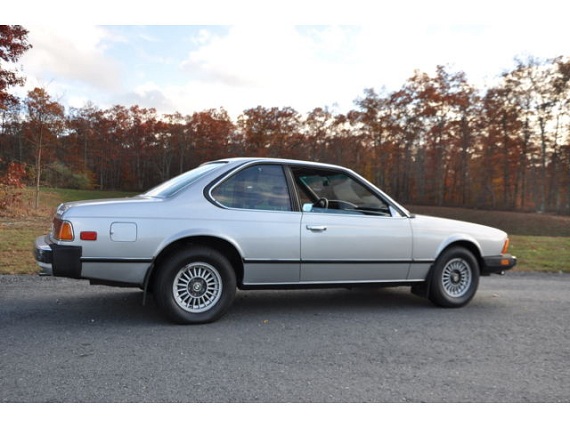 Year: 1977
Model: 630CSi
Engine: 3.0 liter inline-6
Transmission: 4-speed manual
Mileage: 51,477 mi
Price: $8,888 Buy It Now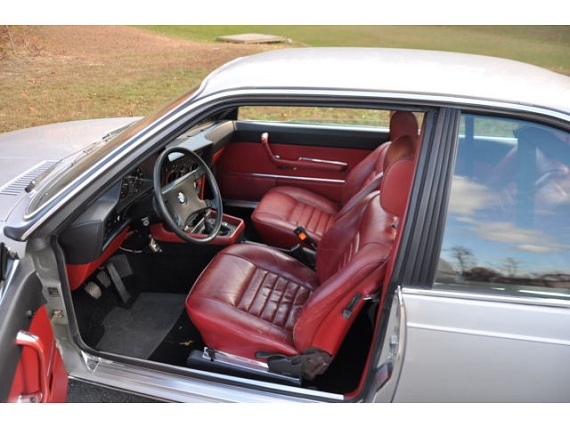 This 1977 BWW 630CSI Coupe we have here at Hilltop Motors has ONLY 51,477 ORIGINAL MILES. This BMW is Silver with Red Leather Interior. This car is in fantastic condition mechanically, as well as inside and out! This car is a 6 cylinder with a 4 Speed manual transmission. Please give Ken a call at 401-556-1713 with any questions on this Antique BMW.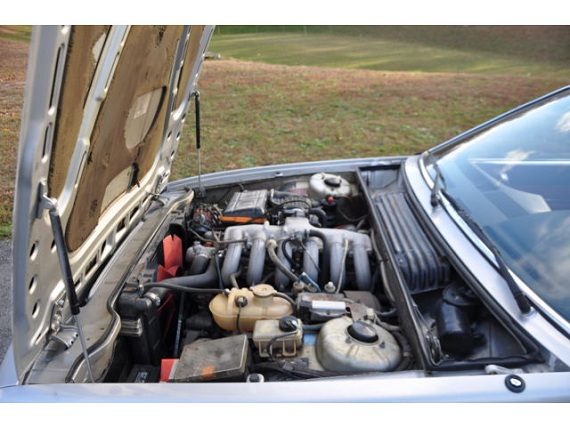 As with many Ebay dealers, there is a real lack of detailed information (and in this case, good photos) of the actual car. The description doesn't really tell us how the car was maintained, though it sure looks like it was garage kept and pampered. $8,888 seems like a lot for a lot of unknowns, but in terms of classic BMWs this is really on the cheap side; consider what $8,000 worth of E9 would get you, for example. One concern is that in a few of the pictures the tone of the paint from rear quarter to driver's door doesn't seem to match well; it could be hiding a repaint for rust that would be expected in this neck of the woods. A careful PPI would clear that up in a hurry, and honestly you're not likely to see many early E24s in this condition anywhere in the U.S..
If you're not concerned with having the "Ultimate Driving Machine" and would rather have an occasional weekend driver and show car, my money would go to the silver example. These early cars aren't nearly as good drivers as the later E28-based sharks so to me the modded car is a bit wasted even if it looks nice. Originality for the long term value is more key here, and the second car wins out in spite of the unknowns. Which would you choose?
-Carter
+