M. It's perhaps one of the most powerful letters in the automotive realm. With a history dating back to 1972 to edge BMW closer to the high performance market, their first vehicle to bear the M badge was this car, the M1. Revealed at the Paris Motor Show in 1978, this car came about as the result of an agreement between BMW and Lamborghini to build a car to be homologated for racing. Equipped with the M88 inline six cylinder engine, this 3.5 liter unit with Kugelfischer mechanical fuel injection produced 276 horsepower.
After the production of a few prototypes, BMW took over the project from Lamborghini due to financial difficulties with the Italian manufacturer. Only 476 of these cars were built, making them the rarest M car ever. This M1 for sale in New York was produced early on in the production run and retained for promotional purposes by BMW.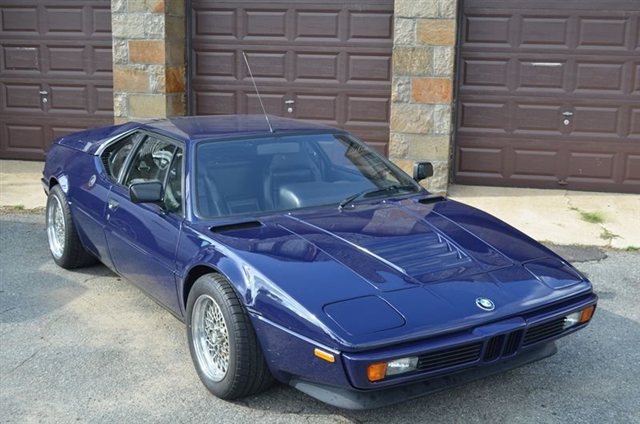 VIN# WBS59910004301011
Year: 1979
Color: Blue with black leather

The Motorsport division of BMW was set up in 1972 to handle the racing activities of the company. By 1978 the division had evolved to the point where they were ready to produce their own car. The M1 became the first car developed by the M division. The intended use of the M1 was to compete in the World Sportscar Championship. It was designed specifically to be a racecar but in order to qualify for the Championship series 450 M1's would need to be built. BMW couldn't use 450 M1 racecars so most of them were built as street cars and sold to the public.

The car came from California where it had resided from at least 1981. It was the eleventh chassis and the 16th car built. It was completed December 21, 1978 and retained by BMW for display and promotional purposes. It has just 23,723 miles. It is fitted with factory air conditioning and BBS wheels which were specially engineered to M1 specification. It looks great and runs even better. It has factory A/C and an upgraded stereo.

For only $195,000
"For only $195,000" may sound absurd, but actually, that's about close to the average of where M1 values are today. A few M1s have traded hands at auction this year. There was a 1980 M1 offered at Mecum that hammered at $185,000 and another 1980 example that sold at Gooding & Company for $242,000.
To get a bit of a flavor for what an M1 looks and sounds like on the track, here is some footage from the 2009 Nürburgring 24 Hour Classic:
-Paul