Before the integration of AMG engineering firm became fully owned by what has now become Daimler AG, Mercedes-Benz began offered the Sportline option on a few of their models, including this car, a 1993 300CE coupe. This option provided buyers with features such as a quicker steering ratio and uprated suspension bits consisting of more aggressive struts, springs, larger anti-roll bars and firmer bushings. Also included in the package were alloy wheels that were a half inch wider and badging on the front fenders and shift knob. This 300CE for sale in Massachusetts is one of the niceset, lowest mileage Sportline car I've seen for sale in several years.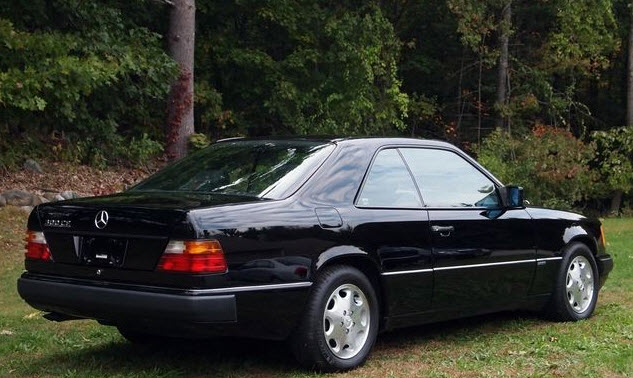 1993 Mercedes-Benz 300CE Sportline Coupe with 31,031 miles. It represents the level of quality that is not meant for just anyone. It's meant for the person who strives for a classy, comfortable, luxurious, practical and unique car. The very low mileage makes this vehicle incomparable to the other vehicles on the market. Not only the low mileage; originality and amazing cosmetic and mechanical condition set it apart from other offerings even in the higher price range. Any museum would be proud to own and display this car, but it is ready for the road if you choose to buy it as an every day driver. Why not? Over the years this generation of Mercedes cars proved to be reliable and cost efficient to own. These cars are still on the road driven by happy owner to hundreds of thousands of miles. Be sure to prepare yourself to get noticed in this ultra rare 300CE.

This is a 20 year old car that looks and drives like a new Mercedes. It will be an Antique Mercedes Coupe in 5 more years and will certainly increase in value. Should you decide to use it as an every day driver; our Service Department already addressed all potential concerns related to the age (tires, brakes, hoses, belts, fluids and other maintenance items) as well as known required updates – head gasket, seals and engine harness are all brand new. We even saved old parts in case new owner would like to keep original parts that came out of the car. All service work that was done on this car was documented with the records and digital photos.

Yes, this car has original factory paint on all metal body parts of the car. Front and rear bumper covers as well as plastic body cladding on the sides were refinished in black to match the body color. Original color of these parts on the 1993 Model Year Mercedes cars was dark gray metallic. We were told that this was done by the Mercedes dealer that sold the car originally. Interestingly, in 1994 Mercedes factory began to paint bumpers and cladding in the same color as the body of the car.

This car has rare Sportline Package. Mercedes-Benz offered this package in the North American market for the 1992-95 model year. The option package included sport seating, wider wheels (7″ rather than 6.5″) and lower profile tyres (205/60 x 15 rather than 195/65 x 15), quick ratio steering and a smaller diameter steering wheel, "Sportline" badges on the front wing moldings and gear knob, a slightly lowered ride height and a specially tuned suspension including shorter, stiffer springs, struts, anti-roll bars, and bushings.
A clean 300CE will run you somewhere between $6,000 to $12,000 these days. If you add in the low mileage factor along with the rare Sportline option of this car, we might be looking at a high point of $15,000. The asking price, as with many low mileage cars we've seen here on GCFSB is much too optimistic, regardless of how nice the car may be. Still, I'm a huge fan of W124s and the black on black combination gives this car a sleek look. They aren't the sportiest cars, but they do everything rather well and with the Sportline bits, it would make for a nice long distance cruiser.
-Paul