BMW does and has always understood that there are many varieties of car buyers. From the "A to B driver", all the way to the enthusiast, BMWs product line has offered something for everyone, and this is a prime example of that. It's becoming a rarity these days to find any car with a manual transmission, let alone a wagon. The combination of buyer laziness, Â and transmission technology are making the all mighty 3rd pedal an endangered species.
For those of us that prefer…scratch that demand a manual gearbox our options are slim. So where does one turn? More and more it's towards cars like this well cared for 2002 BMW 525iT for sale in Philadelphia.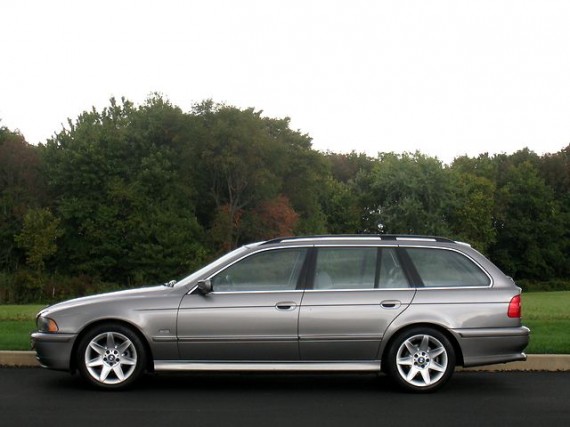 2002 BMW 525iT Wagon

•For sale we present another GR8 buy and another beautiful and very rare model BMW 5-series Wagon Sport (525i)
•This car seems to have been very well maintained and serviced by the previous owners.
•Fairly low 120k Original, true highway miles (less than 12k miles per year avg.) Less than Average travel by all standards.
•This is a great find: 5- series Wagon which are very hard to find in any package or options.
•This is a perfect Altimate Driving machine which is great for cargo space and camping commutes while still delivering the sports feel and BMW drive.
•Extremely rare find on 5-Speed Manual Transmission!!!
•A very rare SPORT PACKAGE equipped model that comes with Sport Alloy 18′ Wheels, Sport Steering "M" Wheel, "M" Shifter Knob and Sport Suspension, also Xenon HeadLights, Heated Seats and PARTRONIC (Front & Rear)*****
•Engine sounds great, it is quiet and pulls strong. It yields very good MPG on the highway.
•Clutch is tight and grips extremely well you can change gears with minimum effort, GearBox is smooth and very responsive.
•The car drives and handles like a BMW Altimate Machine should(no squeaks, no pull)
•Nice color combination Gray Exterior, Gray Interior, Xenon HID HeadLights
•Exterior is beautiful, the car shines like new, it looks very clean and well kept. A few door dings and fingernail scratches in few spots barely noticeable to the naked eye…..SEE PICS!!!!
•Overall the exterior is in very good condition considering the year and mileage of the car.
•Interior is clean and has been well maintained. There appears minimal wear on the seating upholstery. Absolitely no foul odors and no visible stains on the carpet or upholstery…SEE PICS…
•Overall the interior is in good condition considering the year and mileage.
•Tires seem to have plenty of tread remaining and are a Matching MICHELINE set!…..SEE PICS!
•Don't miss out on this gr8 buy. The next owner will surely enjoy this one for many years to come.
•These wagons are hard to find and are very sought after
•If you looking for one of these Wagons you know you can't find it anywhere on the net so, DON'T MISS OUT ON THIS ONE….you won't find another one like this!!!!
•Good Luck and Happy Bidding!

This is a smoke-free automobile.There is no damage evident on this vehicle.This is a garage kept vehicle.The engine on this vehicle is running properly.The mileage represented on this vehicle is accurate.There are no signs of prior damage on this vehicle.Vehicle has minor dings on the exterior body.This vehicle has a smooth shifting transmission.All power equipment is functioning properly.Overall, this vehicle's exterior is clean.The interior is clean and in good condition.There is plenty of the tire tread remaining.

If you have any questions about this or any of my other auctions please feel free to contact Tony via e-mail or you can call me at (215) 645-2021. Thank you for your interest and I look forward to hearing from you.
With 120,057 miles and in 8 out of 10 condition, this car should go somewhere in the $7500 ballpark, however with no reserve, this auction is an opportunity to get a great deal. With 4 days left there is plenty of chance for buyers to step up, so we'll have to revisit this one in Paul's week in review.
-Brian