One of my favorites here. Check out some of our previous posts for more info about the mighty 6.9. Though I'm biased due to having owned a Euro spec 6.9 it is safe to say that this truly is one of the greatest sedans ever built.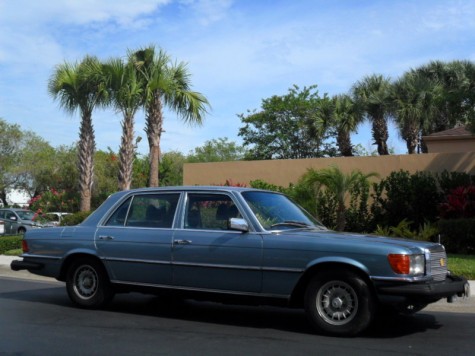 This U.S. spec model isn't as pretty or sleek as it was intended to be from the factory due to U.S. safety regulations it still retains the iconic W116 look. The U.S. quad round headlights have been replaced with Euro versions, but ugly bumpers remain. The U.S. engine is down a bit on power from the Euro engine, but the 6.9 liters of V8 still produces gobs of torque, 400 + lb-ft.
The car here has traveled 155,000 miles. The hydropneumatic suspension, an expensive set of parts if neglected, appears to have the car riding at the proper height.
What is confusing to me is how the seller seems to have first listed this car as a standard 450SEL and then only added a slight mention of it being a 6.9. Perhaps this is because the car has been debadged on the trunk, one of those great factory options from Mercedes to allow you to really be the ultimate wolf in sheep's clothing on the streets in the late 70s. This could be a bit worrisome, this is a specialized car with a few quirks over a standard 4.5 liter W116, namely the suspension, that really should be looked at by someone in the know. The driveline is fairly robust in these, but with all that torque you want to make sure transmission, diff, etc. are all in good shape. The torque is also fatal to flex disks on the driveshaft. I also always raise an eyebrow when I see an otherwise nice looking 6.9 end up at used car lot. 6.9s tend to trade hands owner to owner or though specialist dealers. A 6.9 showing up at an average used car lot could mean something benign like a car that came out of an estate being auctioned off, but may also mean its a basket case whose owner just wanted to get any sort of trade in value for. In this case the seller states the car comes from a women looking to sell her recently deceased husband's car.
The car looks well maintained, that engine bay is very clean. The seller claims it spun up to 100 MPH without trouble on the highway and believe me with a well running 6.9 that really is effortless.
Without the need for the owner to make top dollar on this car it has been placed for sale with no reserve. We'll have a chance to see some true market value on this car. Bidding is at a paltry $1,626. I'd go $5,000 on this based on the photos and minimal description alone. If two bidders really check this one out and it drives as clean as it looks a price closer to $10,000 wouldn't be unreasonable. This is a collector car and prices are only going up on nice unabused examples.
~Evan