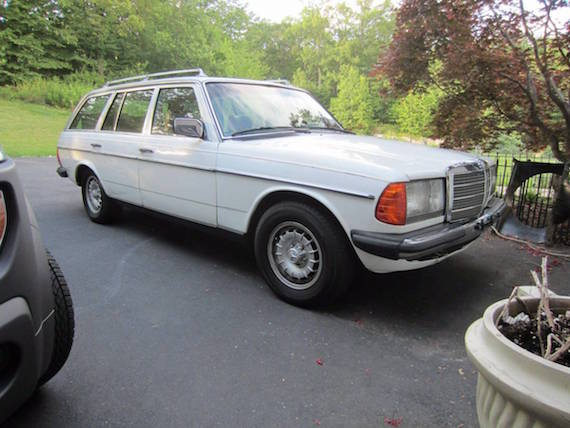 For many, the W123 remains the definitive Mercedes-Benz. With an iconic silhouette, invincible build quality and well-deserved reputation for durability, these cars can still be spotted on the road today, serving as daily drivers and usable classics. In fact, there's a mint condition 300D in smoke silver that I see driven around my neighborhood on a regular basis. Looking like it just rolled out of a showroom, the owner is a young professional who I would guess is in his mid-thirties. Now that is a man with good taste. The estate bodyshape adds a useful amount of cargo space in the rear, making it the perfect choice for a stylish trip to the beach (or the lumber yard). To the uninitiated, they might just look like old wagons, but prices for mint examples can quickly reach into the high teens.
Year: 1980
Model: 230TE
Engine: 2.3 liter inline-4
Transmission: 4-speed manual
Mileage: 180,000 mi
Price: $5,000

1980 Mercedes 230TE
• 180,xxx miles
• 2.3L Four Cylinder (M102.980)
• 4 Speed Manual Transmission
• Working A/C
• Working Self Leveling Rear Suspension (SLS)
• All Euro Specific Parts
• Period Correct Gold Grill (Original will be included)
• Nardi Steering Wheel (Original will be included)
• 14″ Bundt Wheels w/ Good Tires

For sale is my 1980 Mercedes Benz 230TE. It is a grey market car meaning it was originally sold in Germany and retains all of the European market parts. This means this particular station wagon comes with the highly desirable Euro headlights and bumpers. Along with the typical Euro spec parts that make this particular wagon desirable it is also equipped with a factory manual transmission.

The vehicle was brought over in the 1980's with around 40,000 miles on it. As it sits it has had approximately 140,000 miles put on it in the states. This wagon fires up without hesitation and is mechanically in excellent shape. I preformed a dry compression test before purchasing and all cylinders were within 5psi. The previous owner had the self-leveling rear suspension (SLS) serviced and it is in perfect working order.

I purchased the wagon in the summer of 2013 as a project. I replaced the floors and chased all the structural rust out of the car. There is still cosmetic rust on the exterior. New rear quarter patches will be provided with the car at the time of sale (ran out of time to put them on. Ended up moving away for a few years and the car has been on the backburner since. I recently relocated to the tri-state but need to move again and need to sell off a few cars. This wagon is an excellent candidate for a weekend cruiser or to receive and engine swap (I had plans for a small block Ford v8). I'm asking $5000 for my wagon as it sits no trades.

Text is preferred,
John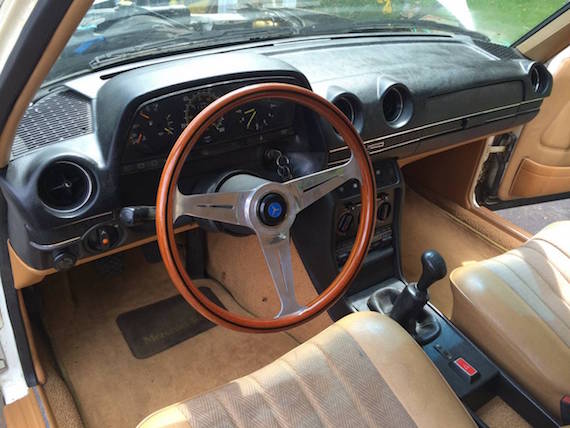 In 1980, the W123 wagon could only be had in America as a naturally-aspirated diesel (the 300TD; the 300TD Turbo would arrive in 1981) . But this particular example, while a 1980, is a grey market, European specification car. That mean's it's powered by a four cylinder, 2.3 liter gasoline engine and comes with the slimmer bumpers and one-piece glass headlights that give Euro cars a much more attractive look. It's not going to be fast, but does at least have a four-speed manual transmission to help you wring out what power there is (about 134 hp). It also has a huge Nardi steering wheel attached – luckily for purists, the original steering wheel is also included. The white paint on the car looks okay in the pictures, subject to some cosmetic rust at the rear quarter panels.
The seller bought the car a few years ago as a project and says he spent the intervening period dealing with some pretty serious rust issues, with only cosmetic traces remaining. He says that it is mechanically sound and runs properly, with an intact and properly functioning SLS system. With 180,000 miles on the odometer, I think the $5,000 is asking price is fair given the condition on show here (values on W123 wagons have gone up considerably over the last few years). Since the car has had structural rust issues in the past, a careful inspection of the underbody would be wise.
– Craig