There is something to be said for simplicity; for not being over the top. This is especially the case when the car you are attempting to pay homage to is itself intended to prioritize a certain level of simplicity (though with a heavy dose of mechanical sophistication). Over the top certainly has its place. Just take a look at one of Singer's builds, they are over the top in about the best possible way. Everything works together though and the total is worth all of that effort. This car, originally a 1969 Porsche 911T that is now built as a tribute to the venerable 1973 911 Carrera RS, is not over the top. The interior especially is spartan, it is simple. It is befitting of the RS to which it pays tribute. That's why I like it. It really looks great!
And because it's orange…I also like it because it's orange.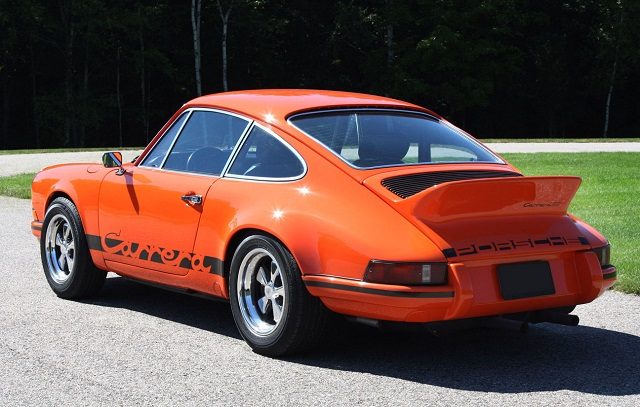 Year: 1969
Model: 911T
Engine: 2.7 liter flat-6
Transmission: 5-speed manual
Mileage: 800 mi
Price: Reserve Auction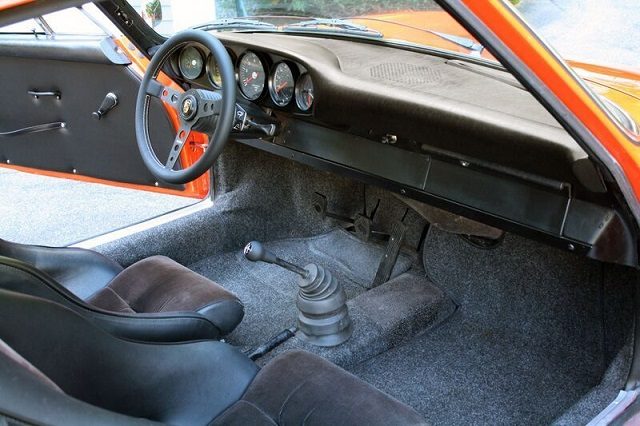 Up for sale is my 1973 2.7 RS Lightweight tribute. This is a real long hood built on a 1969 tub. This is a fresh/new build that is in immaculate condition. Car has about 800 miles since full restoration that was done in an effort to balance practicality while holding true to the spirit and aesthetic of one of the most iconic 911s of all time. Below is a summary of the build:

Engine

7R Magnesium case

46 IDA Weber Carbs w/ K&N Filters and Hats
Twin Plug set up with Electromotive electronic ignition
Ported heads
JE 10.5:1 90mm pistons
Nikasil replated Mahle cylinders
DC40 Mod-S Cams
ARP head studs and rod bolts/nuts
Balanced crankshaft, clutch and flywheel
Headers with Leistritz muffler
Front mounted oil cooler
Transmission

Fresh 915

Resurfaced flywheel
Sachs Power Clutch
Brakes/Suspension

930 Brakes
930 Steering rack
930 Suspension
Wheels

15×7 & 15×8 genuine Fuchs w/ new tires
Interior

New RS Door panels
Prototipo Steering Wheel
Appbiz RS Lightweight carpeting
Black headliner
Radio Delete
Other

New Bosch battery
Just changed oil this week Brad Penn 20-50 High Zinc
Steel rear flares
H4 headlights
Beautiful dash and all gauges function

Overall, car is stunning, drives phenomenally and certainly sounds the part with the current exhaust set up.

***I may consider trading up on 2005-06 Ford GT.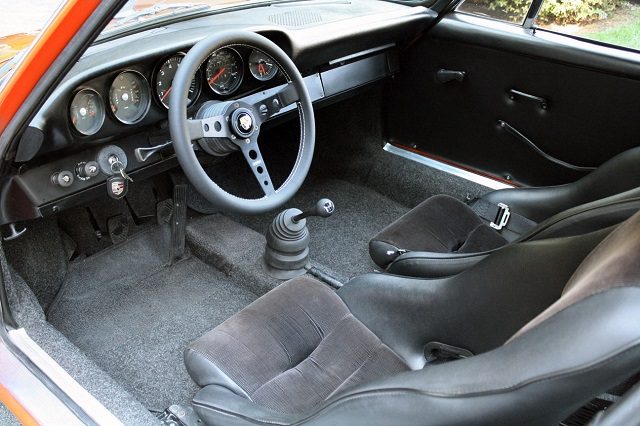 That this tribute is based off of an original long-wheelbase long-hood 911 serves it well. It began its life in a similar configuration to the RS so there's less to change in certain regards. It is still rare for us to come across builds utilizing these models though, mostly because they typically make for a more expensive starting point. But the work that was put in looks well done. The exterior looks really nice and befitting of an RS. As I noted, the interior is simple and straightforward, but possesses the right attributes. Unnecessary items were removed leaving a pair of seats, a steering wheel, and a shifter. Those are all useful.
The engine characteristics will be the deciding factor in how well this 911 can replicate the magic of the RS. It has the look, but does it have the feel? We aren't told from what model year the engine was sourced, but we know it's a 2.7 liter based off of the 7R magnesium case, which from my reading is the right place to start. The ad provides further details on the engine build. The suspension and braking have been sourced from the 930. On paper it sounds like a good package. The drive will reveal how it's come together.
All in all this seems like a nice version of one of these builds that in appearance has stuck with a fairly basic plan. I like it and hopefully others will as well. Bidding sits currently at $50,100 and we'll see where things eventually end.
-Rob