This is a very early W126 380SE, perhaps the earliest in the country.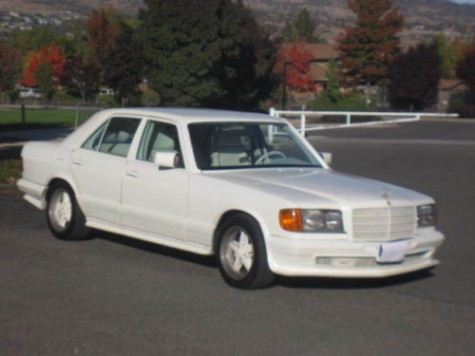 The W126 wasn't available in the states in 1980 so this car is a grey market model so you get the nice flush headlights.
The car has had an interesting past as the owner says it was sold by the the Southern California Police Department. It appears the car has seen some extended time in storage, but has since had some maintenance work, $3,000 worth, to get it back to road worthy status. It has covered 77,000 miles, always questionable with imported cars without good records.  The car has some AMG parts, rims, body kit, AMG look steering wheel. It also has white faced gauges and upgraded front seats, as well as a rear sun curtain. The stereo has been replaced with a more modern unit. I'm not a big fan of white cars, particularly ones with gold accents as this one has with all the gold badging. I do like the monochromatic look though with the painted grille, window trim, and wheel faces.
The ad is pretty weak, the seller doesn't once mention the model Merc this is. The vin indicates it is a 380SE. Under the hood you can see the compact V8, it is missing a piece of the intake snorkel. There also appears to be an aftermarket alarm siren on the left side. It looks like a little cleaning under the hood could make things look a little fresher.
The oddest thing I notice from the pictures is there appears to be something funky going on with the passenger side panel fit. Maybe this is a photo artifact, but things look a little wavy and I'd want to look at that more closely and judging by the description that comes off as a little inexperienced, I'd want that looked at in person or by an agent rather than by the seller.
The ask price is $7,500 with a reserve. The seller will not get any bids at that price. Maybe a $5,000 car at small time classics dealer lot with an in person transaction as an impulse by. On eBay, even with it being early, under 100K, and with the AMG parts, $7,000 will not be happening for at least a few more years.
Good looking car that still doesn't seem 32 years old.
~Evan