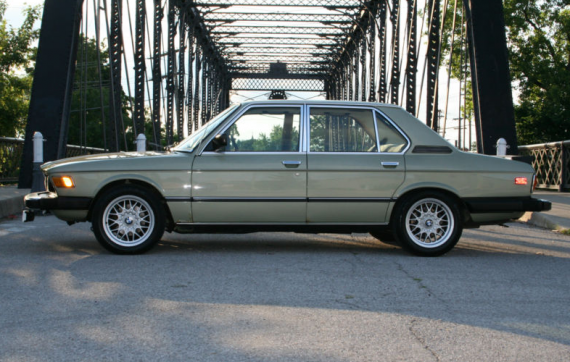 The E12 fills an interesting gap between the large-and-classy Bavaria and the venerable E28 5-series. Today's example has been well cared for by BMW enthusiasts and, though it's covered quite a few miles, has been attended to so that it can be a reliable daily driver and cover a whole lot more. It looks fantastic in Resedagrün, a perfect late-70s/early-80s green. If you want to be a little more off the beaten path than the more well-known E28, this would be a great cruiser.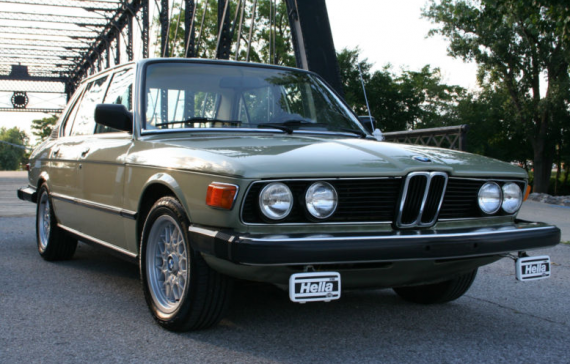 Year: 1981
Model: 528i
Engine: 2.8 liter inline-6
Transmission: 4-speed automatic
Mileage: 206,000 mi
Price: No reserve auction at $4,800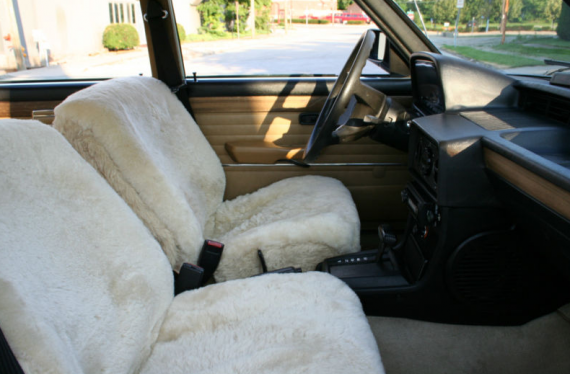 Must be driven for complete appreciation!

This is a beautiful vintage BMW 5-series. It is an "E12" chassis, which is the first generation of the BMW 5-series, and the last year that this platform was offered. It is offered in Resedagrün Metallic (light green metallic) beige corduroy interior, and white headliner. She had been my daily driver for the past 2 ½ years and runs, handles, and accelerates unbelievably. Steering, acceleration, and braking is incredibly linear and crisp. Extremely clean interior, good exterior chrome, and excellent exterior trim, including original "M5″ rear spoiler. Garage kept and hand-washed only. She turns heads and receives compliments daily! Exhaust burble will always make you smile!

She was a Canadian market car, hence the metric speedometer and milage counter (kilometers per hour). One family-owned for 1st 25 years, with dealer maintenance records for much of this time. Second owner (1997-2011) was a fellow BMW enthusiast and mechanic. He rebuilt the cylinder head at 187,000 miles (290,00 KM), resurfaced the head, replaced valves and all engine seals, replaced shocks (Bilstein HD), tie rods, center link, and heater blower motor.

She rides on 16″ BBS-sourced BMW rims and three month old Goodyear Eagles. ALSO INCLUDED are original 14" "Alpina style" rims with new BMW caps, shod with Continential Extremewinter snow tires. See below for history of upgrades and maintenance under my ownership.

*pre-purchase inspection completed by Vorderman's Autowerks and available for review *

1981 BMW 528i Maintenance and Upgrade Log
DATE DESCRIPTION COMPLETED BY
Nov. 2010 Oil change, inspection, alignment Tomkinson BMW
Nov. 2010 Replace Transmission Cooler Lines Tomkinson BMW
Nov. 2010 Replace/restore rear window carpet Seat Cover Center (Calhoun)
Dec. 2010 Exhaust Pipe inspection and repair Midas Auto Service
Dec. 2010 Replace BMW Hub Caps — winter rims Bavarian Autosport
Jan. 2011 Replace Vacuum Lines, clean throttle plate, reset airflow Vorderman's
Jan. 2011 Upgraded K&N Air Filter system self
Feb. 2011 Replace muffler/silencer and chrome ends (OEM) Tomkinson BMW, Bavarian Autosport
Mar. 2011 Replace main radiator and hoses — rebuilt tank Ace Radiator Inc
April 2011 Oil Change — 6q Castrol GTX + Mann Auto Filter self
June 2011 Upgraded new custom "Coco Mats"- front and rear Bavarian Autosport
Sept 2011 Upgraded front and rear brake rotors with new cross-drilled and Pagid Red (front) OEM (rear) brake pads
Sept 2011 Upgraded Hella 550 Halogen Driving lights & lens covers Bavarian Autosport
Nov 2011 Replaced Rear shocks — Bilstein HD, Realignment Vorderman's
Dec 2011 Oil Change — 6q Castrol GTX + Mann Auto Filter self
July 2012 Replace Hazard Light Switch Bavarian Autosport
July 2012 Replace front brake calipers Bavarian Autosport
Oct 2012 Upgraded Hella quartz (euro) headlamps Bavarian Autosport
Oct 2012 Replaced glovebox catch Bavarian Autosport
Dec 2012 Lamda setting adjustment Vorderman's
Jan 2013 Replaced rear brake calipers Vorderman's
April 2013 Throttle body, air meter, intakes cleaned and timing reset Werner's Garage (Vorderman referral)
April 2013 New Goodyear Eagle LS P20555R16 X4 Tire Barn
May 2013 Oil Change — 6q Castrol GTX + Mann Auto Filter self
June 2013 Upgraded to custom sheepskin seat covers- front Rocky Mountain Sheepskin
July 2013 Replaced front brake calipers, rotors, and pads back to OEM (Vordermans)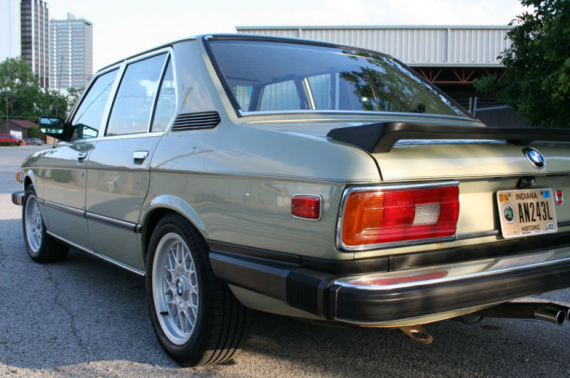 A gorgeous example of the E12 and I'm glad it comes with the original wheels. It hasn't attracted much attention in the way of bids. Perhaps people see it as overpriced, but it's a unique and pretty car that has been loved. Just under $5k seems fair enough to me, but we'll see if anyone bites.
-NR