Warning!
This post is in our archives. Links in this post may have been updated to point to similar cars available to bid on eBay.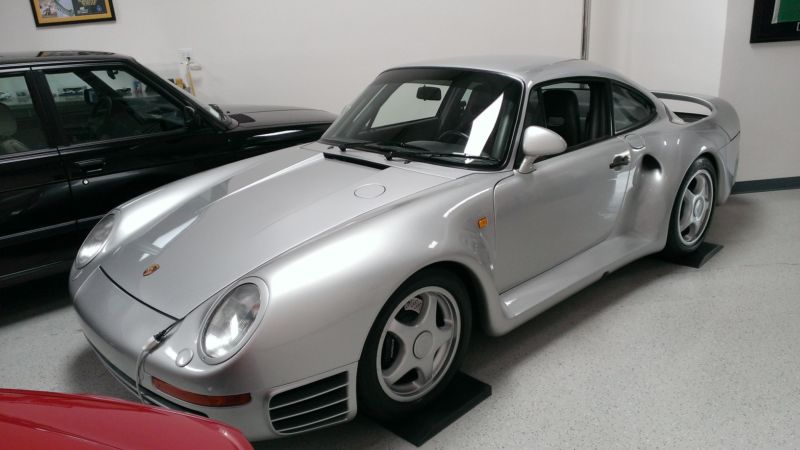 If the Ferrari F40 was the pin up hero for most teenage boys, the Porsche 959 was its arch-enemy, and was the car I was always interested in. The F40 was a pared down street racer, while the 959 sported experimental exotic technologies that even 30 years later most cars don't have – 6 speed manual? Yep. Active suspension? Yep, that too. Hollow spoke wheels with tire pressure monitoring system? Sure, we can do that. Kevlar composite body? Why not? Active torque splitting all-wheel drive system? Let's give it a go. A technological Tour de Force, the 959 wowed crowds with all of these shocking options when it was launched in a still hard to believe 1985, beating the F40 to the market.
Even at the time it was released, the 959 was a bit of an enigma – did Porsche want to win Le Mans or Paris Dakar with it? Well, it did both – Paris Dakar outright, and it won it's class at Le Mans. It was also one of the fastest production cars in the world, with a sub-4 second 0-60 time – something that modern supercars still strive for. Did I mention this car is the best part of 30 years old? Like all of the dream cars that remained firmly out of U.S. buyers hands, the 959 remained a forbidden fruit for many years. But today, even if your name isn't Gates or Seinfeld, you can own in the U.S. one of the most highly sought after cars ever made – a silver 1987 Porsche 959:
Year: 1987
Model: 959
Engine: 2.85 liter twin turbocharged flat-6
Transmission: 6-speed manual
Mileage: 4,865 mi
Price: $935,000 Buy It Now
1987 PORSCHE 959
CANEPA DESIGN GENERATION II

640 HORSEPOWER, 580 LB-FT TORQUE

GENUINE PORSCHE ROLL CAGE
4,865 MILES

FINEST AVAILABLE

INCREDIBLY WELL-PRESERVED PRISTINE CONDITION 1987 PORSCHE 959 BOASTING A GENUINE PORSCHE LEATHER WRAPPED FULL ROLL CAGE ($40,000 OPTION) AND HAS ONLY COVERED A SCANT 4.865 MILES!!!

VIN: WP0ZZZ95ZHS900081

UNCHANGED SINCE PROCURED FROM CANEPA DESIGN / DRIVEN ONLY 980 MILES (PURCHASED WITH 3,885 MILES).

CA SMOG COMPLIANT / STREET LEGAL (CURRENTLY LICENSED IN CALIFORNIA).

SPECS FOR THIS CANEPA DESIGN 959 GENERATION II:

*ENGINE: 2847CC WATER-COOLED FLAT-6 WITH DUAL OVERHEAD CAM (DOHC), 4-VALVES PER CYLINDER AND TWIN INTERCOOLED TURBOCHARGERS.

*OUTPUT: 640 HORSEPOWER, 580 LB-FT TORQUE

*TRANSMISSION/DRIVELINE: 6-SPEED MANUAL/ELECTRONIC ALL-WHEEL-DRIVE

*CHASSIS: INDEPENDENT FRONT & REAR SUSPENSION WITH DIFFERENTIAL LOCKING

*SUSPENSION: 959S SPEC SUSPENSION WITH TITANIUM COIL-OVER SPRINGS & BILSTEIN GAS STRUTS

*STEERING: POWER ASSISTED RACK & PINION

*BRAKES: MASSIVE BREMBO 4-PISTON CALIPERS WITH CROSS-DRILLED VENTILATED ROTORS WITH ABS

*MILEAGE: 4,865 MILES

*COMPLIANCE: 50 STATE LEGAL (CALIFORNIA SMOG COMPLIANT/STREET LEGAL)

*EXTRAS:

*GENUINE PORSCHE LEATHER COVERED FULL ROLL CAGE ($40,000+ OPTION)

*MCINTOSH/FOCAL SOUND SYSTEM

*STEALTH RADAR DETECTOR

PERFORMANCE:

*0 – 60 MPH: 2.9 SECONDS

*QUARTER MILE: 11.0 SECONDS

*TOP SPEED: 222 MPH
The all-wheel-drive Porsche 959 was by far the most technologically advanced sports car of its day and only 288 959s were produced. The timeless styling, state-of-the-art systems, and superior driving characteristics made the 959 one of the premiere all-time greatest super cars.

Having never been officially sold in the US, Canepa Design was instrumental in passing "Show & Display" legislation which allowed the 959 to be driven legally in the United States. Canepa Design then modified 959s to meet EPA and California emissions standards. Canepa Design Engineers, with the support of the Porsche Factory, engaged in a program to increase output to the level Porsche had planned for the 959.

This 959, number 81, is the result of Canepa Design's efforts. As an official Canepa Generation II 959, this 959 delivers a staggering 640 horsepower with 580 lb-ft torque, while being California smog compliant/legal. Silver with Grey leather and featuring an intricate, yet elegant leather wrapped Genuine Porsche Full Roll Cage and fitted modern tires on the original wheels via Canepa Design's wheel bead modification. This 959 has only covered 4,865 miles and features luxury amenities such a custom McIntosh/Focal sound system, stealth radar detector, power windows/door locks, full leather reclining sports seats, ice-cold air conditioning, anit-theft, Porsche Werks steering wheel, 220 mph 959S speedometer and "modern" bright Canepa Design HID converted headlights!!!

This is a very rare opportunity to own one of the world's historically greatest super cars. The 959 Canepa Gen II is ideally suited for the enthusiast/collector who enjoys driving, as this 959 combines the comfort of a world-class touring Coupe with staggering jaw-dropping performance. Fully detailed, all Porsche service and mechanical upgrades performed/completed, this 959 is ready to show and engage in high-speed touring.

ABOUT THE CANEPA DESIGN PORSCHE 959:
Made only from 1987-1988, few cars had the impact on the future of automotive technology as the Porsche 959. But as with all limited-run super cars, development was abbreviated to the point of non-existence. Canepa Design has been devoted and improving the 959 for over 20 years. In conjunction and with the assistance of Porsche AG, Canepa Design has continued development of the 959 to the level that would have been achieved by the Factory had the 959 stayed in production.

CANEPA DESIGN 959 Generation I Modifications Include:
*New Sequential Engine Management System
*Garrett AiResearch Twin Turbos
*Upgraded Fuel System
*Redesigned Stainless Exhaust with Porsche Specific Catalytic Converters
*959S Spec Suspension with Titanium Coil-Over Springs & Bilstein Gas Struts
*Updated/Latest Technology Valves
*Modification of the Original Wheels to Accommodate Modern Low-Profile, Speed-Rated Tires
*Increased Engine Output to 540 hp.

CANEPA DESIGN 959 Generation II Modifications Include:
*Ultra High Performance Garrett AiResearch Ball-Bearing Turbos
*Further Upgraded Fuel System
*Upgraded EGR, ADL & Engine Management.
*Re-Designed Wastegates with Titanium-Aluminum Diaphragms
*Optimized Cam Timing
*Blueprinted Intake & Exhaust Valve Springs
*New Intake Runners with K&N Air Filters
*F1 Based Engine Wiring Harness
*High-Output Ignition System
*Upgraded Alternator Charging System & Battery Module
*Upgraded Air Pumps & Regulator Valves
*Upgraded Idle Control Valve, Sensors, Connectors, Wiring Harness Shielding, Switches, Adapters and All Related Hardware.
*In Total, 369 New Components are Integrated into the Generation II Package, Resulting in 640 horsepower & 580 lb-ft Torque.
*Cabin Access Switch which Activates the Gen II Exhaust System Bypass to Produce Increased Horsepower & More Aggressive Engine/Exhaust Note.
*Modified Clutch System with Upgraded Pressure Plate, Disc & Clutch Pedal Assembly for Improved Pedal Feel & Actuation.

INTACT & INCLUDED:
Original Keys, Books & Service Records

Original Tools & Pouch

Original Jack and Air Compressor
WILL ASSIST INTERNATIONAL BUYERS.

Message &/or call with any questions (858) 454 – 9898 (9am-9pm PST).
PAYMENT TERMS:
ALL SALES FINAL. FOR SALE/SOLD "AS IS" "WHERE IS." THERE IS NO WARRANTY NOR GUARANTEE STATED OR IMPLIED. NON-REFUNDABLE $2,000 DEPOSIT VIA PAYPAL DUE WITHIN 24 HOURS OF "BUY IT NOW" &/OR AUCTION END. BALANCE VIA BANK WIRE DUE WITHIN 3 CALENDAR DAYS. NO EXCEPTIONS.
Wow. So, the figures are massively impressive. If you're a fan of German cars or Porsches at all, this car makes your heart flutter. Looking at it today, it still looks pretty like a pretty fresh design. Many of design features have filtered out into other production Porsche models over the past 30 years, and to be honest you could get (and be able to drive) the performance of this car in more recent 911 turbos for a fraction of the price that this car is being offered for; but, frankly the same thing could be said for the F40. These cars captured much more than performance though, they captured the imagination of car enthusiasts throughout the world!
Value? Well, you're not going to buy this car. Is it worth a million dollars? Even the U.S., that pricing is probably high. Although F40 has been trading in that region or above, it's better known and arguably more desirable to most of the enthusiast population. In April, a comfort model 959 sold for $770,000, and earlier in the year one of the 959 prototypes failed to meet reserve at Barrett Jackson in the mid $400,000 region. The reality is this isn't even the only 959 for sale in the U.S. – a quick search will show you even have a choice of colors! This car was serviced and updated by Canepa – probably the best regarded company at working on 959s in the world. One thing makes me slightly sad; seeing this car in pictures with a trickle charger evokes feelings that it's somehow on life support and won't ever see the high side of that speedometer again, which given the asking price is probably a reality. But all of these years later, this car still captivates my imagination; and I'm sure I'm not alone in that…
-Carter