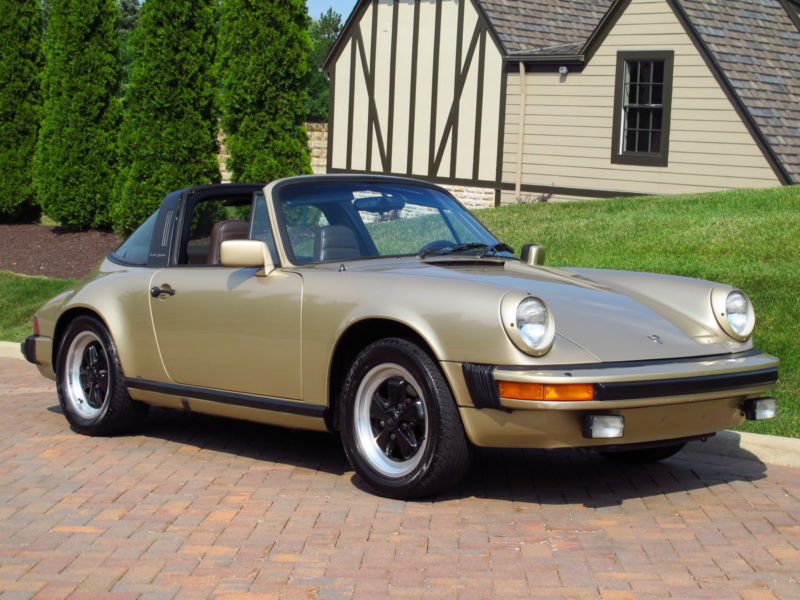 With prices for a classic 911 consistently on the rise, these days it's rare that I come across a clean example that is on auction with no reserve. But that's exactly what we have with this 1983 Porsche 911SC Targa located in Ohio. The 911SC remains one of the best values along the 911 lineage, combining reasonable buying costs with classic styling and a near bullet-proof engine. The car featured here has the 204 hp 3.0 liter flat-6 that Porsche introduced for the 1981 model year and comes in a fairly unique color combination with a gold exterior surrounding a chocolate brown leather interior. We've featured a couple of 911SCs recently that each failed to hit their asking price, so this no reserve auction should at least provide us a window into the current market.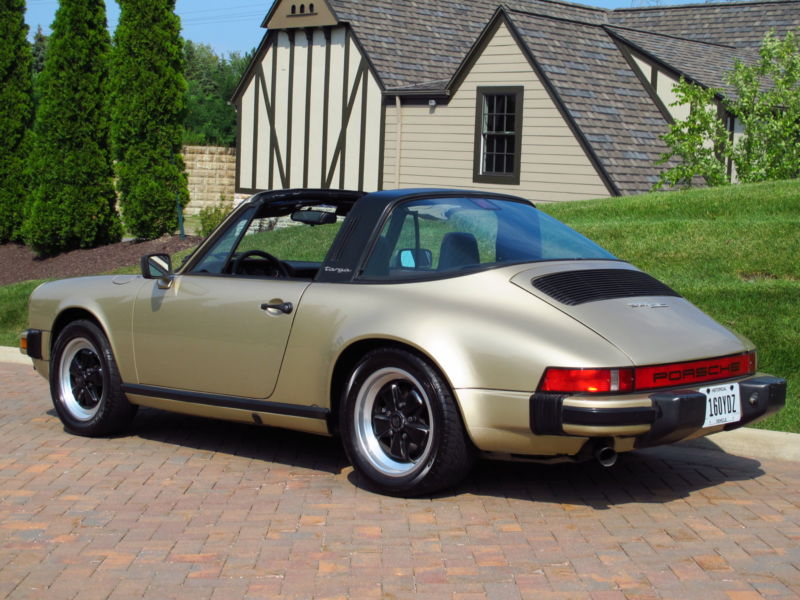 Year: 1983
Model: 911SC Targa
Engine: 3.0 liter flat-6
Transmission: 5-speed manual
Mileage: 150,800 mi
Price: No reserve auction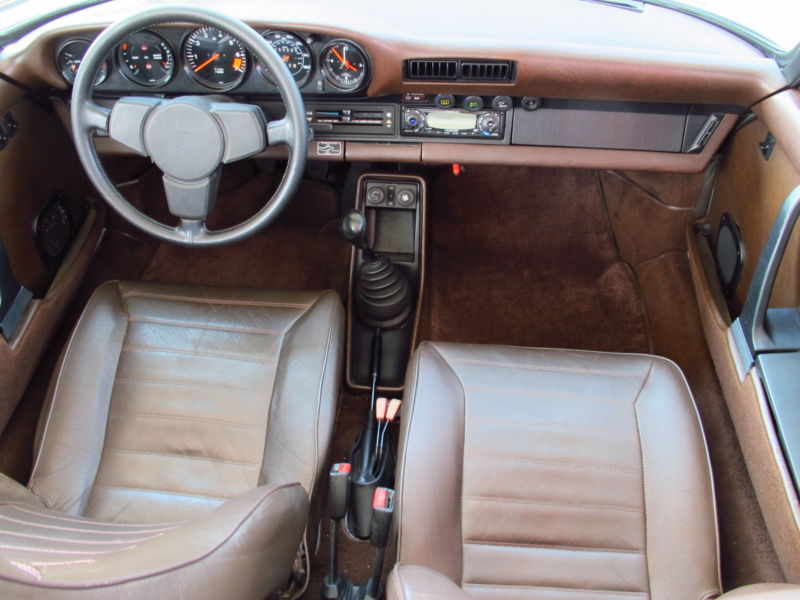 This is a NO RESERVE listing.

This is my 1983 Porsche 911 SC Targa in superb mechanical and cosmetic condition. This Targa has been owned for the past 12 years by an automotive engineer and NASCAR mechanic. The maintenance and service this car has received is second to none. The car is in outstanding mechanical condition and it needs no mechanical work.

This is simply one of the greatest sports cars in automotive history. Porsche got it "just right" with these 3.0L SC models. 1983 was the last year for the SC, and it had the most powerful engine (204 hp vs 172 hp in the earlier cars) with the best available features. The 3.0 engine is known as one of the most reliable Porsche engines ever built- with many of them going over 300,000 miles before a major rebuild. Earlier and later 911 motors had known defects, this 3.0 engine was the best and most reliable.

This car is all-stock in appearance with no goofy add-ons or modifications.

This car has the perfect balance of power, handling and responsiveness. The flat-6 engine is powerful and torquey right from idle up to redline, with a smooth power curve. The brakes are phenomenal- they have been described in the automotive press as "the hand of God." The suspension is amazingly responsive and capable- I swear you can feel every pebble you drive over, in a good way. The handling of these cars is superb and the cornering abilities are amazingly high. This is a world-class sports car that also happens to be dead reliable and dependable. It's a great combination, and no wonder these cars are appreciating every year.

I have a list of all of the service and maintenance work done to the car for the past 12 years. Some of this work includes: heater blower motor, ventilation control unit, heater air hoses, hood and trunk lift supports, steering column bearing, factory sport shift assembly, ignition wires, valve adjustment, 911 Turbo valve covers, spark plugs, ignition rotor, fuel filter, starter and solenoid, battery, Weltmeister airbox valve, cylinder head oil supply pipes/hoses, oil pressure sender, generator rebuild, full brake system (front and rear pads, rotors, hoses, master cylinder and fluid. Of course all oil changes and routine maintenance were performed on time as well.

This is quite simply one of the best-condition, best-maintained 911 SCs you will find for sale anywhere. This car has been engineer/enthusiast owned and operated and it could not have received better care or maintenance. This car has always been garaged and it is clean in every way.

The paint and body are in very good condition. The paint appears to be all original with the exception of the front bumper and maybe the front hood (due to stone nicks). The paint is in very nice condition, with no oxidation or major defects. The body is straight and clean with no rust.

The interior is the beautiful chocolate brown in superb condition. The leather seats are in very good condition with no rips. The carpets are clean and in great shape. The plastics, vinyl and interior surfaces are in very good condition. All the interior switchgear is in good, working condition. This interior is clean and in superb shape.

The removable Targa top has recently been rebuilt by a professional Targa guy. The vinyl, headliner and interior panels are all new. The latches and hinges are in perfect working order. This top seals well and does not leak. This rebuild job cost $1500.

This car starts, runs and drives superbly well. The engine starts perfectly and does not smoke. The engine is powerful and smooth throughout the rpm range. The transmission shifts well, as well as these 911s can be expected to, anyway. The clutch is tight and strong. The steering is smooth and responsive. The suspension is absolutely tight and there is no looseness nor any suspension noises. This car is totally reliable and dependable and it drives beautifully.

I just took this car on a 300 mile weekend trip and it performed perfectly. I would trust this car to drive across the country and back.

This car is an amazing vehicle to drive. Driving up a winding road with the Targa top off and the flat-6 wailing behind you is one of the greatest experiences in motoring.

This car has had the Weltmeister airbox pressure relief valve installed to protect the airbox in case of backfire. The valve covers are upgraded Turbo valve covers to prevent leaks.

This car has a newer Blaupunkt AM/FM CD player and newer Polk Audio speakers that sound great. There is an Aux input for an iPod, MP3 player, etc. The car was not hacked up to install this audio equipment.

This is a 30 year old car and as such it is not brand new. Please expect normal issues of wear and tear consistent with the age of the car. Here is a list of everything I know of wrong with the car: there are minor stone nicks and tiny paint imperfections. There are some small dings on the front hood. The rear black bumperettes are flaking and slightly cracked. The oil tank gauge on the dash does not work- all the rest of the gauges work perfectly. The rear air conditioning condenser developed a hole a few years ago. The condenser and the A/C compressor were subsequently removed, and I have them to go with the car. The air conditioning in these cars didn't work well even when they were new, but this A/C system could certainly be made to work again if someone wanted.

You can fly in to Cleveland (CLE) and drive this car home. You can also have the car shipped- please call Angels Moving Autos at 530 245 0481 for a shipping quote.

I have a number in my head that would buy the car early- call me if you're interested.

Questions, email me or call/text me at 440 339 4341.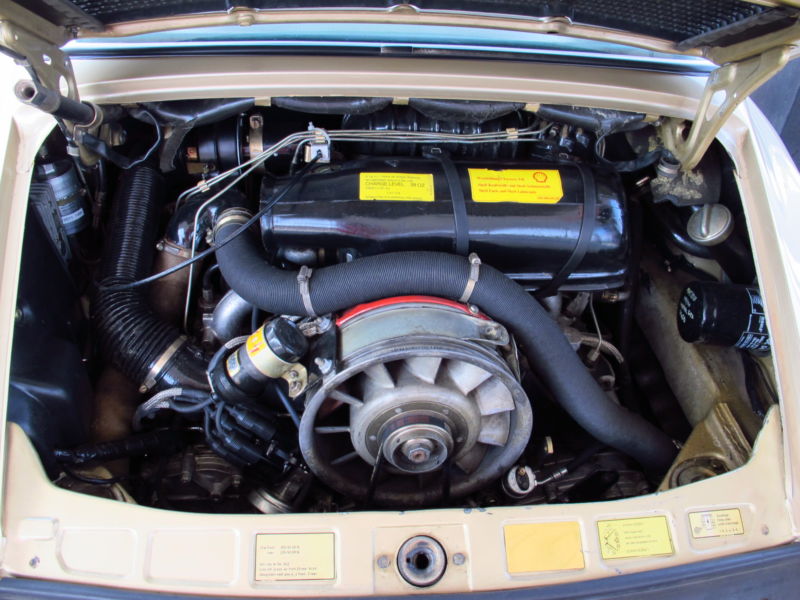 While this color palette won't appeal to everyone, it's undeniably a pretty car that appears in very good condition both inside and out. I'm always a fan of a dark brown interior and this one complements the gold exterior well. This car is not a low mileage garage queen, but rather a 30-year-old 911 that has seen good use and reasonable mileage for its age. On the car itself, there really isn't much left to say: it looks to have had a good home under a good owner who cared for it well and there's little more we can ask for when looking for a classic car. I'd expect a 911SC such as this to sell somewhere around $17,000-$19,000, though it could easily edge slightly higher if the right buyer comes along. Right now, however, the bidding is at a very modest $10,100. If this car sells for anything near that price, it looks like a steal!
-Rob