In 1979, Volkswagen of America (VWoA) put to use an unfinished Chrysler assembly plan in Westmoreland, PA, where they produced over 1.1 million cars until ceasing production in 1988. For the first few yaars VWoA was hugely successful in this venture, as they were the only foreign car company manufacturing on US shores, and the first since the 1920's. In this plant, VW produced Rabbit, the US versions of the Golf, that are now affectionately referred to as "Westys" as they are distinctly different than the European versions.
To comply with US crash, and safety regulations, the "Westy" cars were fitted with larger bumpers, tail lights, and the very distinctive square headlight grill. For years these cars were the least desirable in the rabbit family,  often overlooked, and even worse, converted to the european round headlights.
This Lago Blue 81 rabbit, is the definition of survivor, virtually untouched, and with a mere 8000 miles, this is a car that needs to be preserved.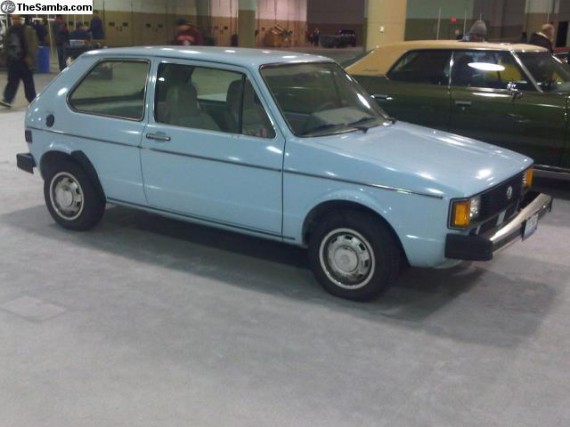 1981 Rabbit with 8K mile – time capsule   Price: 8,000

Selling our 1981 VW Rabbit. It is an L model with the only option of a cloth interior. The vent windows don't even open on this base model and the radio block off plate is still in place.

I have all of the records since new that back up the mileage of the car. It even comes with the original window sticker. On my photo gallery I also posted some of the carfax pages that document the miles are correct.

The headliner was replaced. I found some NOS trim rings. The car was driven a few miles each year. The only surface rust is on the front lower A arms and suspension. The car shows well and people just love it when we drive it. The paint shines very nice and all paint is original.

The gas motor runs great. I had to change several of the fuel injected components to get it to run great. One item was a new Bosch fuel pump. The transmission is a 4 speed which shifts fine. I picked up a NOS Abarth muffler from another Samba member and that really made it sound nice drive even better.

The pictures on my photo album describe the car well. If you have any other questions just ask. This is quite the collector piece.

Would be interested in trades towards a Ghia Convertible.
One of my many odd automotive favorites is the US spec Rabbit, hell I've owned several, and still own an '84 GTI. For all of the years that I've owned them, I never once considered converting to euro spec. There's just something about them that I just can't put my finger on. Maybe it's like the mother that simply adores her ugly baby, or possibly the same sort of love people have for the bulldog…they're just so ugly, they're cute.
As a member of the VW community for many years I can tell you that this is not a common sentiment, not even close. It hasn't been until recent years that these cars have gained popularity, and are becoming more desirable. But the damage has already been done, sadly many of these cars have undergone facelift surgery to make them more European, and alas, the original/untouched "Westys" are becoming harder to come by.
If you're looking for a collector grade MK1, look no further. From the pristine original condition, to the pile of documentation, this is certainly a car that should be tucked away, as these cars are getting harder and harder to come by.