Warning!
This post is in our archives. Links in this post may have been updated to point to similar cars available to bid on eBay.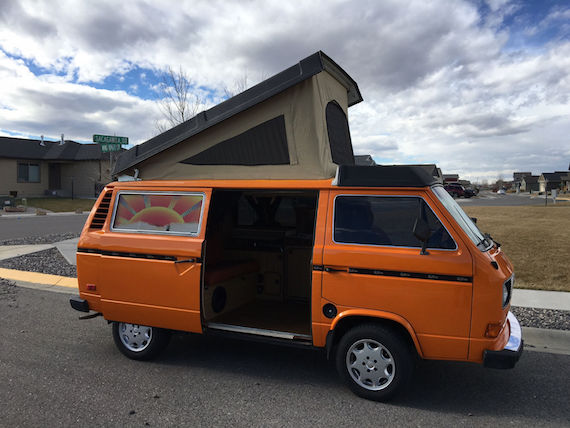 I always wonder what people get out of selling advertising space on their cars, a topic Jalopnik provided a point/counterpoint to yesterday. If you really don't give a damn about the appearance of your car, I guess it's essentially free money. Company vehicles can be cool – I'm thinking old bakery delivery panel vans – but sometimes some dude just had to offer up his vehicle as a promotional platform. Something like that happened here to this 1981 Westy for Montana's MOJO 92.5. Considering the recent trend of consolidating small radio stations into conglomerates whose names make me distinctly NOT love radio, I'm guessing Montana just lost one more station beloved by roofers and garbage men. I sure hope the window decals can come off easily, as well as the tiny logos swimming around in the black trimline.
Beyond the glaring weirdness of being a rolling billboard, it's a pretty nice early Vanagon. GoWesty wheels are the most tasteful choice on the vehicle, which has such anachronisms as a "ceiling mounted DVD player!" Not exactly my type of van camping, but could be a plus if you like road trips but your preferred parenting method is screen hypnosis. The new interior looks well done if overly Halloweeny, but you're not going to get away from that in this van. The houndstooth is nice and the appliances and cabinets all look outstanding. With a Lamborghini Orange paint job, is this pumpkin worth $23k?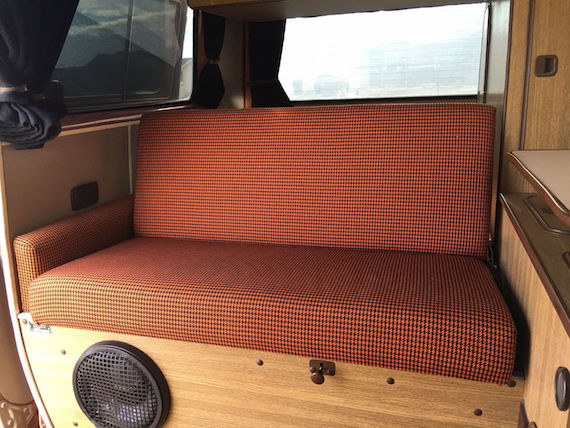 Year: 1981
Model: Vanagon Westfalia
Engine: 2.0 liter flat-4
Transmission: 4-speed automatic
Mileage: Unknown, 26k on engine rebuild
Price: $23,000 OBO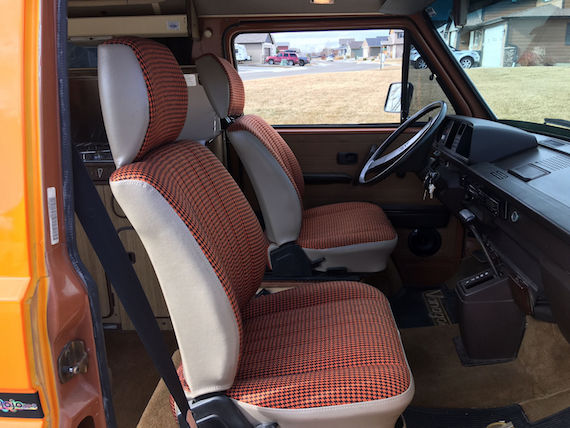 This is a 1981 VW Vanagon Westfalia. The Mileage is unknown but I was told when I bought it before I started restoring it that the odometer has the mileage on the rebuilt engine which has 26,176 Miles on the rebuild. I have $23,000 invested in the restore which includes mechanical, interior, a 3 stage Lamborghini Orange Paint Job, New sound system including a Ceiling Mounted DVD player and more.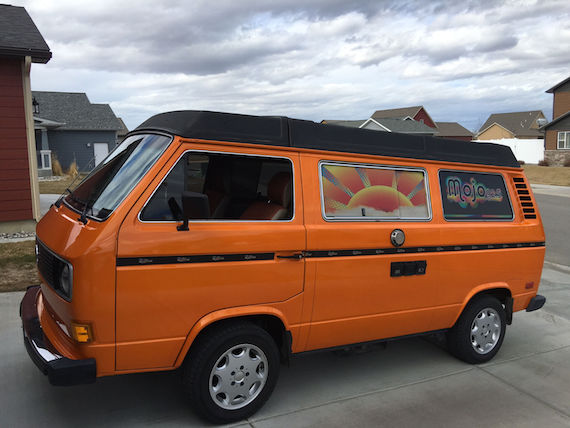 An SF Giants fan could easily turn this into the ultimate fan vehicle. When it comes to vans, however, I see a lot more than $6k in difference between this advertisement and the $29.5k, OCD'd Gold Westy we saw on Thursday. With a little more information to discern what exactly is below the orange and attached to the rebuilt engine, it may be a low-$20ks Westy. Provided you can remove all mentions of MOJO 92.5…
-NR