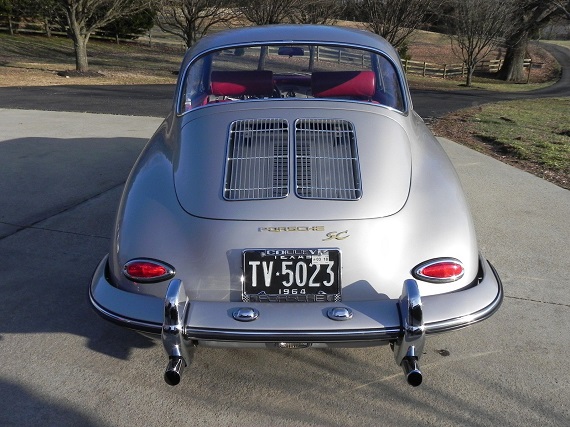 Vintages Porsches always have a more limited appeal unless they are a particularly rare model, in which case the limitations become financial. The 356 does have its share of fans, but with the 911 remaining ever popular it tends to garner much of the attention. That is to be expected given the sheer iconic stature the 911 has developed over its 50 years of production, but I remain strangely attracted to the 356. They're attractive cars that easily show their foundation as the 911's predecessor. So even if they've be relegated behind the 911, the 356 remains the 911's roots and for that it deserves plenty of appreciation. The example here comes from near the end of 356 production: a Silver 1964 Porsche 356SC, located in Maryland, with a magnificent Red interior and a reported 58,645 miles on it.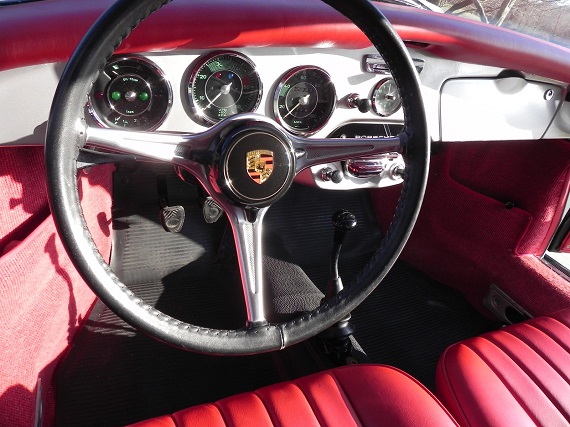 Year: 1964
Model: 356SC
Engine: 1.6 liter flat-4
Transmission: 4-speed manual
Mileage: 58,645 mi
Price: Reserve Auction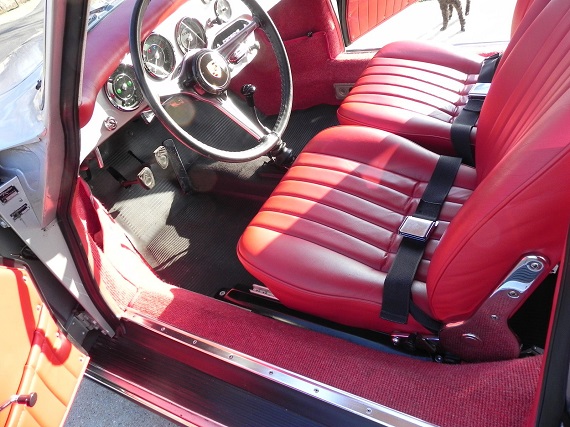 This is my 1964 Porsche 356 SC – European model. It runs and drives awesome. I just put a complete fresh tune up on engine after being rebuilt about 4 years ago. Trans rebuilt also and shifts perfect. Just had original AM/FM radio completely rebuilt and works as new. Original carbs and air cleaners come with car too. $10,000 just spent on complete hand stitched leather interior. Paint has a very good shine but has chips, 10 footer. All stainless and chrome are very nice! Original keys are with car including the one to lock shifter. European heater works perfect. 4 wheel disc brakes – stops straight and true original 6 volt system. Gauges are restored but have been changed to US – probably when brought over to USA. This 356 does not rattle. New King pins replaced, new shocks, etc. While on lift, every nut and bolt tightened. NO rattles or shakes. Car is very fast and handles awesome. POA with car. Factory German Manual and tool pouch. Extra new tune up parts included.

Also have my 2007 Porsche Carrera 4 for sale soon! Spent $19,000 in paint and body kit alone – just 2 months ago.

I had full intention of completely restoring '64 356 SC but have found an extremely rare car in barn. Been in barn for last 40 years and is expensive!!!!!!!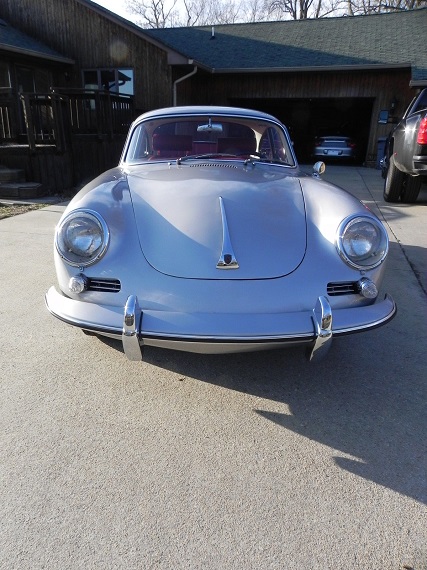 The color combination here is really nice and it's always good to see a red interior like this one serving as contrast to what would normally be a fairly staid exterior. That exterior color isn't original (the CoA shows Light Ivory as the original color), but it shows off very well here and gives this 356SC a fairly elegant look. Unfortunately, we aren't provided the best pictures so it's difficult to get a great sense of the state of the paint, but shown here in direct light it looks in fine shape. That red interior also looks in excellent condition. For just cruising around in simple, vintage style, the 356 Coupe generally makes for a pretty reasonable option. A car of this age is rarely cheap and this one is no different, but the coupes tend to sell for quite a bit less than comparable cabriolets. With bidding at $55,400 this one will probably need to come up quite a bit to meet the seller's reserve. I don't expect we'll see that here, but hopefully it can attract enough attention to elicit some conversations and maybe an eventual sale.
-Rob