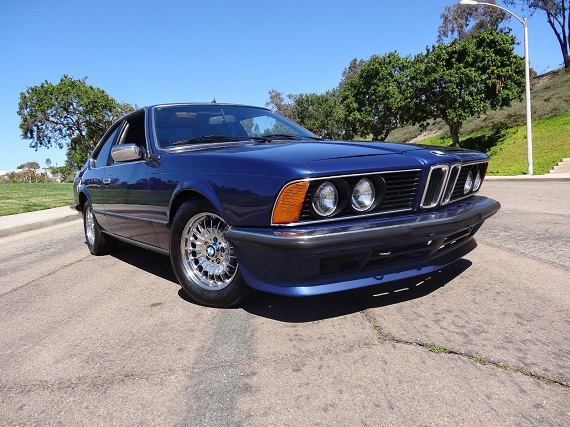 Sellers of automobiles – specifically, most second hand dealers – always interest me. It seems that seldom they do the research to properly sell a vehicle. Perhaps when it comes to a brand new Kia, research just isn't really necessary – but a 30 year old classic German car? Is some description better than no description? Sure, I guess at least there was an attempt made. But, if very little to none of the information actually applies to the model, I guess I'd err on the side of maybe it would just be better off with no description and just some pretty photos. At least in that case, I'd be annoyed that no effort was made to explain what I was looking at, but an effort made that misrepresents the product or just shows a lack of attention to detail? Now, that I find even more annoying. It's much like plagiarism; I'd rather receive a poor quality essay on the right topic than an award winning lifted essay on the wrong topic. So, let's look at this strangely portrayed E24: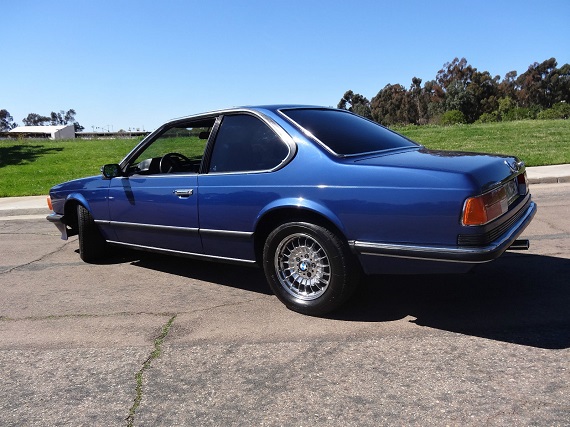 Year: 1982
Model: 635CSi
Engine: 3.4 liter inline-6
Transmission: 5-speed manual
Mileage: 216,675 mi
Price: No Reserve Auction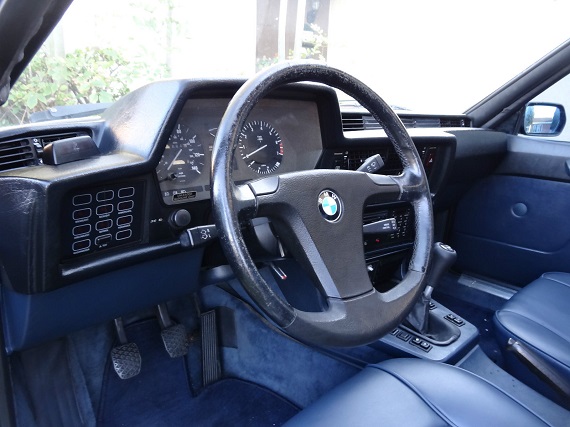 1982 BMW 633csi Coupe EURO

1982 BMW 633csi Coupe, also known as "The Shark". This is a Rare 5 speed Coupe with 216,000 original miles! One Owner vehicle in excellent shape! It is absolutely original and beautifully maintained ! This car is a must see, a real head turner! The 6 Cylinder engine gives good performance ! The sports tuned suspension hugs the road like nobody's business. Original Euro Bumpers. Original Sapphire Blue Paint exterior in excellent shape, you are going to have a hard time finding one like this. The Blue Leather interior of this ride is in very good Condition and is a sign of the excellent care and attention that this vehicle has seen since it was new. The matching Blue Carpet shows like new as well. Recently serviced, everything under the hood is in perfect shape.

The top of the line luxury package will completely surround you in both comfort and class. The package includes: 6 Cylinder, 5 Speed Manual Transmission, Rear 2 wheel drive,new tires, Power locks, power windows. AC blows cold, Rear window defroster, AM / FM, Cd Player,

Don't miss this opportunity to own a True Euro 633csi, One Owner BMW!

Please feel free to contact me directly with any questions (858) 733 1030
David

HISTORY
If there were only one BMW model epitomizing the perfect blend of luxury, sportiness and serious driving pleasure, for many enthusiasts it is the E24 6 Series. It had 12 years of production glory, from 1977 to 1989 (U.S.), and its design was imitated by many others but never equaled–not even by BMW. Diehard 6er owners often refuse to buy newer models, instead pouring thousands into mechanical and cosmetic work to keep the big coupes cruising.

1980-84: 633csi

The significant revisions BMW brought to the E24 for the 1980 model were all overshadowed by the wonders of Robert Bosch innovations. Using Bosch's ingenious new invention, the oxygen sensor, allowed efficient use of a three-way catalytic converter. The positively horrible and universally hated thermal reactor and EGR emissions control systems were dispensed with at once in favor of this new technology. A new factory electronic ignition system also appeared. The darkest chapter in U.S.-spec BMW engine history was finally at an end. While actual power output remained the same, driveability was immeasurably improved. More importantly, but unbeknownst to us at the time, electronic engine management systems would eventually allow U.S-spec BMW engines to achieve nearly the same power output as rest-of-the-world variants. It would take nearly 10 years, but the course was set in 1980. In 1983-84, Bosch Motronic engine management quietly entered our lives with Motronic version 1.0 basic. Ignition timing and fuel mixture were now computer-controlled. This early Motronic system, wonderful as it was at the time, is less than desirable today from a performance-tuning standpoint. No chips are available to upgrade the ECU–what you have is what you have. Even though the engines will still respond well to high-compression pistons and camshaft upgrades, electronic optimization is not possible. Similarly, while the catalytic converter is far preferable to the dreaded thermal reactor (writer looks down, spits), the exhaust system on these pre-1985 Motronic cars is incredibly restrictive forward of the cat. The end result was lots of header installations and de-catting prior to that becoming bad juju, and later, installation of 3.5-liter engines with advanced Motronics.

A five-speed manual gearbox backed up the newly invigorated engine, but, contrary to popular close-ratio European fashion, fifth gear was overdriven to reduce engine speeds at cruising velocities. This allowed both increased fuel economy and use of lower (numerically higher) differential ratios to aid acceleration. Traditionally, BMW gears down cars when it wants to spiff up low-end zoot either as a result of engine size, automatic transmission or, in this case, emission controls. The automatic transmission option included cruise control starting in 1982.
Outside, the lower front valence panel was revised, and the rear bumper ends were extended to the wheel openings in 1982. A silly federal law mandated an 85-mph speedometer, and BMW stuck a red LED clock in it for some reason. Independent techs sometimes played speedometer baseball out behind the shop with these units, as owners just couldn't stand to look at them. By 1984, we were back to the 140-mph speedometer. Central locking appeared; it was now possible to lock both doors and the trunk with one turn of the key at the driver's door. But the little flap covering that driver's-side door lock would wear out, and you had to replace the entire cylinder–a problem never solved on the E24.

The 1982 model year saw a mid-production suspension revision to the now familiar wishbone front control arm design, which eliminated the front strut rods. No outward indications signaled this revolutionary advancement in BMW front suspension design. The wishbone design allowed far greater high-speed stability through increased control of caster angles and afforded greater control over ride quality independent of shock damping qualities. Suspension geometry under heavy cornering loads was also improved. However, the wishbone design is not a panacea, as technicians and do-it-yourselfers are well aware. The 06/82 production date marks both the beginning of the BMW wishbone control arm design and the beginning of the now-notorious BMW front-end vibration proclivities (previous vibration problems with the E21 3 Series were isolated to that model, which did not use wishbone control arms).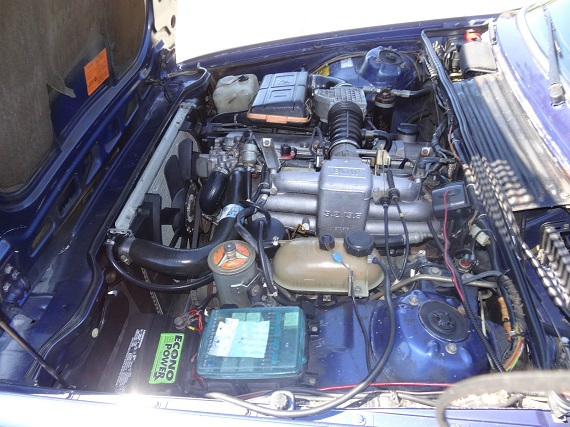 So, after several announcements that this is a 633CSi in Euro trim, a look at the pictures will have you scratching your head. That's because the rear of the car (and the floor mats) proclaim that the car is a 635CS – a model which doesn't exist. Of course, it's not improbable that the "i" was lost along the way, but the seller's disregard for this detail is somewhat odd. But the missing "i" leaves a few questions; was it "badge engineered", which model is it really, and most importantly from an enthusiast's standpoint, is this one of the post-E28 update cars considering the 1982 production date. For those answers, I turned to the BMW VIN decoder, which proclaims that this car is indeed a ROW 1982 635CSi produced in July, 1982 – making it early in the E28 switch over. The seller also proclaims the color is "Original Sapphire Blue", which it isn't. To me, it looks much more like Royal Blue Metallic #198, but not quite perfectly – which may explain the lack of "i" too if the car went through a respray at some point. That wouldn't be an outrageous event considering the car over 30 years old and has 216,600 miles – the condition seems to betray those numbers. Inside the blue leather seems to be in very good shape though there's been a touch too much shiny product placed on it, and the chrome wheels are equally horrible. On top of that, importantly no mechanical information is provided though the car is a claimed 1-owner example. Sorry dealers, "recently serviced" just doesn't cut it, considering that some dealers consider a "checkup" a service provided. It doesn't mean anything was actually done, so if you're going to claim it, please list what you did!
Now, that aside, this appears to be a nice looking example of a Euro 635. It's located in San Diego, which should mean that if it's spent any time there and was registered, it now has some smog equipment, but again that would be information that would be actually useful – so it's not included. What is appealing is the price – at $5,000 currently with no reserve, it would certainly appear that you could do much worse in the 6 world, and I don't think you could do much better. There are a lot of questions to be answered, but if the price stays low it might be worth jumping on this Euro shark.
-Carter