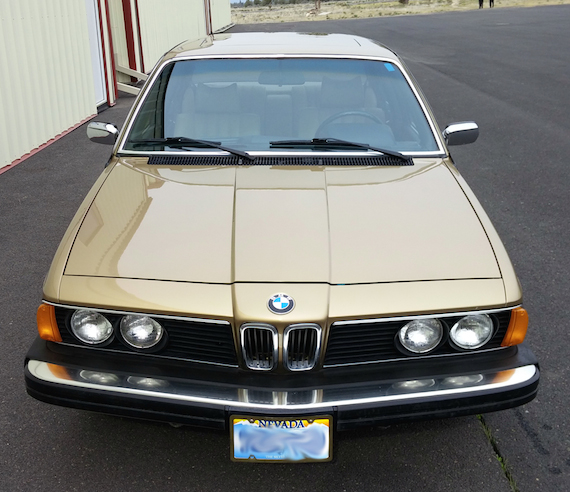 Back in February, we came across a mint condition 1978 BMW 733i for sale. At that time, I opined how rare it is to come across an E23 on the road, let alone one that has been kept in good shape. Lightning has struck twice, as this 1982 733i for sale in Oregon matches that prior example for originality. Unlike the 4-speed manual variant we saw in February, this particular example is equipped with the 3-speed automatic gearbox (the E23 would not see a 4-speed automatic until 1984). Originally an Arizona car, life in the western parts of the US has been kind to this 733i.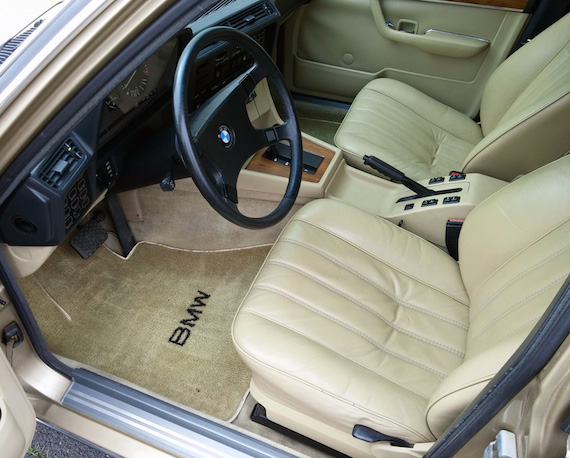 Year: 1982
Model: 733i
Engine: 3.2 liter inline-6
Transmission: 3-speed automatic
Mileage: 87,100 mi
Price: Reserve auction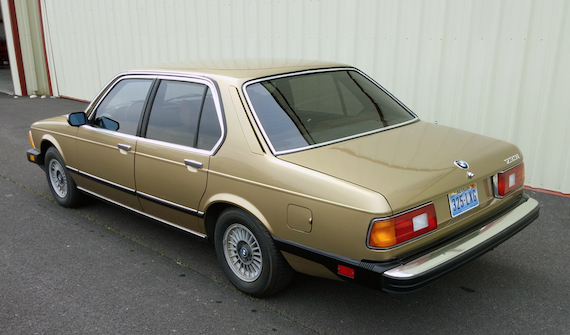 1982 BMW 733i E23

Here is a 1982 BMW 733i in unusually excellent condition. It has only 87,000 original miles and looks like it was stored in a time capsule. The spare tire/wheel is the original one that came with the car when it was sold new and it has never been mounted. The jack has never lifted the car. The radio/cassette player is original and fully working. If you are looking for a fine example of the E23 then this is the car for you! The history of this exceptional car is:

The first owner purchased it new in Phoenix, Arizona in 1982. He put 62K miles in the first three years.

The second owner bought it in 1985 and brought the car to Lake Tahoe, Nevada where she had a second home and it was stored in a garage. She drove it and put 22K miles until 1995. From 1995 until 2000 it was stored in the garage and not driven.

The third owner in Carson City, NV. purchased it in 2000 with 84K miles. He had it towed to a shop in Carson City so they could go through it as it had not been driven regularly in 15 years. They did an extensive amount of work to get everything in perfect working condition. The work amounted to over $4,000.

We bought it from the third owner on 3/18/15 with 86,600 miles. We drove it home to Bend, OR putting 450 miles on it in one day. Everything worked perfectly and it drove great. It went into our shop where we did a very thorough inspection to verify all the work that was performed 3000 miles ago.

The recent work (3,000 miles ago at $4,000+) that was done included:

1. New brake rotors and pads front and rear
2. All fluids changed
3. Transmission serviced
4. Gas tank removed and cleaned
5. New fuel pump
6. New fuel sender in tank
7. New fuel lines
8. New fuel filters
9. Level II service: oil & filter, plugs, plug wires, rotor and cap, valve adjustment, air filter, etc.
10 Complete cooling system service with new radiator, thermostat, water pump, hoses, clamps, etc.
11. New battery
12. New belts
13. New tires
14. Front wheel bearings cleaned and repacked
15. New air intake boot and air lines

Our inspection verified that the all of the above work was performed.
On 7/2013 at 85,539 miles the oil service was done.
Original maintenance book has all the service stamps up to 10/8/85 and 62080 miles

Work that our shop performed recently at 87,000 miles includes:
1. Complete inspection
2. New hood lift struts
3. New front hood roundel
4. New airbox shock mount
5. New outboard halogen hi/low beam headlights
6. Clean and lube sunroof
7. Repair climate control module
8. Repair RH rear window
9. Service front upper strut mount bearings
10. Install new OEM Sachs/Boge front shock inserts
11. Install new alternator mount bushings
12. Install new air filter
13. Repair right rear window regulator
14. Complete exterior detailing and reconditioning including buff, polish and wax
15. Complete interior detailing including shampoo carpet and mats, condition leather, etc
Includes the original manual folder with: Owners Handbook, On-board Computer guide, Stereo Radio guide, BMW Service guide, Consumer Warranty Information, and BMW Service booklet.

This is an exceptional example of an E23 that is in excellent condition for its age. Some of the highlights are:
1. The body is 100% rust free.
2. The leather interior is 100% crack and tear free and the leather is soft and supple. Rated 9/10
3. Exterior paint is very good condition and the clear coat is bright and free of any fading. Rated 8/10
4. Glass is very good to excellent condition. Tinted glass from the factory, not an aftermarket tint film
5. Everything is in good working condition including the on-board computer and warning panel lights
6. All the rubber is still soft and pliable
7. All lighting and electrical is in good working conditioning
The only flaws we found are:
1. A few very minor small (quarter sized) dents on the front hood and roof
2. Front upper strut mounts have cracking in the rubber
3. One horn button on the steering wheel is inoperative
4. The dash has some minor cracking. These are still small as shown in the pictures
5. Radio antenna (electric) needs a new mast
I have about 100 photos of this fine car that I can send you if you want to see more.
WILL ASSIST IN SHIPPING. BUYER PAYS FOR ALL SHIPPING FEES.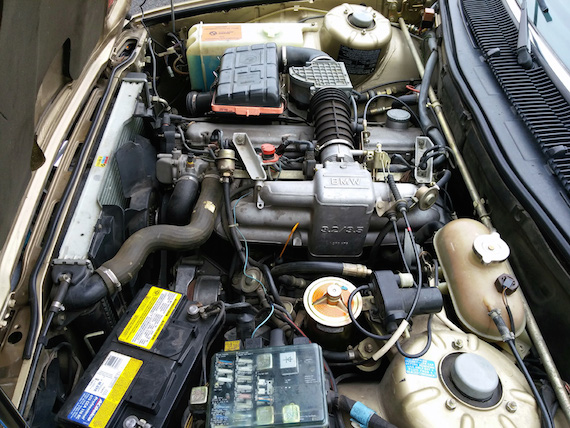 Most of the mileage on this E23 was piled on early in its life, with the car being stored for five years by the second owner in 1995. Normally this would make me a bit skeptical about the condition of parts, but with a comprehensive list of work completed, it would make me rest easier. The last 733i we saw sell was a higher mileage 1984 example for just under $3,000. Values for the E23 have been notoriously lower than their more popular stablemates, notably the E30 3 series and early M cars. Given the mileage and condition of this one, but with the detriment of one less gear, I'd suspect we might see this particular car fetch around $4,000 to $5,000.
-Paul