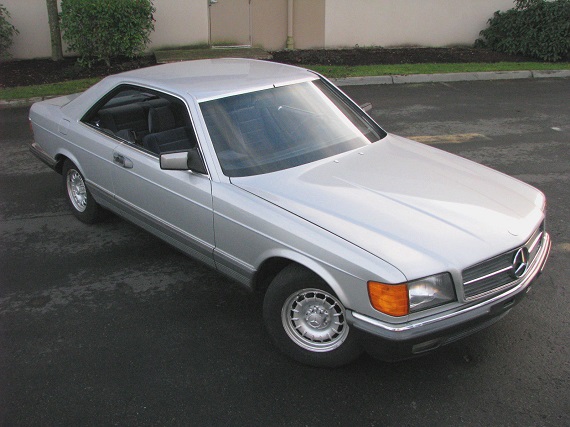 While I can't say that I'm much of a fan of current Mercedes-Benz products, driving down the road the other day I stumbled across a European specification 500SEC. Now, W126s amazingly aren't an uncommon sight by me, perhaps a testament to their build quality and enduring appeal. But that big coupe that I saw just stood out – it was as if 18-odd feet of 1985 had been transported back in time. Unlike many of the beaten and tired looking SELs that clatter along the street, a subtle V8 burble crept from under the hood of this pristine time capsule. It was shiny and looked near new and was a reminder of days gone by. Is the W126 Coupe the best looking Mercedes-Benz? Not by a long shot, at least to me. But the package which is the SEC may be one of the best, balancing comfort, style, speed and dependability with affordability. Add the Euro-spec items to that list, and the package is a home run: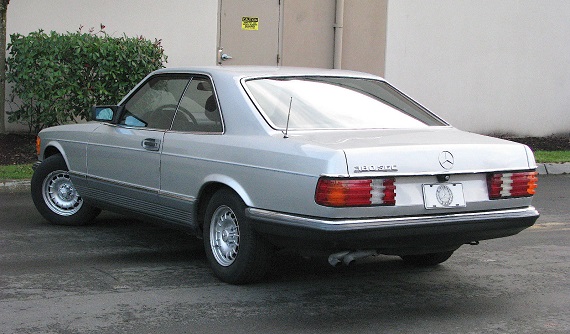 Year: 1982
Model: 380SEC
Engine: 3.8 liter V8
Transmission: 4-speed automatic
Mileage: 108,442 mi
Price: Reserve Auction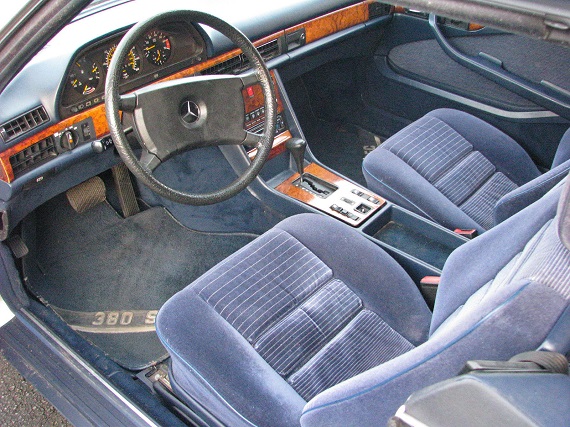 1982

Mercedes Benz
380SEC Coupe

Rare Euro model with

all the original factory features

VIN: WDB12604312001685

Here's another rare, great-running & driving Mercedes we've acquired recently for our Ebay customers. This nice coupe was legally imported in 1983 and has spent the last thirty-two years owned by the same family driving our salt-free Pacific Northwest roads. From the moment I first laid eyes on this clean car, the level of respect and care given over a lifetime was very obvious.

I'm fortunate to come across many nice Mercedes here in our region, but it's extremely rare to find a Euro-model that's still has the designer's original features. Most imports were required to change out the large, tilt-able H4 headlamps for smaller, round sealed beams and had ugly extended bumpers added. Try to find another one this nice with the more durable fabric interior found ONLY on European models. If you want a vintage Benz in the style and with the horsepower originally intended by Daimler, this is your car!

Reluctantly, the coupe was passed along to us a few weeks ago as the owner downsized. I've got to tell you, having driven it almost daily for the past four weeks, what a treat! Where else will you find this kind of luxury, vintage style, safety, mechanical reliability AND economy wrapped up in one gorgeous ride? Please feel free to contact me with questions or to make an offer. My name is Mark Thompson and my direct phone number is 206/914-1173. You're welcome and encouraged to make an appointment to inspect and drive this outstanding car here at my Auburn warehouse.

VEHICLE DESCRIPTION

Ever driven one of these Mercedes with the powerful, yet thrifty 3.8 liter engine? Smooth is the word for sure. Smooth powerful acceleration. Smooth handling in the curves or on the highway, too. I've also always considered these W126 chassis coupes as some of the last hand-built, truly high-quality Mercedes and have heard many others say the same thing! Please look at my photos. What you see is the result of a wash and vacuum only. It's obviously been allowed to spend the majority of its life garaged because the overall condition is superior. Rust? Please, this Benz hates rust and you WON'T find a thing to worry about here. Yes, the Northwest is famous for rain, but our winter roads are never salted (it's quite rare to have even one or two days of light snow). Climb over, under and all around this coupe – I know you'll come up smiling!!

Having personally owned many dozens of Mercedes over the years, I've developed a great appreciation for their style, mechanical reliability and overall driving experience. THIS CAR RUNS OUT JUST AS IT WAS MEANT TO. I'VE NEVER DRIVEN ANY VINTAGE BENZ THAT I'VE LIKED BETTER!! I'm convinced you'll be proud to own and drive it as well.

CONDITION:

In total, this is a unique, clean, well-cared-for, smoke-free car. I take great pride in the vehicles we sell and feel that you should know as much about it as possible. Accordingly, here's a list of the good and also small things needing attention: Turn the key and the strong 3.8L fuel injected V-8 engine fires right up every time! It's important to note this engine has the double-row timing chain driving the camshaft. No worries about chain stretch here! The automatic transmission shifts easily and just as it should. The car idles, runs and drives like a Mercedes is supposed to – strong oil pressure, good battery and charging system, no overheating, no brake pull to either side or alignment issues! I've put on almost 600 miles over the past month including a trip to Portland cruising at 60 MPH down and back for three hours at a time.

The paint is still factory original as far as I can tell and is in excellent shape; NO peeling clear coat, noticeable fading or lacquer check of any kind. Any small rock or door edge chips have been promptly touched up. The front fenders, doors, rear quarters, trunk and floor pans are all solid; in fact the entire undercarriage is in fine condition for a three decades-old car! I really like the look of the original "short" European bumpers front and back that show the body design as originally intended. They're far nicer than the ugly, bulging units seen on the U.S. version. No other exterior body flaws to point out. The factory wheels are straight and true. They're wrapped with 205/70R14 radials with at least 60 -70% tread remaining all around. Though not pictured, a good spare is in the trunk on a full-sized matching factory wheel.

Take another good look at the interior pics. Hop in and feel comfortable sitting on these firm front buckets for hours as the springs and original Euro fabric covers have held up far better than most. There's little to no wear on either front bucket other than a small area on the driver's left bolster as shown. The rear seat is just about like new! Floor mats have always protected the front carpets and they're in great shape, too. I would assume the odometer is reflecting true miles as both it and the speedo work perfectly. There's no evidence of any water leakage on the headliner. All the burlwood laminate interior trim has stood the test of time as pictured. All heater/defroster controls appear to work properly, as does the fan, but I've not checked on the A/C to see if it blows cold. It's uncommon on European Mercedes to find power windows, but they're here and all four open and close just fine. The driver's window switch pod has worked loose a bit from its mount, but operates properly. About the only other flaws I've come across are: a small bulls-eye windshield chip (which could be easily fixed), two missing buttons on the electric seat adjustment switches (the passenger side doesn't move, though I hear the motors running; probably needs the cables replaced), the trunk lock is finicky and can be difficult to open, even with the key. Both door locks are fine. I've never understood why Mercedes installed the device that moves the front seatbelts forward when entering the car and have yet to find one that works properly on any SEC. I've always adjusted the driver's belt manually when buckling up and never give it a second thought.

I'm always very happy to work with any shipper you choose, but you're also welcome to do what many of my previous buyers from as far away as Alaska, Arizona, the Midwest, Canada, Florida, New York and even the Mexican Baja have done – fly in here to Seattle (We'll pick you up at Sea-Tac International just a few miles away) and then start a road trip home the same day! As a respected Ebay seller with many, many satisfied online buyers, I want you to bid with confidence knowing that this Benz runs and drives as it should AND that it is being properly represented to you! Please don't be upset if I miss a minor flaw or some small issue comes up on the car as NO used vehicle is perfect. Having said that, I won't hesitate to drive long distance again in this Mercedes today!

Please check the photos over closely and call me with any questions BEFORE you place a bid! You're encouraged to stop by, inspect the car at my Auburn, Washington warehouse and take it for a test drive. As always, it is being sold "as-is, where-is" with a clean, free & clear Washington State title.

A Few Additional Terms and Conditions:

Because of the amount of money involved with a vehicle purchase, I reserve the right to cancel your bid if you have any negative feedback. I also ask that potential bidders with a feedback rating of five or fewer transactions on Ebay contact me before placing their bid. Please feel free to contact me directly thru EBay's system or, as outlined above, call me at 206/914-1173 anytime. My name is MARK THOMPSON.

A nonrefundable $500 deposit is due within 24 hours of the auction's end. We can accept PAYPAL, but I'll need to invoice you first if anything more than the deposit is being paid this way (I would also ask the buyer to cover the 3.5% PayPal fee for any amount sent above the $500 deposit). The balance is due by cash or certified funds within seven business days unless prior arrangements have been made with me. Please remember you are bidding to buy and I fully expect the winning bidder to fulfill their Ebay contract! You're not bidding to hold or then come inspect and test-drive the vehicle later — You're more than welcome to do this before the auction ends.

If you do decide to have the Benz shipped home, there are numerous vehicle transport companies to choose from. We deal with them regularly and I'd suggest that you get a transport bid from Dependable Auto Shippers (DAS). They're EBay's preferred transporter and will give you a fair quote. Call them at (888)817-6203 and give the agent my affiliate number (2362642) so they can pull up all our information for door-to-door or even station-to-station price quotes.

As an alternative, you might also get bids from the U-Ship.com website. You'll be able to choose a transport broker from multiple offers. The zip code for pick-up would be 98002 (Auburn, Washington). The shipping of the vehicle and company chosen are the responsibility of the BUYER.

The Mercedes can be stored free of charge at my location for up to two weeks after the auction ends assuming full payment has been received. After that period storage will be $20 per day.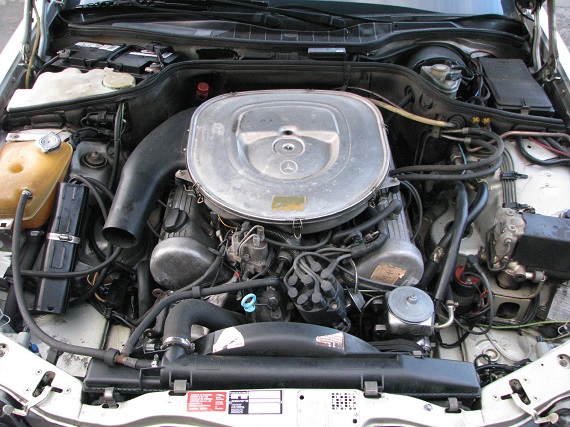 As with other Euro-spec Mercedes-Benz cars I've written up from this period, this one has the high-end cloth interior that helps to set it apart from the U.S. models. The color may not be everyone's favorite, but I think the blue interior under the silver exterior is quite nice overall and the presentation is great. The car appears to be all original, and though the design changed little over its production run there's something that looks distinctly different about the early cars that's pleasing. They seem, somehow, more simple. Perhaps it was a simpler time, and that too adds to the appeal of the package. Pricing should remain quite affordable and at maximum in the low teens for what is a classic bit of Mercedes-Benz history that will likely appreciate over the coming years.
-Carter