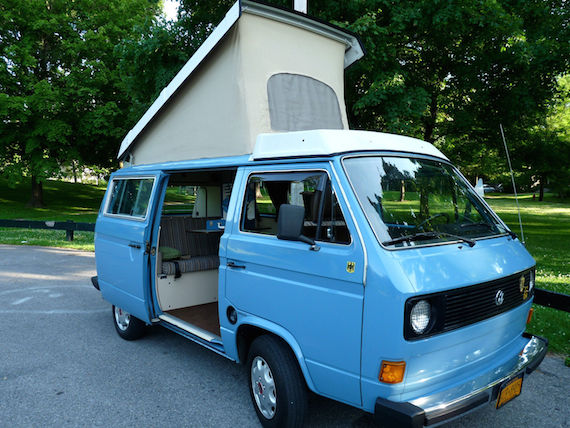 As I head up to Sonoma for a weekend of NASCAR, I get to indulge in another incongruous-but-fun journey, loading M5 up with camping gear and parking it next to trucks, campers, and RVs. It even gets a few nods and smiles among this very different type of car enthusiast, but staying in a tent surrounded by generators leaves a little to be desired. This is a long way of saying yet again that I very much want a campervan to increase the efficiency and comfort of my roadtrips. Today we have an earlier but very nice Vanagon, in the exact color as my brother's non-Westy van. It's only adventured 84k miles in its 3+ decades and has had some recent maintenance that indicates it could go as many years and a lot more miles. It has a few needs but the cleanliness in undeniable and with no reserve, it could be a good deal relative to most clean Westies.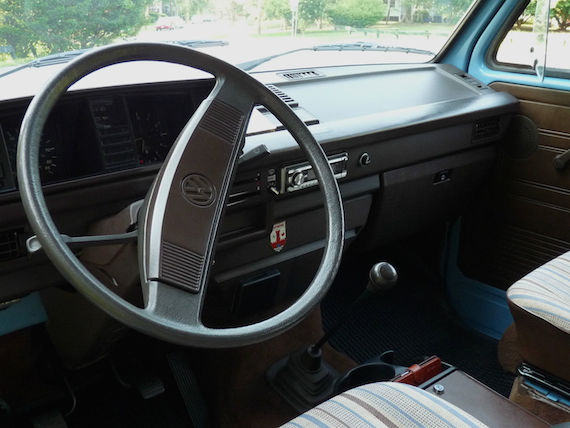 Year: 1982
Model: Vanagon Westfalia
Engine: 2.0 liter flat-4
Transmission: 4-speed manual
Mileage: 84,000 mi
Price: No-reserve auction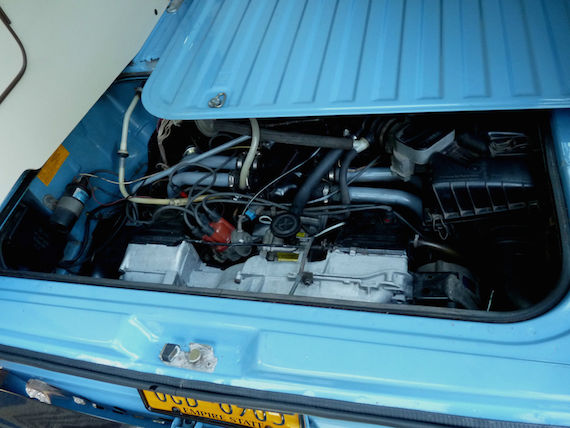 I am the 3rd or 4th owner of this like new Westie! I have about 100 pages of documentation! Even from its first oil change! So…my wife and I have decided to retire and move into a condo…so we must sell 🙁

I purchased the Westie with great dreams…but about 10 years too late! 🙂 My wife can't make the climb up into the bunk! Anyway…I've done in the past year…I had the engine removed and completely rebuilt and detailed. New exhaust…and even heater box flappers. New fuel filter and pump…gas tank also cleaned.

Also, I had new gearbox shift work done! (It now shifts as tight as when it was new!) I also had a new driver's door window crank installed too. And so much more! Also…it is about 93% original paint! Making up the 7% is: the sliding door had a small ding on the bottom (typical). So that was repaired and painted. Also, there were two tiny 1/8″ imperfections on the front and rear window gasket areas that we had painted too.

The interior and fabric are virtually like new. I did purchase new matching fabric for throw pillows. It will be included. And I also had the pop top screen professionally removed and replaced.

Things I would still do…

The fridge doesn't seem to be working? But I'm also not familiar enough with it. But it still does have its original ice tray! 🙂

Also, the stove works. But my mechanic said that there is a leak at the gas valve itself. I would have purchased the new propane tank set at Gowestie for $500.00 if I were to have kept it.

Other things done…

I removed the sliding door and rear door panel paper. I have new paper to replace it.

So to sum it up!

This Westie is about the nicest Westie I have ever seen or driven!! And unbelievably, you won't believe how quiet the engine is! And how strong it is! Amazing!

Also…hours and hours and hours were spent in detailing this wonderful Westie. Even the exterior window trims were polished out. And look at those headlamp stone grill guards! Where have you ever seen those! Also had the front seats removed and base turn plates thoroughly cleaned, polished and siliconed. The seats move, swivel and glide with ease!

This Westie drives ultra smooth and handles truly as if new. You will not be disappointed. Looks 10 times nicer in person!

PS!! How about those "jail bars!" 🙂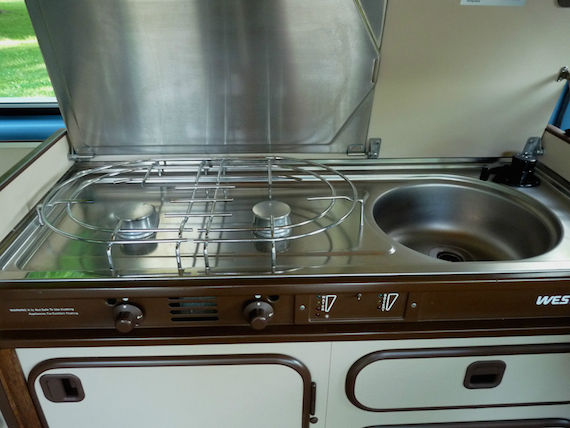 I'm not sure why jail bars are such a desirable accessory, but it seems to be an honest write-up on a gorgeous Van. Anyone who buys a Westy should plan on spending a bit of time and $$$ on the GoWesty site, so the propane connection is just a good entry down that fun rabbit hole. Westies this nice can easily break $30k, but if this one can stay under or around $25k, it would be a very reasonable buy that could probably appreciate.
-NR