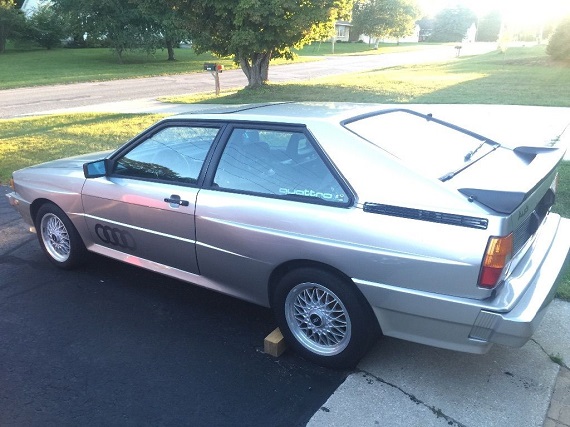 For as long as I can remember, the Quattro community has been a tight-knit group. Unlike many other Johnny-come-lately brands, models or trim packages, the Quattro bred life-long devoted fans. To them, it was the be-all, end-all, and they have religiously kept track of every single of the 664 originally imported that they can find. Some have been lost along the way or brought back to the homeland, but the seller here – one of that devoted Quattro community – has begun to restore this one to former glory: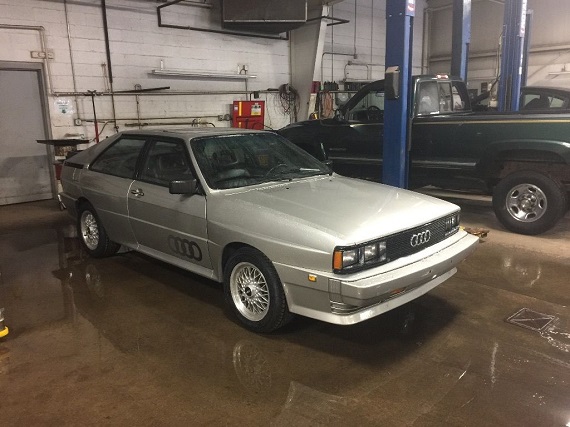 Year: 1983
Model: Quattro
Engine: 2.1 liter inline-5
Transmission: 5-speed manual
Mileage: 143,555 mi
Price: Reserve Auction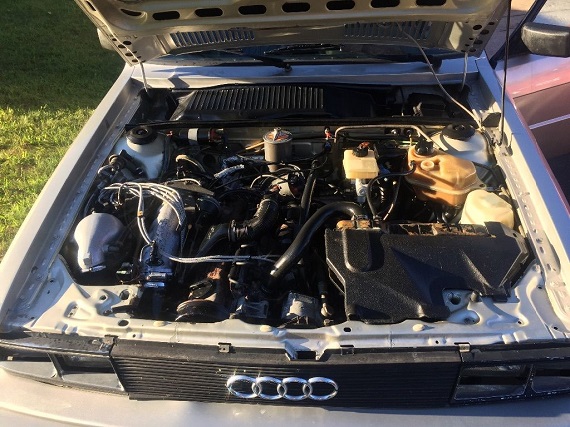 1983 audi ur quattro

These cars are becoming harder to find. Especially solid cars such as this.
History:
I purchased this car during the summer. Saving it from an auction and uncertain future. In doing research I found the car was for sale on the east coast. In full disclosure here is the info posted from that seller:

PREVIOUS SELLERS LISTING

"1983 Audi Quattro (Ur-Quattro) A rare opportunity to purchase an Ur at a reasonable price. A solid example… but is in need of some work. The work I have done… Approximately 15,000 miles ago, rebuilt engine from a 1985 Audi 5000 was transplanted into this car (same type of engine with an upgrade of a timing belt tensioner) along with an oil & water cooled turbo from a 1991 Audi 200 20v. The shocks and tower bushings were replaced. Custom made stainless steel muffler from Germany. This car must have been made at the end of 1983, as it has many of the 1984 upgrades. The major improvement being the fuse box in the engine bay – see pic(I have seen many 83's and have never seen this). It has a Momo steering wheel. Zermatt Silver and the Chocolate leather go together very nicely. Interior is in decent shape. That's the good, an Ur speaks for itself – good & bad… but, here is a list of the bad. Most of which should not come as a much of a surprise) The engine runs great and starts right up, but under full throttle past 4000 rpms it sputters (guessing many of the air & vacuum hoses need replacement and probably a sensor or two). Secondary radiator in the grill has a pin hole. Center bearing on the drivetrain needs to be replaced. Brakes need some work… needs rotors (warped) & bleeding of fluid, etc. One window switch does not work. Odometer and tachometer have recently stopped working (cables probably need cleaning and lube). Sunroof crank knob is broken off (sunroof worked fine before the crank broke). Rear seat bottom has 2 small holes in the leatherfrom the seat belts (see pic). It needs paint… many spots of clear coat have peeled off. Driver side rear fender is dented (see pic). Some spots of rust… a few on the body andthe underside ofthe hood (see pics). There is evidence of somepaint work from before I owned it. Rear wing is cracked and old. Front windshield is cracked and will need to be replaced. Passenger side of the dash has a few cracks (see pic). Air conditioning does not work (never attempted to fix). "

End or previous sellers listing

The car was then purchased by someone in Missouri or Oklahoma. I was told by a technician who wanted to start selling classic cars. During his ownership he added new brakes and lines, replaced windshield and had bodywork and new paint done. Unfortunately his business failed and the car was sent to auction. This man must have cared alot about this car as he took care in packaging all of the spare parts in boxes in the trunk. He replaced the windshield as well.

When I got the car I started replacing items including doing a tuneup of the engine to give a new future owner a smooth running engine. Getting the last plug out was met with failure as the plug was fused to the head and broke off. Instead of doing a quick fix I wanted a proper repair done so ordered a head from efi express ( well known audi urq shop on the east coast and my tuner for my other urq rally car ) he had it machined and replaced anything that wasnt 100 % in spec. The car was brought to a shop here in Michigan and head replaced.

List of new parts added:
Rebuilt head
Steel head gasket
New water pump
New timing belt
New thermostat
New radiator from coupe gt non aux cooler type
New lower radiator hose
New motor mount pass side (rubber cracked in old)
New tires
New sunroof crank
New exterior decals from audi germany
New accelerator cable from audi germany
New upgraded accelerator bushing under dash
New distributor cap, rotor, plugs
New oil filter , oil
Coolant system flushed new coolant
New battery
New from audi germany key blank to make spare
New fuel injector seals
New starter

The good:
Rare very solid car with only a couple of spots of rust found in the weep hols in lower trunk under the car.
Late model car with the desired late model fuse box and suspension

Items that need attention that Im aware of :
Engine has hesitation which may be vaccum line leaks and of intake sensor. I have purchased new correct vaccum line and sensor. Have not installed.
Drivers side power window in op. I removed switches. Needs new regulator.
A/C not working. I removed a/c condensor during radiator repair and will be in trunk
Old radiator and aux cooler included. Both need recored
Previous owner repainted car both bodywork was not perfect. Good driver and show not concours. Cracked lower front air damn. I would get euro bumpers.
The center diff lock inop. Could be switch or vaccum leaks. The awd does work.
The speedometer doesnt function and I have not looked into what is wring with it. Tach does work.
Radio not functioning. Wasnt a priority repair. Besides lisyening to a 5cyl audi turbo is much more fun. 😜
Thats all i can remember and have spent thousands trying to make the car right again. Unfortunately I dont have proper storage and the car should go on to someone who will continue to restore it.
The car is sold as is no warranty due to age. Has clear michigan title. Car was sold originally in Colorado then to east coast. Doesnt appear to have been driven in salt much as the underbody is in such good shape.

$500.00 paypal deposit due within 24 hours of auction end. Remaining balance due within 7 days of auction end via wire transfer or certified bank check which will be verified before title / car is released. I have a 100% ebay feedback score.

Please do not ask what the reserve is. I have listed it via auction as many people have interest.

Ask any questions via ebay. I have more photos.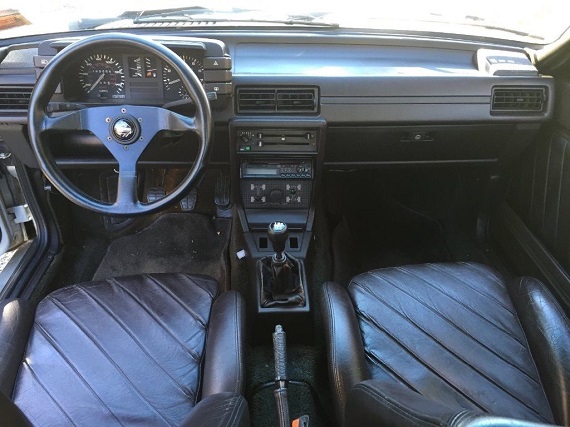 This car is claimed in the advertisement to be Zermatt Silver Metallic (LY7Y), but it sure looks to me to be Diamond Silver Metallic (L97A) – a bit brighter than the Zermatt color. Both colors were available in the '82/'83 model year, but Diamond disappeared in '84. A look at the build sticker would solve the issue. The paintwork appears driver quality, as does the interior. Wheels have been upgraded to 200 20V/V8 quattro 15″x7.5″ BBD RG forged alloys; light, pretty and a lot cheaper than the proper 15″x8″ Ronals that are popular. Originally, the car wore 6″ Ronal R8s. The engine, too, was replaced with what sounds like a MC-1 turbo from a later Type 44.
There's been a lot of quite expensive work and hard to find bits that have been done here; notable is the windshield replacement, a NLA item in the U.S.. Despite this, there's still quite a laundry list of things to do. Yet this hasn't slowed bidding at all, with active fans pushing $15,000 at time of writing with a few days to go. Does that sound like a lot for a semi-rusty restoration project Ur? It may to quite a few, but it shows the devotion that this model created.
-Carter