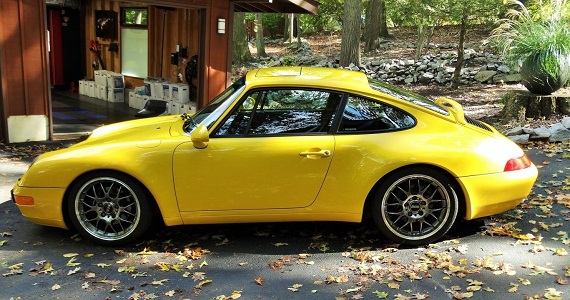 Let's go back to the 993 because this one, while not one of those wonderful Turbos, has its own fine qualities and a price that, like the Turbos, seems like it isn't too bad. The 993 never really seemed to come down in value the way earlier air-cooled models did, but while the classic 911s showed steep increases (which have since regressed) the 993 stayed more or less where it was, rising more gradually. Here I'm speaking about the standard Carrera since, as usual, exceptions can be made for particularly rare models or extremely low-mileage examples. It's still tough for us to say that the 993 has come down in value, but it does feel like we're seeing more interesting examples pop up for the sort of asking price we used to see for a much more standard example. Like this paint-to-sample Ferrari Fly Yellow 1995 Porsche 911 Carrera Coupe, located in Pennsylvania, with 39,638 miles on it.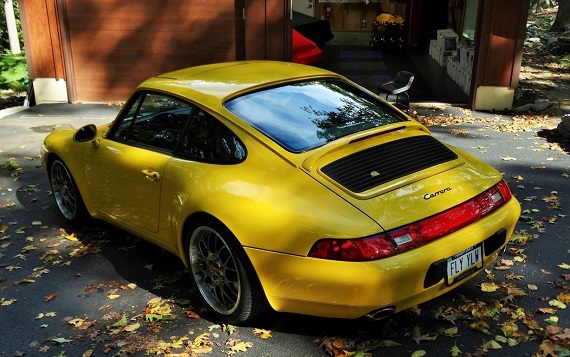 Year: 1995
Model: 911 Carrera
Engine: 3.6 liter flat-6
Transmission: 6-speed manual
Mileage: 39,638 mi
Price: Auction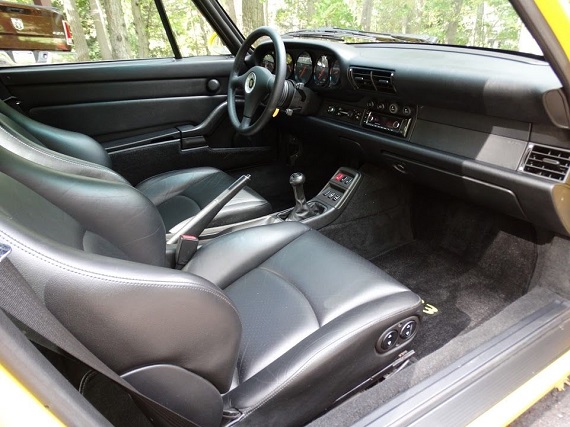 1995 Porsche 911 (993)
Vin: WPOAA2995SS321053
Early production of 4/94 (put into service 6/94)
OBD I (No hassles from 1996 and onward OBD II throwing off CEL codes for SAI)
Factory Paint To Sample Ferrari Fly Yellow
Soft Back Sports Seats
39,6xx miles
Three or Four owners: (Carfax shows three owners. This would only be the case if the first owner, a lessee, purchased the car at the end of the lease. But I don't have records indicating this as the case. So, I'm going to err on the side of caution and say I'm probably the fourth owner)
First owner leased: June 1994- June 1997 (25 miles – 22,524 miles)
Second owner: July 1997 – August 2006 (22,524 – 31,xxx miles)
Third owner: September 2006 – October 2015 (31,xxx – 37,838 miles)
Fourth owner: November 2015 – present (37,838 – 39,6xx)
Stored in climate controlled garage with fleece car cover from Carnewal
Service history back to 1997
Porsche COA & Original Window Sticker
Tool roll, jack & air pump
Porsche RS Steering Wheel (Original included)
Blaupunkt Toronto 420 BT head unit (I do not have the original)
BBS RS-GT Wheels (I do not have the originals)
New Bridgestone Potenza S04s (12/15)
New battery (2/16, I left the interior light on overnight)
New H&R Springs with Koni Adjustable Shocks (5/16)
Lower valve covers and gaskets recently replaced (5/16, no leaks)
A/C recently recharged (5/16, blows cold)
Recent brake fluid flush (5/16)

She's going in for full fluid changes (oil, trans, diff, etc) and PA Inspection/Emissions testing this week. (10/16)

All electrics function as they should with the exception of the interior lights. They do work when operated manually, but they do not go on automatically when the doors are opened.

$68,000 (FIRM) … I will not sell her for less. She is that nice and I'd just assume keep her for anything less.

I would consider a trade for an equally nice G50 coupe or trade plus I put in cash for M491 or 930 (prefer Venetian Blue, Diamond Blue, Silver or Grey)
This is the only reason I'm considering selling the 993 is to free space and cash to acquire another late eighties 911.
Car is located in Valley Forge, PA

tjsbeer@gmail.com

Cheers & Thanks for looking,

Jeff (TJsBeer)

>>>>>> Photo Album https://goo.gl/photos/bKKrAzqhHv1qh9oJ8

Cold Start Video https://youtu.be/Zbz9BKqYTCQ

Walk Around Video https://youtu.be/2obga_bA55s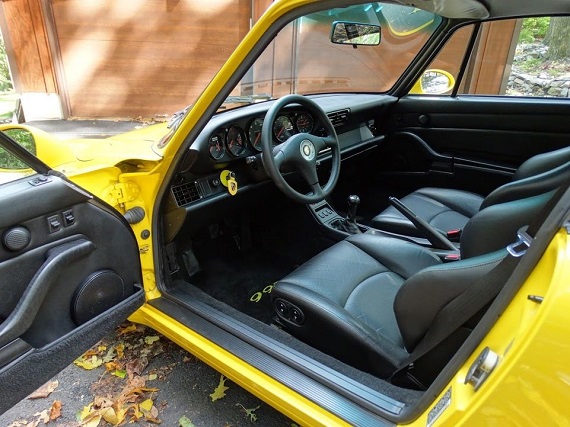 Like yesterday's Jade Green 911 this is another color that we won't see very often, though in this case the color itself isn't far off from Porsche's own Speed Yellow. Which color is better? I have no idea. They're pretty difficult to tell apart from a distance. My sense is that Speed Yellow is a little deeper, perhaps with very slight orange hues to it, though we only really see that when photographed in the shade. Both are very bright and eye-catching and fans of yellow can't really go wrong with either one. That brilliant paint looks in very good condition and the interior looks in fine shape as well. Given there are fewer than 40K miles on this 993 that's the sort of condition we'd hope to find. The sport seats make for a nice addition and to round things off it sounds like we have good deal of maintenance records to go with it. With an asking price close to $70K we certainly can't call this 993 inexpensive, but the combination of the PTS exterior and pretty low mileage should make this one an attractive option for those seeking a little extra flash in their 911 life.
-Rob