Supercars are not the most profitable of cars for a manufacturer, but can be a beneficial piece of promotion for a brand. Case in point, the Audi R8. Years after plummeting sales and a near collapse of market share in the US, Audi came back strong in the mid 1990s to unleash a new range of cars and nomenclature, clawing its way to the top of the sales charts to where it sits today. Along the way, Audi acquired Lamborghini in 1998, paving the way for the house of Quattro to explore a new vehicle niche. Built on the same platform as the Lamborghini Gallardo, the R8 debuted in 2006 to much acclaim, with critics heaping praise on it, to the point where some describe it as the best sports car ever made.
Consequently, demand (and prices) still stay strong, putting this car out of reach for the great majority of enthusiasts. This R8 for sale in Alabama, however, is priced rather attractively and has under 30,000 miles.
Year: 2008
Model: R8
Engine: 4.2 liter V8
Transmission: 6-speed manual
Mileage: 27,755
Price: $86,999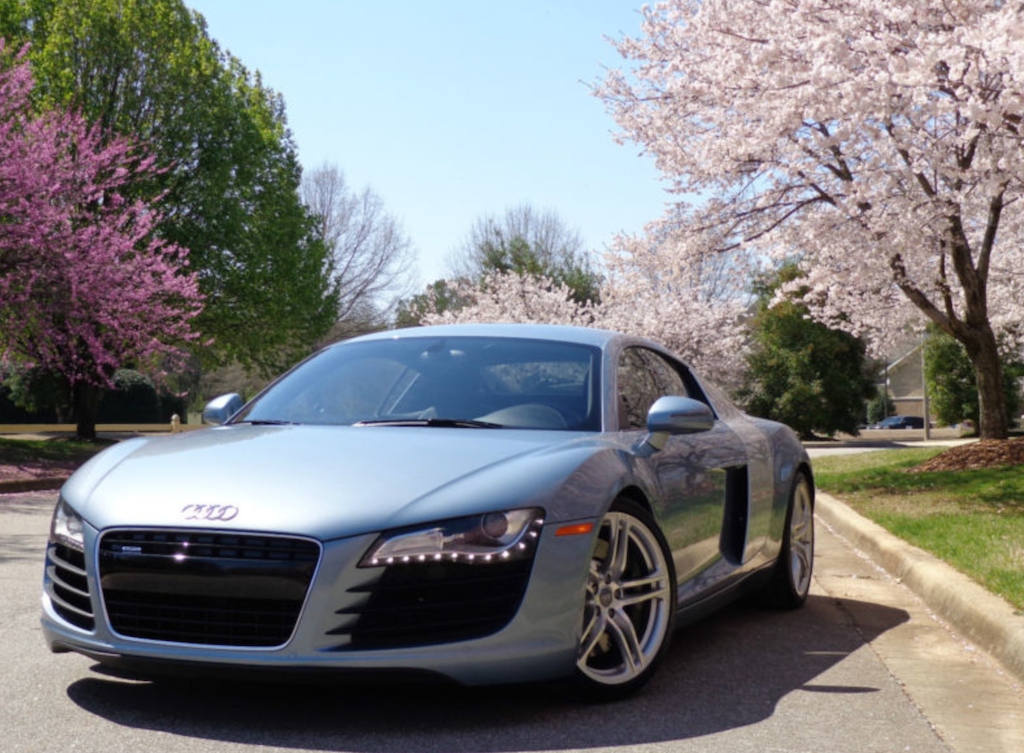 2008 Audi R8

Jet Blue Metallic / Black Leather Interior

Optional Equipment:

Enhanced Leather Package

Premium Package

Audi Navigation System Plus

Bang & Olufsen Sound System

Original MSRP $125,545

The soul of the R8 4.2 FSI quattro® is the adrenaline inducing 430 hp 4.2 FSI V8 engine. Like the 5.2, the V8 is also displayed under a transparent panel, producing 316 lb-ft of torque and rocketing from to 60 mph in only 4.4 seconds to a top track speed of 187 mph. As part of a race-bred mid-engine design that contributes to superb handling dynamics, the 4.2 V8 features race winning technology such as FSI direct injection, sodium-cooled exhaust valves and is setup for a high-revving 8250 rpm.

As a true supercar the R8 not only offers blistering speed but awe-inspiring handling. Featuring the legendary quattro® all-wheel drive system, the R8 inspires driver confidence, giving you traction when you need it, where you need it, regardless of road conditions. To accommodate the extreme performance of the R8, quattro® utilizes a continuously variable torque distribution, dynamically adjusting power to the wheels with the best traction. With a significant 85% rear torque bias and up to 30% available for the front wheels as needed, this highly specialized quattro® system provides the R8 with a balanced driving experience unlike any car on the road.

Audi Fuel Stratified Injection, or FSI®, offers the benefits of increased performance and fuel efficiency. FSI direct injection delivers a precise amount of fuel directly into the engine cylinders as opposed to the engine intake runners. This advanced process helps ensure a more complete combustion, thereby diminishing waste and increasing power. Additionally, the specially designed piston heads compress the fuel-air mixture in a spiraling motion, creating the most efficient combustion possible. Making the most of these technologies allows for greater efficiency in the combustion process.
Jet Blue is one of my favorite R8 colors, and this one is made even more enticing for me in that it has the six-speed manual gearbox. It's hard to find a good R8 under $90,000 these days, as they are a bit of a living legend when it comes to the sports car world. The 4.2 liter V8 is such a good engine that I doubt I'd go for a V10 (supposing I would ever be in the market for such an awesome car). Still, the world hasn't seen such a usable sports car since the Acura NSX. With the added benefit of four-wheel drive, it's conceivable to use these cars year round. If I had the means, I certainly would.
-Paul