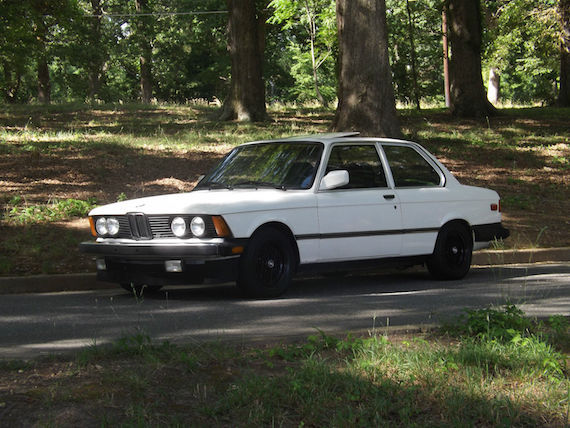 E21s seem to be gaining popularity, with some beautiful, low-mileage examples coming out of the woodwork and pulling upwards of $20k! This 1983 320is is more about fun and less about preservation, strapping a Mitsubishi TD04 turbo on, a snail more commonly used on Saabs. To support the increased output, parts from a fun variety of cars – Audi 200 Turbo, VW GTI, Volvo 240 Turbo – come together to give this little 3er a bit more oomph than the M10's original 125hp. With the "is" model's inherent improvements in handling and power delivery and a hefty new-parts list, this E21 looks to be a fun little handful.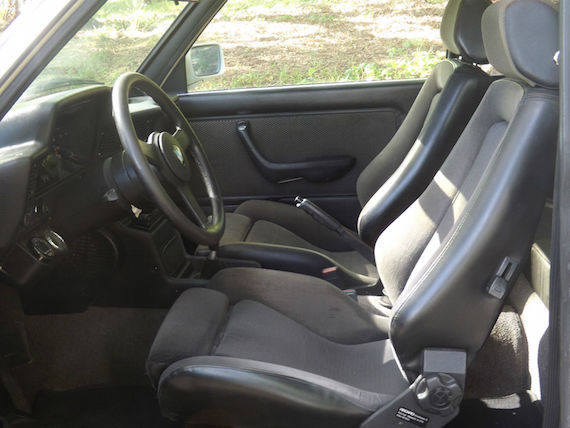 Year: 1983
Model: 320is
Engine: 1.8 liter turbocharged inline-4
Transmission: 5-speed manual
Mileage: 209,172 mi
Price: $5,500 OBO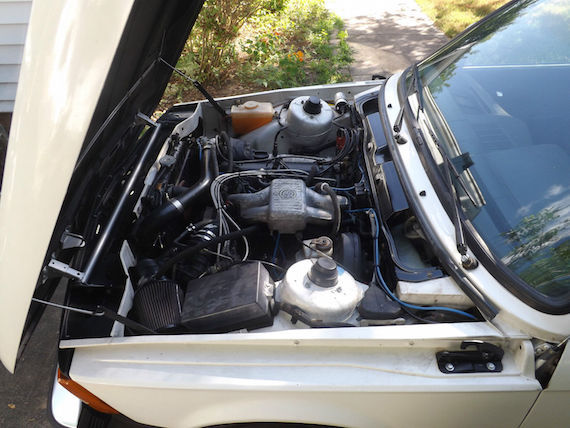 Up for sale is a 1983 BMW 320 IS Turbo. This car started out with a stock naturally aspirated m10 1.8L engine. The turbo conversion was done in early 2014. It uses mostly stock Bosch CIS turbo options from assorted 80's turbo cars. Before the conversion was done, the oil pan was dropped and bearing tolerances were checked. All bearings came back well within factory spec and the bearing journals all checked out in great condition. At that time it received new bottom end bearings. The oil pan was cleaned and an oil return was welded in for the turbo. The pan was then reinstalled with new gaskets. The turbo setup uses a brand new aftermarket stainless turbo header. The turbo itself is a Mitsubishi TD04. It was gone through at the time of the swap. The car is intercooled using a 1980's Audi 200 Turbo intercooler that is mounted in front of the radiator. The fuel distributor is a 1980's Volkswagen GTI distributor and was completely rebuilt before installation. The setup also uses GTI stainless fuel injector lines. The warm up regulator is sourced from a 1982 Volvo 240 Turbo. The system is set at 7psi of boost which gives this engine the wake up it needs to keep up with the 6 cylinder cars. These engine on stock internals have been run to 13psi with boost with no troubles. Overall, it runs really great. I would trust this car to drive across the states and the only flaw I could come up with if I needed to about the turbo setup is that it runs a little rich when cold but goes away within 2 minutes of driving. AFR's are monitored via the gauge mounted in the cockpit.

As far as the rest of the car goes, it is in nice shape for its age. It has all the goodies that the original IS car came with including: factory BBS front air dam, front and rear "IS" sway bars, close ratio 5 speed transmission, limited slip rear 4.10 geared differential, and the sport interior options. The factory Recaro seats are in nice condition and would look excellent with a good cleaning. They have no major rips or tears. The rear seat is also in nice condition and has no tears in it. The car still retains the factory sport steering wheel and is in average condition. The leather wrap does show some again. The paint is in average shape and does have its flaws here and there. The car is a driver after all. The car has been repainted at some point. I would say it's a good 10 footer. It does have some rust right behind the rear drivers wheel and a tiny bit near the rear jack points that I am willing to repair for the right, yet reasonable price (I restore cars for a living). I do have a quart of matched paint for this car. I have tried to take pictures of the flawed areas on the car.

The car has had many other new upgrades within the last year:

-New poly steering rack bushings.

-New control arms with bushings and ball joints.

-New KYB shocks and struts all the way around

-New brakes all the way around

-The fuel system has been completely redone.

-New sway bar bushings

-New front wheel bearings

-New driveshaft flex joint

-New driveshaft center bearing

-New transmission rubber mount

-New transmission output shaft seal

-New clutch slave cylinder

-New Gear oil in the transmission and rear differential

-New front hood emblem

-New Air / Fuel gauge and VDO boost gauge installed

-New battery (relocated to the trunk) an all new battery cable

The wheels are the factory original 13" basket weave style wheels. They have been professionally repainted gloss black. The tires are older but still have great tread on them. The car has had an alignment within the last year. Driving wise, the car drives excellent and goes really well down the highway and around town. Transmission shifts smooth and the clutch is very strong. The exhaust was redone last year.

Just some other things about the car as I think of them:

-Dash gauges all work including the original dash clock

-The power mirror on the driver's side works great but the passenger side is not working

-The car is an AC car. It still has all of the AC stuff under the dash. It is just missing the compressor and rubber lines. The factory Behr systems were pretty useless anyway.

-The sunroof works excellent as both a sunroof and moon roof. It does not leak a bit

-The glove box needs a new limiting strap.

-Door panels are in really great shape, as are the rear panels

-Rear defroster is in good working order

-All lights work great

-The rear pop out windows work excellent

-Rear windows have some old tint on them that could be replaced or removed.

-I have lubricated all of the door internals, linkages, locks, latches, window regulators, etc…
Taking on someone else's project should be done with care and humility, but for the money this looks to be a fun and different 3-series. You won't be just another dude in an E30 here, but you might just be quicker than those clichéd Bimmer fans. It's not perfect, but it's a toy – and it looks like it does that job well.
-NR