Warning!
This post is in our archives. Links in this post have been updated to point to similar cars available to bid on eBay.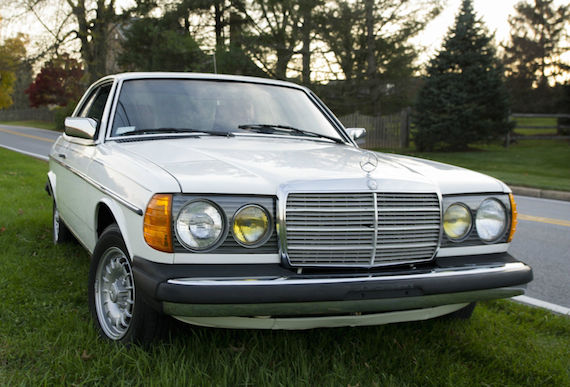 The 1983 Mercedes-Benz 300CD we saw for sale last November is back up on offer at no reserve. To be perfectly honest, 181,000 miles rarely looked so good.
The below post originally appeared on our site November 24, 2014:
A little over a decade separates the Mercedes-Benz W123 coupe we see here and the 280SE Coupe we featured yesterday. But what a difference a decade makes. Such was the upheaval in the luxury market due to ever tightening petrol supplies in the 1970s. Mercedes-Benz had been a proponent of diesel power going back to the 1930s, however, a diesel powered luxury coupe was a bit of a novelty at the time. Nevertheless, this proved to be a rather popular model and has proven to have the staying power of other W123 Mercedes-Benzes, one of the most revered models the company has ever produced. This W123 for sale in Pennsylvania is on offer at no reserve and has been in the same family for over two decades.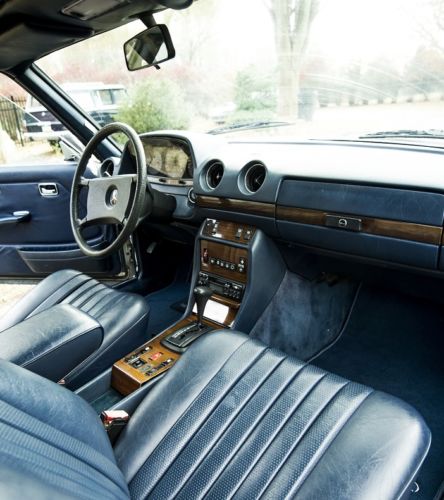 Year: 1983
Model: 300CD
Engine: 3.0 liter turbocharged inline-5 diesel
Transmission: 4-speed automatic
Mileage: 181,516 mi
Price: No reserve auction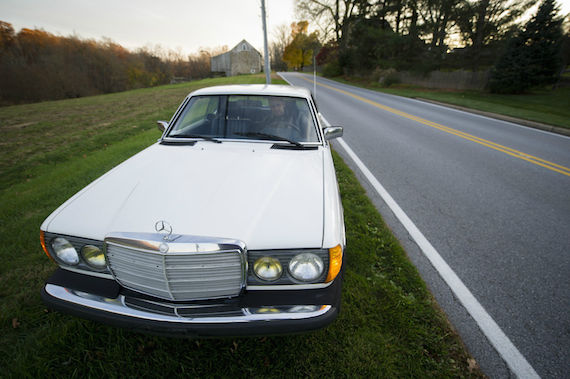 Up for bid is my absolutely immaculate and treasured baby..my 1983 300CD Turbo at no reserve. This car has been in our family for 22 years and we are sad to see it go, but as the wife wanted a new E550 convertible this year and there being no more garage space….it would be a sin to leave this car sitting around outside. It barely gets driven as it is so we would rather see the car go to someone who will enjoy it more. Please read the entire description below as I have explained a ton about the car. For anyone that is interested in the car that lives across the country, I have a very good shipper I work with as I frequently travel back and forth from California. They are more than reasonable and take great care of the car. I will work with any winning bidder from another state to have it carefully shipped.

**I will be adding videos of the car running shortly and many more pictures on my ImageShack account as I put the max amount of photos on the listing, so please stay tuned!

CALL OR TEXT 949-258-2108!

Why this car is so special:

Lived in sunny Southern California for 9 years. Original CA license plates and registration slips are included with the car.
Always garaged. Clean body inside, outside and beneath.
Paint and trim is in stunning shape with not a single dent on the entire car. No major scratches or chips.
Interior is in amazing shape. Headliner looks perfect with no sagging. Seats have virtually no wear at all — NO tearing or seams splitting. Dash looks great! Wood looks fantastic and is all original! Very vibrant still. Just a few small scratches like normal.
Professionally Detailed every 3 months. Claybar, machine polish then hand waxed. Recently done 2 weeks ago.
NEVER been in an accident or had a body panel repaired.
The mileage is 100% accurate.
ALL gauges and electronic devices on the car work. Everything from the tach, odometer, fuel gauge, cruise control, power windows, antenna, sunroof etc. There has never been an issue with these items and they are all original parts.
Tens of thousands of dollars in maintenance — service records going back to 1999.
Suspension was completely replaced in 2012. Brand new OEM Bilstein shock absorbers and OEM coil springs. New upper control arms and ball joints on all sides. It rides very smooth and confident and does not have body roll going into a corner!
No smoking, tapping, or any unusual noises from the engine when cold or warm. Oil pressure comes up immediately upon start.
Entire A/C System replaced and blows Ice Cold. The heater blows very warm as well.
Engine had a $3,000 service where the timing chain and tensioner was replaced as well as the head gasket for good measure. Never out of necessity — we planned on keeping the car forever and wanted it to run like it was brand new.
Engine turns over with a slight touch of the ignition even in freezing temps. Glow plugs work fantastic. The starter and alternator were renewed at 154k miles.
Always used 5W-40 Synthetic Mobil 1 Turbo Diesel Truck Diesel engine oil.
Transmission rebuilt by Mercedes dealer at 154,856 miles. It turns out we got ripped off by this and the original only needed a vacuum adjustment…but needless to say there is nothing like a brand new crisp shifting trans. It is so smooth, yet firm, it is clearly obvious it is newer. The mechanic said it should last another 150,000 miles with care.
Not a single leak, rattle or weird noise while idling or driving the car. Just as Mercedes intended.
Has 100% of it's engine power and always gets over 30mpg. Turbo spools up instantly and sounds great! Recently installed new turbo oil lines and had the ALDA adjusted as well as the banjo bolt cleaned.
Compression tested at over 400psi on every cylinder.
$1,600 service just last month where the valves were adjusted, fuel filters replaced, all brake lines replaced, new OEM battery, new radiator as the original unit had just started to seep from the top, and much more. See receipts in the pictures for more info.

You will fall in love with this baby! As you can see, this is not some average run of the mill 1983 Benz. This is a pampered car treated with the utmost of respect. I will admit, I am very anal and it annoys my family very much as I always over-service it and spend a lot of money keeping it up but I am huge fan of the 1980's Mercedes and someday hope to have a huge collection of them.

**I have the car listed locally online and in newspapers, and the car has already gathered lots of calls and emails. The car will be sold on a first come first serve basis and I reserve the right to end the auction early if someone shall come along and buy it before the end of this auction.

CALL OR TEXT 949-258-2108 TODAY!

I have described the car to the best of my ability and knowledge. As the vehicle is from 1983, I still have to sell the car as-is with no warranty expressed or implied.

Thank you for the interest in my baby!

This is the kind of car you want to buy. One that's been in the family for so long that you can get a good read on its history, instead of relying on a Carfax and PPI. It never ceases to amaze me how, with some care, a W123 closing in on 200,000 miles can look almost brand new. Such is the quality of these cars that they've been able to weather the distance so well. We've seen some very low mileage W123s fetch over $30,000 here on GCFSB, but considering the mileage of this coupe, we should see it land roughly in the $8,000 to $12,000 range.
-Paul