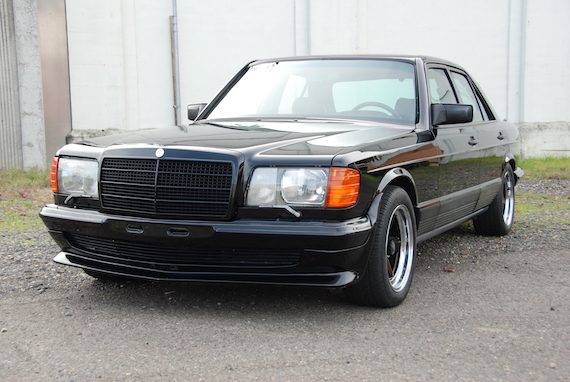 "Pre-merger" AMG cars date from the period when the company was not yet officially part of Mercedes-Benz and instead existed as an independent tuner (it would be folded into the MB family in the early to mid 1990s). Back then, customers could upgrade their cars with AMG parts by choosing from a menu of cosmetic and mechanical upgrades and having them shipped from the production line to Affalterbach for modification (or, if they were in the US, having those parts installed by a locally authorized dealer, like the storied Beverly Hills Motoring Accessories). Early period AMG cars that show up for sale today offer a neat slice of the exotic 80s tuner world, but they present a number of difficulties when it comes to authentication. This gray market, seemingly AMG modified 500SE is a good case in point.
Year: 1983
Model: 500SE AMG
Engine: 5.0 liter V8
Transmission: 4-speed automatic
Mileage: 147,832 mi
Price: Reserve auction with $11,500 Buy It Now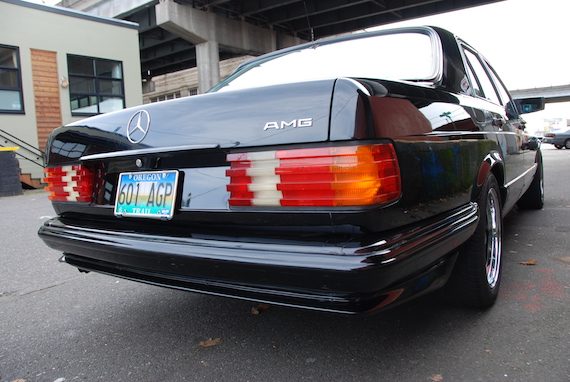 1983 Mercedes-Benz 500SEL AMG
Classic AMG style brought into the US in 1983 as a grey market import this rust free Euro spec car runs and drives excellent and is in great condition.

Miles: 147,832
Since this 500SEL AMG is a grey market euro spec car the VIN does show up in the eBay database. The VIN is WDB12603612033031
Clear Title

History:
The AMG Engine Production and Development company founded by former Mercedes engineers Hans Werner Aufrecht and Erhard Melcher built this car prior to the AMG Mercedes-Benz merger. Note: The letters "AMG" stand for Aufrecht, Melcher and Großaspach (Aufrecht's birth town). This grey market euro spec car was imported into the US in 1983. While build numbers for these cars is hard to pin down it is believed production was low and very few were brought into the US.

Engine & Transmission: The very desirable (m117 5.0 liter V8) 500SEL AMG engine in this car produces 231hp. The automatic transmission shifts smoothly and the car was completely gone through by local shop here in Portland Oregon (503) 236-1737 (call Mike to get mechanical details). AMG specific modifications include upgraded cams, brakes, suspension, and exhaust. AMG Engines were bored out to larger displacement for more power, and suspension and brake systems were upgraded for performance. These items were ordered to spec and different on each car as the owner wished. This car is responsive, nimble and enjoys long-distance cruising. The underside of this car is extremely dry and with no leaks anywhere (see photos). This is a great example that is ready to drive and enjoy.

Body: This rust free car is extremely solid. The body is in a very good condition and all panels are straight with excellent gaps. All glass is in great shape no chips or cracks. The rear driver side door has a blemish in it. The paint presents well and shows the great lines of the car but does have a few areas that are not perfect. The front of the car has some rock chips. The original front spoiler is in great shape for its age and shows how carful this car has been taken care of. (see detailed photos). All the chrome is very nice. The original AMG rims are in good shape but not brand new looking. The rubber is good and all plastic lenses are great. The trunk area is very nice and solid as well as the spare tire compartment, It comes with jack, tools, and correct vented steel rim spare tire. Features include the AMG spec front and rear bumpers, trunk mounted badge and, paint. The rare four-spoke penta wheels have some pitting but overall are in good condition. The euro headlamps are immaculate. The underside is solid and un-tampered (see photos). I took detailed photos to show the great solid condition under this car.

Interior: The beautiful leather interior is in very nice condition presenting well, the original level of quality is still very apparent on this example. All the wood in this car has been restored to show quality standards. There is one small tear on the driver seat bottom and two cracks in the dash (see photos) Included with the sale is a clean replacement dash that has not been installed yet. The door skins are very nice as well as the armrests. The chrome bits in the interior are great. The radio is the correct original and antenna goes up and down as it should. The original carpet is great and the seats show no signs of excessive wear. This car is easy to use in modern traffic and I never get tired of driving this top-of-the-line flagship.

Summary:
This is a solid unmolested example of a classic Iconic AMG Mercedes-Benz. These extremely comfortable tourers are considered highly usable classics continuing a tradition of handcrafted quality and superior engineering, Even cars twenty years newer will be hard-pressed to match the 500SEL AMG for its quality, performance and unrivaled style. This example is perfect for cruising during the week and taking to car shows on the weekend

The link here (below) will take you to additional photos to see the car in greater detail.
1983 Mercedes 500SE AMG

Video:


Feel free to contact me for additional information.

I take great pride in my eBay rating and accurate description of this car. I reserve the right to end the auction early. Car is located in Portland Oregon and I invite all inspections prior to bidding.

I will contact the winning bidder via email after the auction ends. Car is sold as-is with no warranties express or implied.

I require an $1500 deposit (paypal or bank wire transfer) within 2 days. Balance is due (bank check or bank wire transfer only) within 7 days of auction end. Delivery upon funds clearing the bank.

The transport cost is the responsibility of the winning bidder, I will help with logistics.
US car shippers that you may contact for a quote:
www.larrysautotransport.com
International car shippers that you may contact for a quote:
http://www.schumachercargo.com/

Thank you for viewing my auction listing.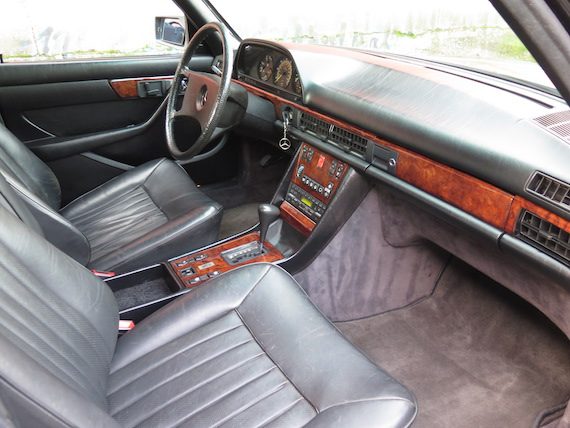 Although this car is advertised as a long-wheelbase SEL, the VIN decoder that I use suggests this is a short-wheelbase 500SE destined for Brazil (rather than SEL destined for Europe). Though the decoder can sometimes be inaccurate, I've spent a fair amount of time staring at the images and I think it probably is indeed an SE (not a problem in my book, in fact I think that makes this car even more desirable).
There is no denying that this car appears to be in good shape. It has a mean and menacing look in 040 Black with a murdered out paint scheme, AMG front and rear bumpers, European spec glass headlights and period-correct, body-colored Penta wheels. The interior has no AMG specific parts (no AMG stamped steering wheel or speedometer gauges, for example), but it does at least present very nicely, with glossy burled walnut trim and neat looking anthracite nappa leather seats. A closer inspection reveals a few flaws: a tear in the driver's seat, for example, is shown in the video linked to in the ad (click here), the seller mentions some cracks in the dash and one of the images in the extended Flickr gallery shows what looks like corrosion at the bottom of the driver's door (click here).
The seller mentions in general terms the kinds of mechanical upgrades that AMG offered, but notes that the M117 5.0 liter engine in this car makes 231 hp, which is what the Euro-spec motor made in stock form. This suggests that while the car has AMG bumpers, it is otherwise an ordinary 500 (albeit a very neat looking one). Moreover, the rear AMG badging does not look period correct (usually the letters are larger, anchored in a horizontal line, like this). Potential buyers would want to take a closer look at this car in person and ask some probing questions of the seller to see if these these lingering issues can be resolved.
$11.5k seems to me to be on the expensive-but-not-outrageous side for a cool looking W126 with modest miles and an interesting, if patchy, history. Paul previously wrote up a similar 500SEL AMG that was priced much more aggressively. You can find an interesting thread over at Benzworld where the experts raked the seller of that one over the coals on the question of authenticity. There's some very useful information in there about how to spot a genuine AMG car.
Update 12/15/16: A Benzworld forum member looked at this car 5 years ago and it was not as nice in person as it looked online. More info here.
– Craig