If I were to buy a Porsche based solely on looks, this would be it. It was never the most stellar handling Porsche, or the fastest, but there's just something about the looks of it. Between the pop up lights to the shape of the rear, I find them oddly attractive.
The 928S was Porsche's attempt at a GT car and frankly in that respect, they succeeded. These cars had all of the right ingredients; power, handling and versatility. The 928S sported a front mounted 4.5L V8 that made 219 bhp and 222 lb/ft, not particularly stellar now, but in 1983 it was one of the more powerful cars on the market. In order to live up to the Porsche level of performance, the 928 was fitted with a 5-speed transaxle that helpes push weight distribution towards almost 50/50. Most importantly to make a great GT car, was the hatch, there was actually space in these cars for a couple of suitcases AND a passenger.
This Kiln Red over tan 928S is a beautiful example of what is often viewed as Porsche's red-headed step child.
Year: 1983
Model: 928
Engine: 4.5 liter V8
Transmission: 5-speed manual
Mileage: 24,215 mi
Price: $22,500 Buy It Now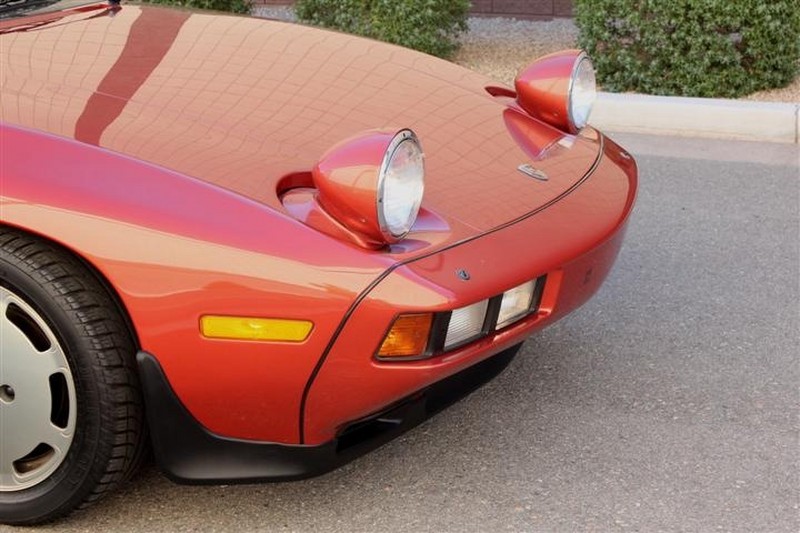 Awesome 1983 Porsche 928S! This spectacular example has covered only 24,215 miles since delivered new and is 100% Original from factory specs! Finished in the unique color of Kiln Red Metallic over Tan leather interior and well equipped from Porsche with a manual 5-speed transmission, power drivers seat, Blaupunkt Monterey radio with cassette, protective side moldings and electric sliding sun roof. Fully Serviced since new with all the stamps in the original service manual along with all the original manuals. Powered by a large front mounted 4.5 Liter fuel injected V8 featuring a single overhead camshaft producing 234 Horsepower. The 928S utilized a transaxle to help achieve 50/50 Weight distribution aiding in the cars excellent balance. This beautiful 928S is truly a diamond in the rough, with unique colors, unbelievable low miles and perfect history you will be hard pressed to find a better collector 928!
Any time I see one of these, I picture Gary Wallace doing a burnout as he pulled away form the mall in Weird Science. That, for me, was the moment that solidified this car's status as one of my all time favorites. Even though I'm partial, I can't ignore the fact that this car is a tad overpriced. Having traveled under 1,000 miles per year its whole life, this 928S is a perfect collector piece or Sunday driver. However, even with so few miles, $22,500 is just too much. All things considered, I'd be a buyer somewhere in the $16,500 price range.
-Brian