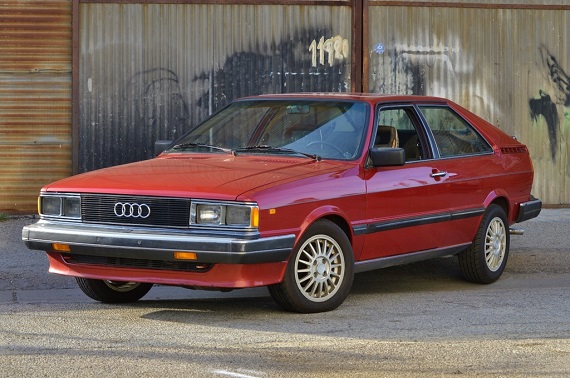 Looking for something a little different in a classic car? A little over a year ago I took a look at this incredible survivor 1982 Audi Coupe in the rare shade of Surinam Red Metallic with Negro Tweed interior. Though the early Coupes lack a bit of the performance of the later Type 85 models like the 87.5 NG motored examples, the early Type 81 looks are a bit closer to the legendary Quattro but on a much friendlier budget. Back in February 2015, this car sold for an impressive $5,500. It appears to have changed little in the past 14 months and is now available in a no reserve auction with bidding currently well below $2,000. This is a really cool time piece from Audi's early 1980s history that is quite affordable indeed but will help to set you apart from the crowd nonetheless.
The below post originally appeared on our site February 23, 2015: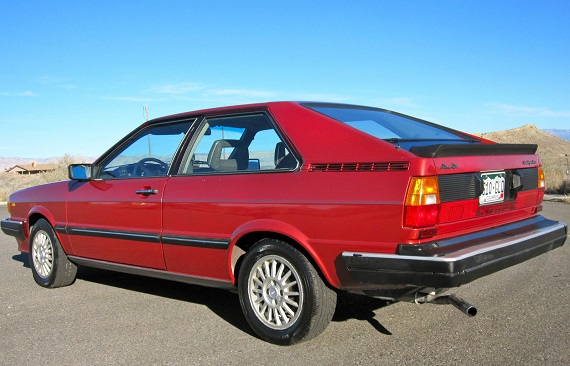 Just when you think you know everything about a car, one pops up to surprise you. In today's case, it's the color which this early U.S. bound Audi Coupe was delivered in – LA3Y Surinam Red Metallic. It's seriously rare and the first time in my many years of Audi Coupe following that I've seen one. Now, off the bat many would be forgiven for believing that all 2-door Audis from this period were GTs; however, the Coupe didn't become the "GT" until the late 1983/84 models. There are actually a host of changes that differentiate them from the early GTs. First off, the early cars carried the code WE 2.1 liter inline-5 instead of the later KX or NG equipped 2.2/2.3 Coupe GTs. It wasn't much less power than the later cars, but was rated at 100 instead of the later 110/130 horsepower GTs. Gearing was longer, too – intended to give the GT better fuel economy, coupled with the lower power the early Coupes are a few seconds slower to 60 than the '84 up cars. The early cars also ran 4×100 instead of 4×108 wheels with smaller brakes. Inside, there were no big changes to the Type 81 between 1981 and 1984, though some of the interiors are more rare to see. In this case, the build sticker tells us this car was equipped with interior "KC", which thanks to the B2 Resource Guide tells us this was the Negro interior with Tweed Check. The car was also pretty heavily – and somewhat oddly – optioned. For example, the buyer selected sunroof, air conditioning and power mirrors, but oddly not power windows. Whatever their motivation, the buyer clearly coveted this expensive Coupe as witnessed by the condition: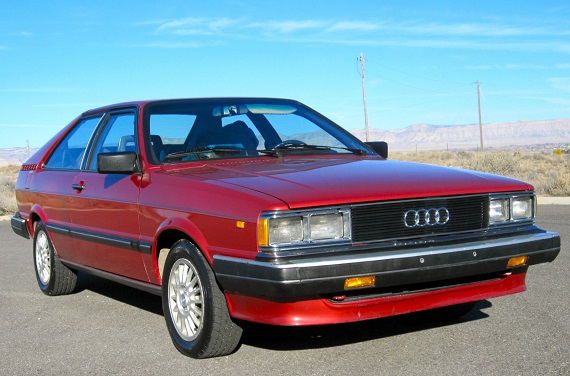 Year: 1982
Model: Coupe
Engine: 2.1 liter inline-5
Transmission: 5-speed manual
Mileage: 70,040 mi
Price: No Reserve Auction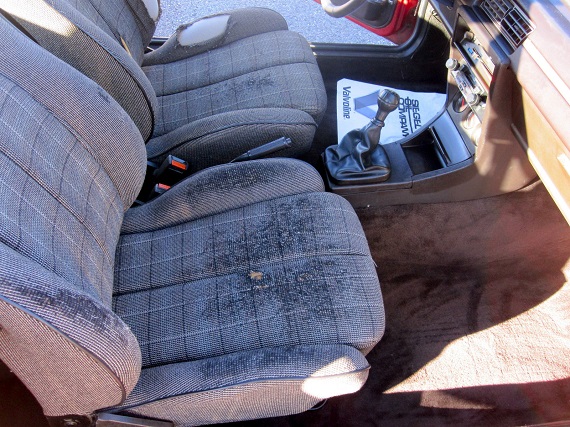 Old Description
Up for auction is the cleanest, most highly optioned, unmolested original Audi Coupe I have ever seen. This is a 1982 Audi Coupe (front wheel drive) that came to the dealer with the coveted inline 5 cylinder motor, factory A/C, 5sp manual transmission, sunroof, cruise control and many more options that make this car not only desirable but very rare. Total delivered price on this car was $16,020, that was a lot of money back in 1982!

I was given the option of purchasing this car from (unfortunately) a friend's parent's estate sale. It was a one owner car from 1982 until present. The reason I liked it so much was the story that went along with it. My friend's Dad, a well established architect in town, bought this car brand new at the local Audi dealer nearly 33 years ago and drove it until the day that he passed away in 2009. His wife continued driving it until she passed away last spring. My friend, knowing that I was an Audi/VW fanatic, contacted me first. This highly optioned 82' Coupe is the cleanest car I have ever seen from that time period. It is a true "time capsule" vehicle with 70,040 true original miles. I was ecstatic at finding such a rare and original German car that was so religiously maintained.

The original window sticker, sales receipt and 33 years of meticulously kept records and repair receipts will go along with the sale of this beautiful car. Take a look at the repair record that I have included in the picture album. The original owner was basically changing the oil every 1,000 miles based on the recommended time interval (not mileage) for maintenance. It is astounding going through the records that I have for the Coupe. I also have the original paper "Car Credentials Folio" from Jesse Boyce Motors, Grand Junction, CO. I had no idea there was ever an Audi Dealer in this area until I bought this car.

My original intention was to swap a turbo diesel motor in but after months of deliberating, I just couldn't bring myself to do anything but keep it original. This car is just too clean to tear apart. I stored the vehicle all of last fall and winter in anticipation of said TDI swap but I just can't do it. I would rather pass this incredible vehicle off to someone that will drive it and take care of it for a long time to come. I have owned many Audi's, Vw's, and BMW's from the 80's and 90's but I've never come across one this nice.

Condition:

The paint on the vehicle is a 9/10 considering the age and the fact that its all original paint. As pictured in my gallery, there are several paint chips and a few small areas where the clear coat has come up a bit. The blemishes are very subtle. The body is remarkably straight with no rust or damage anywhere. The passenger side rear arch just in front of the rear wheel has a few rock chips from normal driving (see pictures). Otherwise, the car is immaculate for its age. To my knowledge, this vehicle has never been in an accident but I haven't cleared this with a Carfax report.

The interior is an 8/10. It would be a 9.5/10 if I had gone to the effort of having the front seats reupholstered. I even found the original fabric from a website in Germany but never pulled the trigger because I already put so much time and money into making the car safe and current to drive. The seat fabric shows signs of wear but the bolstering in the sport seats is nearly perfect. There is nothing wrong with these seats at all. When I purchased the car it had seat covers on and I will include those with the sale. I wanted to take pictures of the vehicles true condition so that the next owner can see what is required to make this a perfect car. The dash is almost perfect with the exception of a few VERY VERY SMALL cracks that are starting to develop where the dry, Colorado weather has started to take its toll. You can't even see these minute cracks while sitting in the front seats. The sunroof functions properly and the headliner and visors are in excellent condition. As an aside, this car was garaged its whole life and it shows. There is not a single spot of rust anywhere on the car. NO RUST! Take a look at the pictures of the undercarriage that I took when it was being aligned recently, its spotless.

Mechanically the car is currently an 9/10. To my knowledge, every single gauge and component is functioning properly. The only thing I am aware of that is not working is the A/C (it blows it just doesn't blow cold). I depressed the valve and found that the A/C compressor is still holding a (small) charge, although it probably needs a recharge because it doesn't seem to be blowing ice cold. Its winter so I haven't messed with it. The heater and fan controls work phenomenally well. The speedometer and tach work great and I have tested the accuracy of the speedo with my GPS, its spot on. The headlights and turn signals all function properly. Cruise control works perfectly! I've just purchased a brand new Duracell Battery that is under warranty from 'Batteries Plus.' I also just installed a new exhaust system and muffler within the last 50 miles. These maintenance and repairs have taken a good chunk out of my pocket book but I just love making these original cars run properly and function as they did new.

Since purchasing the car, I have gone through it and done any service that I felt necessary. This Audi Coupe mostly sat in the garage for the last few years as the widow of the original purchaser only drove it back and forth to the grocery store. Literally. I have documentation that shows the effective date of cancellation for insurance was in August of 2011. Since then it was garaged and fired up occasionally by the son of the original owner. I also have a receipt from State Farm Insurance that shows the "principal driver of this vehicle to be age 74." In the last 5 years it literally became the grocery getter.

As soon as I purchased the vehicle I went through and drained/flushed all the fluids. This included a full brake fluid flush with ATE Super Blue and new brake lines just because. Oil change, radiator flush, and new OEM shocks/struts were installed. New windshield wiper blades. I also invested in a pair of Brand New BF Goodrich G-Force Super Sport All-Season tires were fitted to the car. These have about 40 miles of driving on them and the original receipt from Discount tire will be included. I just didn't feel good about my pregnant wife or I driving on old tires.

I encourage you to take a look at the photos and compare them with my description. The original interior code sticker tag is still attached to the underside of the rear hatch. Original tool kit is included along with the original jack and "donut" spare tire. This car is not a perfect "concours" car but isn't far away from that. If I didn't have the need for a 4 door car (2yr old daughter and another due in June) I would keep this car and drive it myself. Its just too much of a chore dealing with a 2 door coupe and kids. This Audi Coupe drives and handles as it did over 30 years ago!

Please feel free to contact me with any questions you may have. I am willing to arrange shipping or travel up to 1000 miles to deliver the vehicle at a rate of $1 per mile. I also have more photos than the 24 allowed pictures on Ebay. If you want more pictures I can email them to you! I've included a quick list of service history below. I have an entire folder of receipts since new.

Maintenance Schedule: I have each and every receipt listed below.

June 2014: $800.40 Service that included full inspection belts/hoses/fluids

-New 72 month Interstate Battery + terminal pads

-New fuel pump and fuel filter

-Odometer 69,939

August 2011 Insurance cancelled and car went into storage. As of August 2011, Insurance card stated that "principal driver of this vehicle is 74 years old."

November 2008: Oil change and full inspection. Odometer 69,233

February 2008: Replacement of original fuse box with brand new OEM fuse/relay panel.

February 2007: Full Service oil change/filter, fluid check, belt and hose check. Odometer: 68,808

September 2006: New timing belt, water pump, thermostat and fan switch installed.

Odometer: 68,363

January 2006: Full Service oil change/filter. New muffler and tailpipe installed.

Odometer: 68,170

Sept 2005: New tires installed

Odometer: 67,759

December 2004: Full Service oil change

Odometer: 67,269

March 2004: Full Service oil change, new door handle installed.

Odometer: 66,860

April 2003: Full service oil change and tire rotation

Odometer: 66,203

November 2002: Full service oil change, fluid top off.

Odometer: 65,720

November 2000: Full service oil change, install new power steering pump.

February 2000: Full service oil change and spark plug replacement.

Odometer: 62,197

November 1999: Full service oil change. Replace left rear wheel cylinder, brake system flush and rebleed. Bled cooling system with new fluid.

Odometer: 60,008

September 1999: New battery installed.

February 1999: Full service oil change. Replaced oxygen sensor.

Odometer: 55,787

March 1998: Full service oil change, fuel system cleaning, install new valve cover gasket set, new exhaust hangers, Radiator/cooling system flush.

November 1997: Full service oil change and checkup. Brake fluid flush.

Odometer: 54,148.

February 1997: Full service oil change. Replace fuel pump, fuel accumulator, O2 sensor, rubber mounts.

Odometer: 51,310

Sept 1996: Full service oil change, install new battery and pads, check all belts and hoses.

Odometer: 50,346

February 1996: Replace fuel filter, replace air filter, new spark plugs. Replace brake master cylinder and flush brake system. Replace distributor cap/rotor. Replace valve cover gasket.

Odometer: 47,886

April 1996: Thrust alignment

November 1995: Oil change, check hoses/belts/battery. Check and top up all fluids.

Odometer: 47,661.

October 1994: Oil change. Check hoses/belts/battery and top up fluids.

Odometer: 46,985

January 1993: New 185/60/14 Dunlop All-Season tires. Oil change. Check fluids/belts/hoses. Replace Trunk Support Shocks. Check E-Brake.

Odometer: 46,146

February 1993: Oil change. Check fluids/belts/hoses. Replace front and rear muffler. 4-Wheel alignment service.

August 1993: Full service oil change. Check fuel pressure and replace fuel pump relay.

Odometer: 42,231.

May 1991: Full service oil change. Rebuild power steering pump.

November 1990: Full service oil change. Check all hoses/belts/fluids. Replace window parts. Odometer: 37,429.

March 1990: Full service oil change. Odometer: 32,569.

March 1989: 30k service performed. Full service oil change. Replace front brake pads and rotors. Odometer: 30,254.

July 1988: Full service oil change and checkup. Odometer: 27,482

March 1988: Lube, check all fluid levels/belts/hoses/tires. Odometer: 25,205.

August 1987: Alignment. Oil change and fluid service. Odometer: 23,551.

June 1987: 4 new Nitto tires from Discount Tire. New window handle. Odometer: 22,000.

November 1986: Full service oil change. Steam clean engine. New Spark plugs. New Air filter. New Valve Cover gasket kit.

May 1986: Full Service oil change.

January 1983: Oil change. Replace air filter. Repair slow tire leak. Odometer: 11,311.

November 1982: Oil Change. Replace air filter and spark plugs. Odometer: 8,450.

1982: Oil change. Odometer: 3,975.

On Feb-19-15 at 14:33:35 PST, seller added the following information:

Update: I just ran a Carfax report and there are no accidents or collisions reported.

I also wanted to mention that this car has ALL original Audi glass. That is incredibly rare for any vehicle this old.

On Feb-20-15 at 07:48:08 PST, seller added the following information:

I've had so much interest in more photos that I opened a new album on Flickr. I've made notes of important things. Thanks for looking.

Flickr Link of more photos:
72157650920562642

On Feb-20-15 at 07:54:54 PST, seller added the following information:

I also wanted to point out that the original "Cookie Cutter" 14″ Alloy wheels that came from the factory will also be included in the sale price. They are shown in the picture at the gas pump.

I will also include the Bentley Manual that I purchased for this car.

New Description
What a fun car to be able to offer! This pretty little red on brown 1982 Audi Coupe is quick to cheer you up on even the gloomiest of days! This is a long ad, but please be sure to read the entire thing – there is a lot of wonderful detail to cover! Let's dive right in!

Background:
Made in 1982 in looks remarkably sporty for the time and its big brother the Quattro certainly helped push that image. This car was was painted in Surinam Red which was a $285 option when made and optioned with the D92 Option Group from the factory. The dealer then took the optioning further and installed Thermo Guard, Fabric Protection, Floor Mats and Custom Pinstripes. Of course the car cam standard with a number of features like fuel injection, front disc brakes, alloy wheels, power steering, sport seats and more. This car sold new for $16,020 or $39,000 in 2016 money! This wasn't a cheap for a small sporty car for sure.

Everyone loves documentation on cars, including us. So to really make this special, we have the original window sticker, original dealer sticker, original payment receipts, warranty cost sheet, owners manual and more! The car will include an extra set of wheels, service manual and documentation!

Let's dive into the car further.

The Condition and Service:

Let's start on the engine and drivetrain:

-ENGINE

This engine comes to life immediately with a twist of the key. She warms up quickly and revs smoothly. No knocks, bangs, excessive smoke or internal issues. The Bosch fuel injection is in good working order, but perhaps could a little tune. Nothing major though. Little moisture underneath, but nothing major or drippy. It happily drives around just fine as-is, so enjoy it as is or you can take care of some small fine tune items and really hum! Only 70k Carfax verified miles! That is only 2k miles per year on average!

-TRANSAXLE

The 5 speed transmission is in great shape. No grinds or surprises.

-SUSPENSION

Nice riding Coupe, nothing clunking itself apart like many of them and Audi comfortable.

-BRAKES

Good pedal, pad and rotors have good life in both front and rear

-STEERING

Steering feels good, no excessive play or vibrations.

Let's continue to the exterior:

-PAINT and BODY

The paint is fairly nice! It is a 6 out of 10. Overall shiny Surinam red paint which looks quite nice. No signs of a bondo job or accidents. CLEAN CARFAX! Nice for an original paint car, its only flaws come in the form of a couple minor dings/scratches etc, some sand blasting near the tires, some chips etc, and general wear. NO RUST. There appears to have been some paint touch ups as well. Good floors from underneath, some light oxidation on suspension components as per typical of all cars. This car presents as a "Driver -". cosmetically, but really looks quite nice none the less.

-WHEELS/TIRES

Both are in nice shape with no major flaws. Tires have loads of tread and are newer. Wheels have some chips, flaws and light rash but nothing major.

-BUMPERS and BRIGHT WORK

The bumpers are in nice shape! No major dents, cracks or issues! Some minor dings, chipping of paint, and light fading.
Onto the cabin:

-SEATS

The brown checkered seats are supportive, with great bolstering. They have some fabric tears as seen in the pictures, and have been under covers for some time, but the covers were removed to show the true shape of the seats. While not great shape, they are solid without any foam missing and are comfortable to enjoy the drive in. The rears are in very nice shape! Don't let the minor tears distract from the interior, overall it is quite nice, especially for a 34 year old car!

-DASHBOARD/PACKAGE TRAY

Nice shape, no major flaws, a few hairline cracks as photoed. The tray is in great shape and is clean.

-DOOR PANELS

Nice panels, wonderful map pockets. Really nice.

-CARPET

Nice carpet in the car! Clean and no tears.

-WINDOWS

All windows roll down and up with no issues. Good tracks and no dead rollers.

-GAUGES

All the gauges work! Speedo, odo, temp and gas.

The Experience:

This GT Coupe is a treat to drive. It is fun, quirky, reasonably comfortable, nimble and smooth. It has all the power it had from the factory and then some, and from even a little gas is responsive. It is so easy to fall in love with this Coupe. It is fun to look at, fun to drive and you make friends wherever you drive! I find myself in odd cars all of the time, from the hyper expensive and rare, to the quirky, to the mundane. This Coupe seemingly always gets more thumbs up and questions then any other car. In a short drive just to photo it the other day I think I was stopped/waved at 3 times. There is something about a an old Audi! They were somewhat of an odd duck at the time and the rarity to see one on the road really makes for interesting piece of German car history. And that feeling is even greater as a driver then an onlooker. I hope you can tell by my long ad that this car is an great little Audi Coupe. This really is a very special car to drive and with the ongoing care within the collection, it is a worry free Audi, ready to be enjoyed! The minor cosmetics are easy, low hanging fruit on this car and with a solid driveline could be tackled while driving and enjoying the car regularly. Nice original car to enjoy as a period piece or as a father/son restoration!

Feel free to ask me any questions at all. Residents around the country I am happy to be flexible for your arranged shipper so that you can get your new car as soon as possible.

My standard disclaimer/mantra for any car regardless of service or price: The car is sold with no warranty. You are buying a used car. Eventually every car will break, if you find one that doesn't please let me know. I do my ABSOLUTE BEST to offer only cars that are of TOP NOTCH service. I am not a dealer, just a guy who loves Audi (among other cars) and hope to pass along my passion and fervor for these cars. That said if ever you encounter an issue I do my best to provide advice, direction or even parts if I have them. Please understand that it is a used car and will have minor signs of use. That means please do not expect a showroom brand new car. Please adjust your expectation level to that of a 34+ year old car, but however is above average for it's year/miles. This is very nice condition for a Audi of this year, but please just remember that no 34 year old car is perfect. It is though a great Audi Please only bid if you intend to buy. If you would like to have an Ebay 3rd party mechanic service check out the car I MORE than welcome it. Please have the car checked out BEFORE bidding and not after, if you intend to use that service. And please, if you would like to utilize this service, contact me with more than a couple days left in the auction so we can arrange schedules. Please check your local laws and registration procedures before buying. Buying over the internet can be scary sometimes! I get it, because I am an enthusiast too!! For that very reason, I am more than happy to answer every and any question you may so you know 100% what you are buying. But, please ask any and all questions ahead of purchase! All sales are final, you are buying as-is, the sky is blue, etc, etc. Sorry to have to give the boring speech.

Please feel free to ask any and all questions!!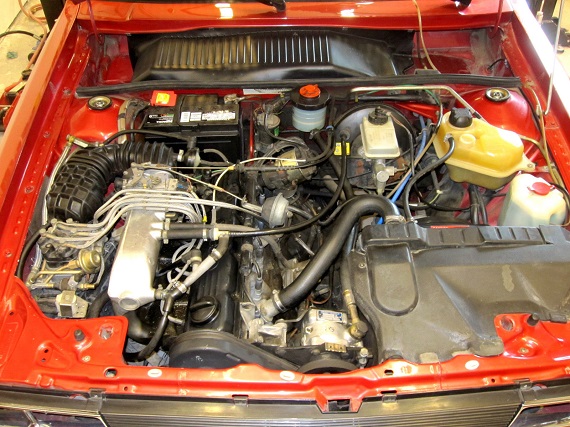 There were additional changes to the Coupe versus the Coupe GT; the lower, spongy spoiler was a dead giveaway and generally a spot of concern for rust on the early examples. However, rust doesn't seem to be of much concern on this particular car. The car features Ronal R8 wheels that many later models ran in various bolt configurations and are usually associated with the B2; however, the original "Cookie Cutter" alloys are also included. Unfortunately, the interior shows some wear to the Tweed which will be difficult to fix because of the material; mechanically though, outside air conditioning that needs attention this car is far above average. It's just so rare to find the early Audis in any condition close to this that it's really a treat to see. While – respect to the seller – it's not the nicest, most original example I've seen, it's not far off and is pretty unique. Unsurprisingly, bidding has been very active on this rare example, and it's already past $4,500 – what would have been considered the ceiling for even a very nice, late run '87.5 "Special Build" Coupe GT only a few years ago. The appreciation for these models is growing and they offer plenty of character in a package that stands apart from the Volkswagen crowd. It will be very interesting to see where bidding ends on what's an irreplaceable bit of Audi history; I'd expect it should end between $5,000 and $6000 and would consider it a well bought classic at that price!
-Carter