In 2007 VWoA decided to abandon the Golf brand name and bring back the Rabbit after a 23 year hiatus. VW enthusiasts were excited because of the marketing surrounding the launch and the "retro" name. The MK5 Rabbit served as the introduction of VWs new 150bhp 2.5L inline 5 cylinder engine, which for anyone that had driven it is very reminiscent of the VR6 engines from previous generations. While the MK5 Rabbit was a great step forward from the MK4 generation Golf, true MK1 Rabbit enthusiasts saw it as just another generation of the Golf.
One MK1 enthusiast and shop owner looked past all of that, and saw an opportunity to build something truly unique. Josh Paashaus from Nothing Leaves Stock in Coopersburg, PA is always pushing the limits of MK1 modification, and this car is certainly no exception. Starting with a clean original 1983 Rabbit, Josh then transplanted the 2.5L from the MK5 generation Rabbit putting his imagination and fabrication skills to the test, and the results are stunning.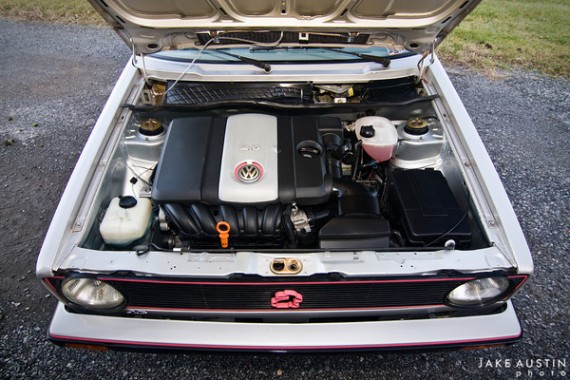 specs
-world only 2.5L mk1 swap with oem mk5 harness and ecu. looks and runs like a mk5 rabbit! -2007 2.5L motor with 48K one it, ecu, harness with a c2 motorsports tune, ecs crank pulley, full custom 2.5" SS vband exhaust. aluminum rad and custom fans. -no ac, no ps, -car is a 1983 rabbit with 39K original miles- no rust, perfect floors etc -round headlight conversion, full respray in oem silver, smoothed and two toned euro bumpers by jay lehrmann. body is a 9/10 -wietec adjustable deampening coilovers -brand new 14" P-slots with new tires -100% oem original clean interior other then the rocco cluster for the higher speedo and tach and the headliner is new fabric -car was in PVW, won shows and could be daily driven, its super fun, quick, reliable!
NO TRADES
$10,500
This car is a great example of ingenuity. To look at this car you would swear that VW offered the 2.5l engine in 1983, which is a testament to the fabrication, and VW know how needed to make a swap like this look OEM.
With any modified car like this I start with the question, can you build it for this price? As someone that has undergone smaller scale engine swaps, I can confidently say no. With a $10,500 price tag on this car is certainly priced to sell, it will however need the right buyer to appreciate the work, thought and ingenuity that has gone in to a car like this. This goes on my list of "damn I wish I had the money" cars.
-Brian