Here comes another one of those impossibly low mileage Porsches similar to the Amethyst Porsche 968 we featured last week. The 928GT debuted in 1989 and packed 330 horsepower out of its 5.0 liter V8. It was available solely with the 5-speed manual gearbox and ZF limited slip differential. The S4 and GT eventually gave way to the final iteration of the 928, the GTS, debuting in Europe in 1992 and North America in 1993. This GT in North Carolina could be one of the lowest mileage examples left and is on offer at an eye watering price.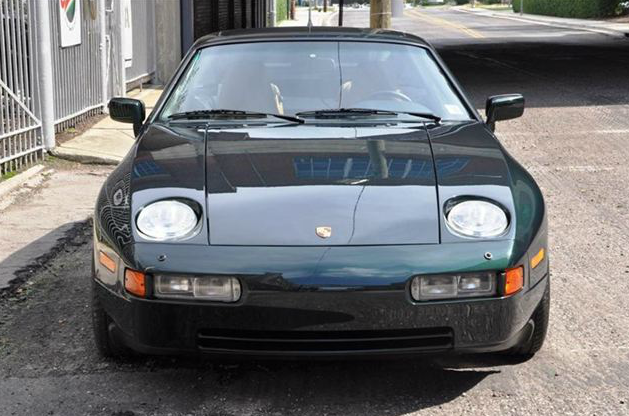 In 1989, Porsche upped the ante on their competitors again, delivering their Ultimate Autobahn sporting machine, the 928 GT. The GT is a special, high performance sport version of the 928 S4 with the upgrades and power to back it up. The drive train features a revised 5.0 liter 330HP V8 with new intake(same as later GTS),revised cam shafts, shortened shifter and a lightened twin outlet exhaust. The Sport suspension was standard on the GT as well as lighter, one year only "Club Sport" rims with the widest rears yet at 16×9 requiring rolled fender lips all the way around. As such, the GT comes only with a manual transmission with the shifter shorted 1? over the S4's manual version.

Porsche also introduced driver and passenger-side airbags and becomes the first to make them standard across the model line. New low-pressure tire warning system is standard and the GT and they also got the new electronically controlled Limited Slip Differential. GT Production began late in the 1989 model year beginning March and ending in June making this model very rare indeed. The total U.S. production is estimated to be between only 70 and 105 produced. Our car is a true time capsule with under 400 original miles and special ordered in Forest Green Metallic with cashmere Leather. This car was purchased from its "Original" owner and has been meticulously maintained. The 928 represents the ultimate touring GT super car with Porsche renowned engineering. Truly 1 of 1!
Low mileage cars like these always beg the question "just what was the owner thinking?" If I spent good money on a grand touring machine like this, I certainly wouldn't have hidden it under lock and key. Almost $100,000 is a big ask for this car. Normally a clean 928GT would bring between $30,000 to $40,000 tops. Original MSRP was about $76,000 and the market for those willing to pay big money for what is essentially a showpiece is razor thin. People that buy a 928 want to drive it, and you could certainly do so with this car. But, like the 968 we featured last week, if you went ahead and did so, say hello to huge depreciation and potential repairs that could be a result of a car sitting around for 23 years.
-Paul