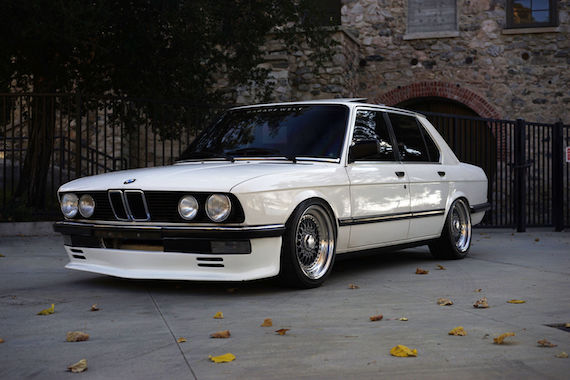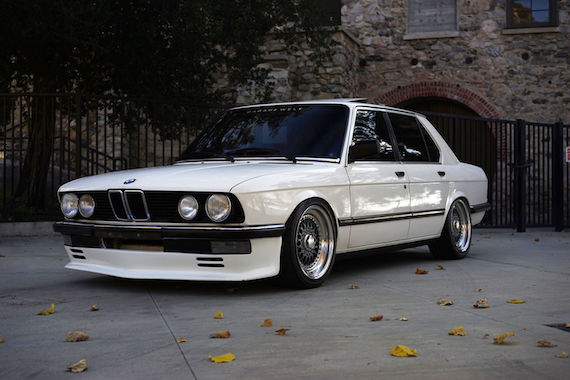 You can't walk two steps into the E28 community without confronting someone looking for Euro bumpers and lights, selling them, or yelling about how much better they look than the diving boards. For many, the cost of sourcing the parts, hacking up the ends of their 5er, and welding in smaller bits is worth it. The more authentic route is to find a true Euro market car, like today's '84 520i. It has passed between serious enthusiasts for quite some time, and is now being sold in favor of an E30 M3 project. I'm typically a go before show car guy, but I enjoy seeing people who daily drive low, unique cars just like this one.
The slammed XYZ suspension and reproduction Hartge front spoiler indicate that this 520i is far from stock, with an M20B25 out of an E30 and a serious amount of effort put into redoing all the mounts and inner bits to make daily driving a reality as long as you don't have to confront such mountains as a slightly inclined driveway, or perhaps a small speedbump. After the effort gone into making this a head-turning daily Euro, the seller is thinking he can get very strong E28 money.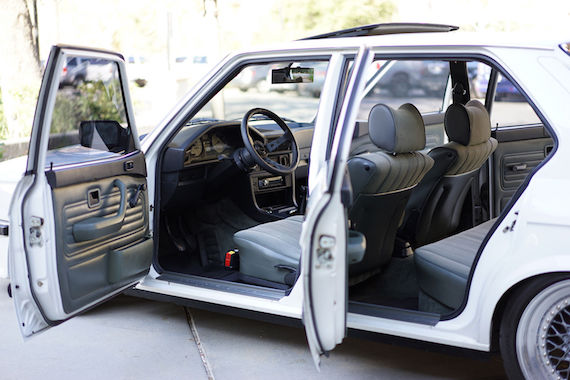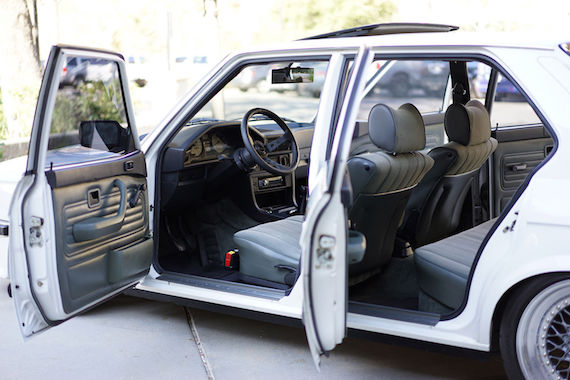 Year: 1984
Model: 520i
Engine: M20B25 2.5 liter inline-6
Transmission: 5-speed manual
Mileage: 166,605 km/103,523 mi
Price: $12,500 OBO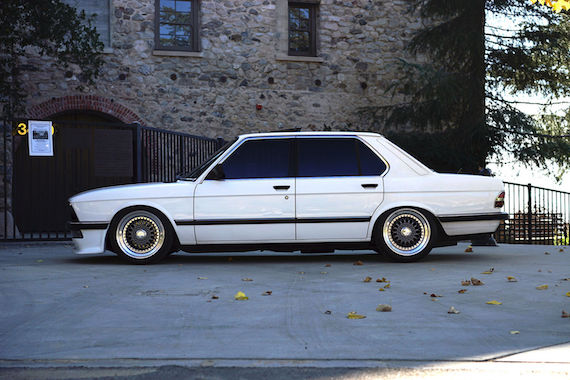 After roughly two years of ownership and daily driver duties, as well as much thought, it is time I offer my Euro E28 to fellow enthusiasts. I had my eyes on this particular car for about two years before I had the opportunity to purchase it locally. I purchased this car from John Barlow, collector and organizer of the Socal Vintage BMW group when he started downsizing his collection. Ever since, this thing has been nothing short of an amazing driver, looker and collector car all at the same time. I have decided to also downsize, in order to spend more time and alas money on my E30 M3. I have listed some basic info as well as modifications and maintenance below.

Basic Info:
Year: 1984 E28
Model: Grey Market 520i
Engine: 2.5L M20B25
Transmission: 5-speed manual
Mileage: 166,605 KM
Price: $10,500 w/ MOMO Stars Wheel Setup
Exterior: Alpine White
Interior: Pine Green Cloth / Pine Green Vinyl
Title: Clean Title

Engine & Maintenance:
Late Model E30 M20B25
Super Eta Engine Harness (Plug & Play)
173 ECU
Complete Reseal Minus Head Gasket
Block & Oil Pan Professionally Painted Low Gloss Black
M50 Injectors w/ New O-Rings
New Graf Water Pump
New Gates Racing Timing Belt
New V-Belts
New Timing Belt Tensioner
New Sachs Clutch Kit
New Coolant & Oil Senders
New OEM Intake Boot
New OEM Fan Clutch
New Thermostat
New Bosch Starter
New OEM Engine Mounts
New Transmission Mounts
New Selector Rod Joint
New Shift Carrier Mounts
New Shifter Bushings
New Oxygen Sensor
Ireland Engineering Plug Wires
New Bosch Cap & Rotor
New Spark Plugs

Suspension / Chassis:
XYZ Coilover Kit
Ireland Engineering Camber Plates
Power Flex LCAB's
Ireland Engineering UCAB's
New Center Link
New Idler Arm
New Tie Rods

Wheels / Tires:
Refinished BBS RS-198 Wheels 17×8.5 ET13 Square
~ Original BBS Step Lips & Barrels
~ Polished Lips & Satin Black Barrels
~ Professionally Painted Grigio Telesto Centers
~ Polished/Silver Center Caps w/ White BBS Logo
~ Square 235/40/17 Bridgestone RE-11 Tires

Cabin:
Overall Great Condition
Manual Crank Windows
Manual Crank Sunroof
No Central Locking
OEM Euro Fire Extinguisher
Renown USA "100 Dark" Steering Wheel
Momo Hub Adapter
Era Correct Aftermarket Shift Knob
Sony Aftermarket CD Player w/USB & Aux
Bazooka Tube Subwoofer

Exterior:
European Spec Bumpers & Headlights (Original, of course)
Hartge Repro Front Valence
Candy Red Modified Refinished Rear Tails (Double Brake Light Output)
New BMW Emblems & 520i Badge

Most of the maintenance and modifications listed above were done in my ownership, with the engine reseal, swap and maintenance performed locally by Matt and Shant at Bimmerheads. The car was first imported through Canada into Washington under the 25 year law. Being an early euro car, there is minor rust on the inside of the driver's door by the top corner of the door, as well as the inside of the sunroof panel. Rust is confined to those areas only and hasn't gotten worse since moving to CA. I have photos to send to any interested parties through contact info. Given the age of the vehicle itself, things like notorious cracking of the E28 dashboard, wear on the driver's bolster and missing tools from the toolkit are all things worth noting. This past summer I also had all of the windows tinted to save me from the CA heat with no A/C, fresh tint that is easily removable.
I am not a collector, rather an enthusiast who also owns an E30 M3 which is begging for attention. With the limited space, and time, I am motivated to sell the E28 as I plan out my build on the E30 M3.

This E28 has been in good hands throughout its ownership with the past three owners being enthusiasts who looked after the car. Electronics, although limited, all work and function as they should. With prices of these older German cars quickly appreciating, I am only asking what I have invested into it. Paint and interior, still shine and clean up really well as noted in the photos. Please keep in mind that this is a VERY rare car, and probably the only Alpine White on Pine Green E28 in the states.

Please only contact me if you are very serious, in the market, and ready to buy this example.

Car is located in Los Angeles, CA

Best,
Narek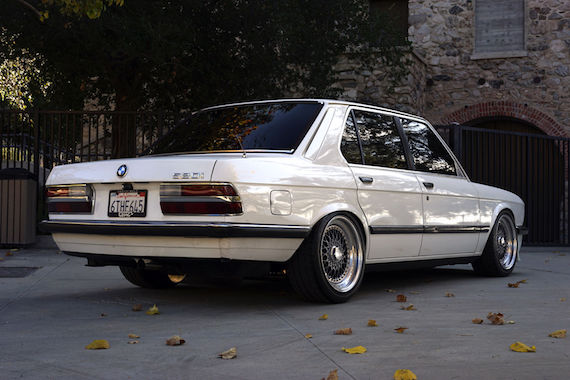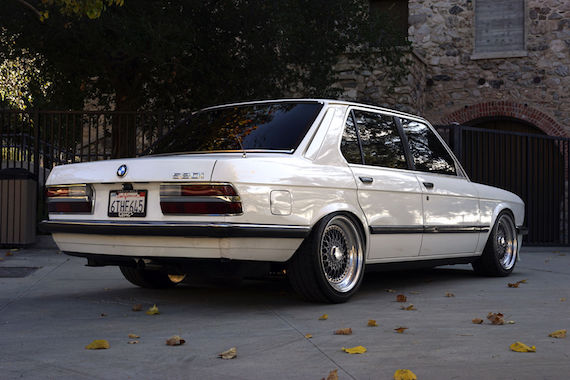 He acknowledges the few issues going on in the interior, notably a ripped driver seat, cracked dash, two small rust spots, and missing trunk tools. Beyond that, it's a very clean E28 blessed from birth with tiny chrome bumpers and big low beams. Since coming out of the factory, it has been given the gift of sweet wheels, show-worthy suspension, and a front valence worthy of a steam locomotive. If you're a diehard Euro fan that wants to brag about how you didn't have to hack up your E28 to look cool, this one has a good history with lots of care. For me, $12,500 is a little high, but I'm not going to tell the deeply=invested seller to change it.
-NR