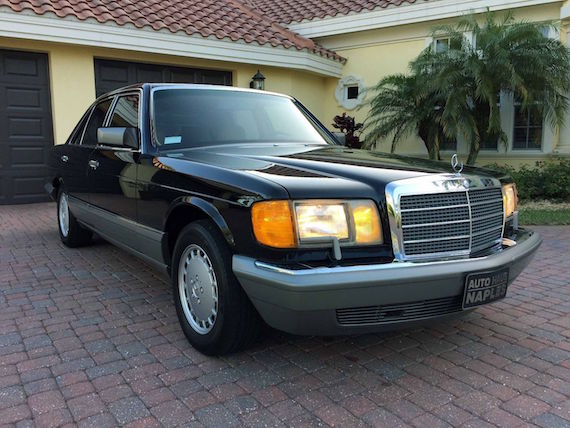 I wasn't an ordinary kid growing up. While most of my contemporaries were lusting after souped up Hondas and breathed on Volkswagens, I had my eyes on another car: the W126 S-class. Specifically, I was a fan of the 300SE. Ever the practical person, I realized that it might be more feasible to run the lesser engined S-class, with its durable inline-6 and slightly shorter length. This 1988 300SE for sale in Florida looks sharp in its black over saddle combination and is showing only 85,000 miles on the clock. With a low starting bid, I have a feeling this one is going to see a lot of action with bidding.
Year: 1988
Model: 300SE
Engine: 3.0 liter inline-6
Transmission: 4-speed automatic
Mileage: 85,744 mi
Price: No reserve auction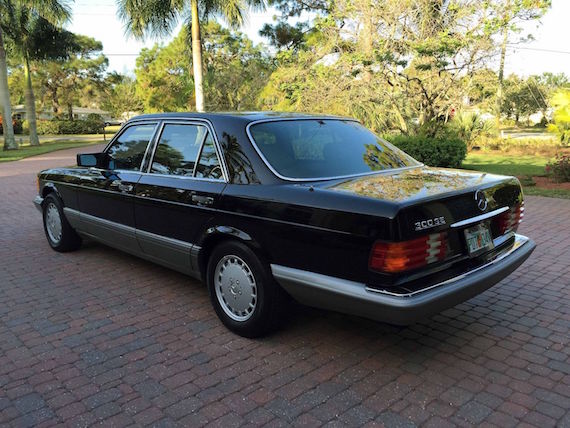 Offered for sale is this incredible S-Class from Mercedes-Benz, a 1988 300SE (W126) in Tuxedo Black with Saddle leather interior. This has been my personal car for the last 8 months or so, and was the result of a long quest to find the most perfect 300SE I could find. I am the sales manager at an import car store (Autohaus of Naples), and am extremely discriminating with the few cars I own personally. Unfortunately, the garage I was keeping it in is no longer available to me, and letting it be stored outside is not an option – better to move it on to a good home. It is being offered with a low opening bid and no reserve – as I said, it has to go.

I purchased this from the original owner, and it still has an open title – free and clear, and in hand. It was sold new in Chicago, garage kept, and stored in winters until 2003 when it was shipped to Naples, FL to be used as a winter car (also garaged). It has never seen a salty road, and has no rust on the body or underneath.

The exterior is all original paint in exceptional condition. It has a few minor flaws here and there, but overall shows better than many cars that are just 2 or three years old – all in all, the finest original paint I have seen on a 1980s era Mercedes. Inside, the leather is in excellent condition, and the dash has no cracks. The wood is nearly perfect, and the very low miles are evident throughout – no wear on the knobs, switches, stalks, seat controls, or pedals. The original Becker radio is till in place, and everything is working exactly as it should.

Mechanically, these inline six models are inherently dependable, and moreso when they've been maintained as well as this one has. The original owners serviced it frequently and faithfully, and I had little to do after buying it – I did put in a new timing chain cover gasket to stop a little seepage, and installed new motor mounts and transmission mounts, replacing ones that weren't particularly bad. The brakes are in great shape, and the Michelin tires, though a bit dated, have good tread on them.

The car comes with all original books and manuals, two keys, and a clear Florida title. Please watch the video I made to get a better feel for this car's condition, and feel confident that you are bidding on the finest W126 that a person who knows what he is doing was able to find. This car is special. If you'd like to talk about the car, call Bill at 239-273-1150.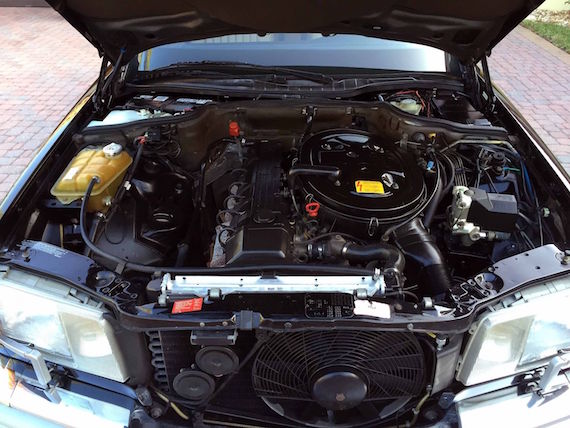 We haven't seen a 300SE appear in our sales archive. The closest comparison we have seen of late was a 1989 420SEL with 45k miles that sold for $13,500 back in the summer of 2014. This seems to be about where prices for decent, but used as intended examples of late model W126 S-classes are landing, right around the $12,000 to $18,000 range. Those extremely low mileage or showroom condition examples have been bringing upwards of $20,000 these days. If someone can snatch this 300SE up for less than $14,000, I'd consider it well bought.
-Paul