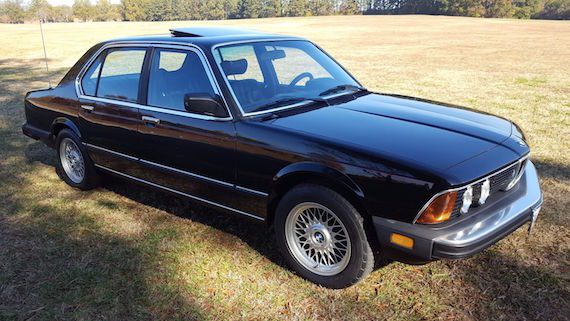 By now we're used to the idea that flagship, luxury sedans should look like bloated warships, with bulbous styling, semi-autonomous aids to insulate the driver from driving, and triple-glazed windows to insulate plutocratic passengers from the hoi polloi outside. But once upon a time, top of the range cars were simpler, crisper and cleaner in their appearance and design and much more involving to drive. Luxurious, yes, but swollen, no. For this reason I've always had a soft spot for the E23 generation 7-series, now near forgotten, especially since so few of them remain on the road and so many of them now rot in junkyards. This one is a nice looking survivor. It also comes with an added bonus: a donor car with a manual gearbox, ready for a swap.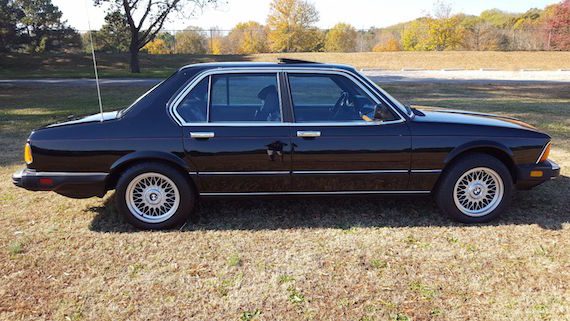 Year: 1984
Model: 733i
Engine: 3.2 liter inline-6
Transmission: 4-speed automatic
Mileage: 210,245 mi
Price: $9,500 Buy It Now or Best Offer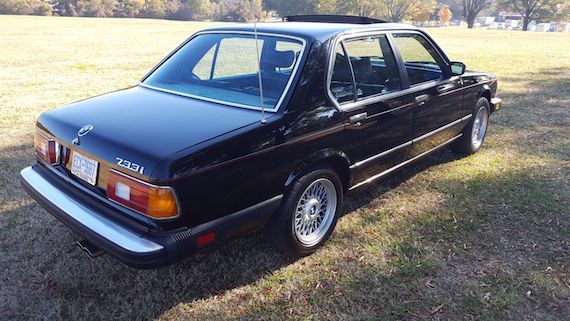 Selling my 1984 733i. Black/Black, 210k, auto (or convert to 5 speed?). Very clean West Coast/Portland, Oregon car now residing in Raleigh, NC. Never any accidents, zero rust, just a clean, straight example of the classic, getting harder to find early 1980's BMW-the famed e23! These special cars are bound to do nothing but increase in value over time. All original except for Pioneer CD player and Magnaflow exhaust. I've spared no expense on this car and have over $6,000 in receipts within the last 6 months from a local bmw shop here in Raleigh, who you are more than welcome to contact, too much to list here. I can tell you this car spent 40+hours on the lift going through everything mechanical on the car, front to back here in 2016, everything from the notorious vacuum leaks on the hvac system to new bilsteins all the way around, newly refinished e38 rims (from 2001 740) to the new tires, fluids, full tuneup, etc. No leaks and the vacuum system works like new. Hot Heat and Cold A/C! Absolutely no fluid leaks, or smoke. The original Pirelli? spare tire has never hit the ground and every tool is still in the trunk. The car has always been garaged. The interior is probably one of the cleanest and well kept around, I'd say an 8-8.5 out of 10. The dash does have a few cracks, but that'd be an easy find for replacement should you prefer to make perfect. I'd say the black paint is a 7-8 out of 10. Overall, a rare example of the classic e23 chassis in great condition and in great condition for a 32 year old car. Clean North Carolina title in my name.

*11/17/16-Please note new photos and the car finally made it to Leith BMW dealership for Front end alignment. Newly refinished e38 wheels/new rubber, and the car drives straight as an arrow.

A special second car included in sale for parts or restoration; a 1983 BMW 733i. A NC car it's entire life, no rust, no accidents, a very straight chassis, manual 5 speed Euro Close-Ratio Transmission, (known as the "dog-leg" gearbox), with an inline 6 from a 1988 735i, "punched out" to 3.8L, Schrick Cam, Stalh Headers, car has complete drive-train, etc. I can put you in touch with the owner that built this car, he bought the gearbox from Switzerland, built the motor, etc..The motor may need to be gone-through a bit, it seemed a bit tired last I saw it run, but it's all there. The car suffered from sitting for a couple of years, which I believe led to it's demise. Approximately 120k miles on motor and gearbox, 168k on chassis, so I don't think it's anything too major.

I picked up the parts/burgundy manual e23 thinking at some point I'd do a 5 speed manual swap on the black car, but 3rd baby on the way and new house force this sale. I'm happy to assist with shipping.
I'm asking $9,500 or best offer for both cars and if you're only interested in the Black/Black car, I'm happy to entertain reasonable offers, and you can text/call to my cell: 919-333-6930 to discuss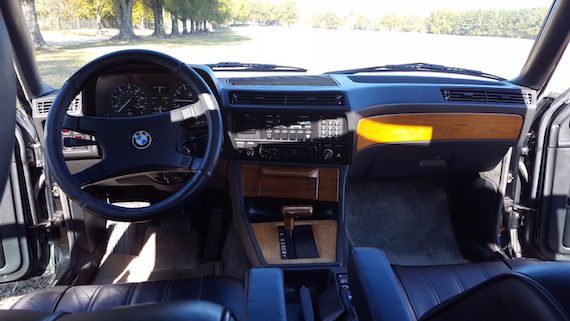 This black on black 733i looks super sharp in the photos. The paint appears to have held up very well over the years – not something that can be said for many BMW paints from the period – and the interior looks remarkably free of the usual litany of faults like peeling door cards and unglued trim pieces (though the seller does note the dash is cracked in places). A set of almost-period correct looking basketweaves from a later E38 set off the exterior very nicely.
Miles are high (210k) though any concerns about this might be offset by the fact that the M30 3.2 liter motor is notoriously robust. While the car comes with an automatic gearbox well suited for Autobahn cruising, the seller is also prepared to include, for the buy it now price, a second 733 with a manual transmission ripe for swapping. For someone with the time and skills (or money) on their hands to complete the project, a nice condition 733 with a manual gearbox is an enticing prospect indeed.
-Craig