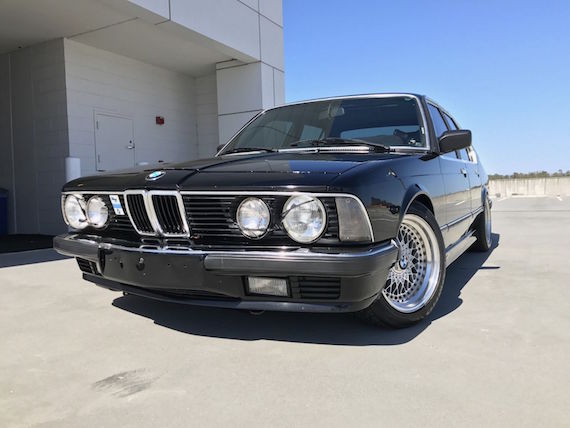 The 745i was the high performance version of the E23 7-series. Produced between 1979-1986, these autobahn stormers were never officially offered in the US. But committed, well-resourced buyers were able to bring them over via the gray market, which is presumably how this one ended up here. Powered by a turbocharged version of the 3.2 or (later) the 3.4 liter M30 inline six – at a time when BMW's competitors were using V8s and V12s – these cars came from the factory with a 3-speed automatic gearbox. But this particular example has received a 5-speed manual swap, along with a whole host of other goodies. I don't normally post heavily modified cars, but this one seemed too interesting to ignore.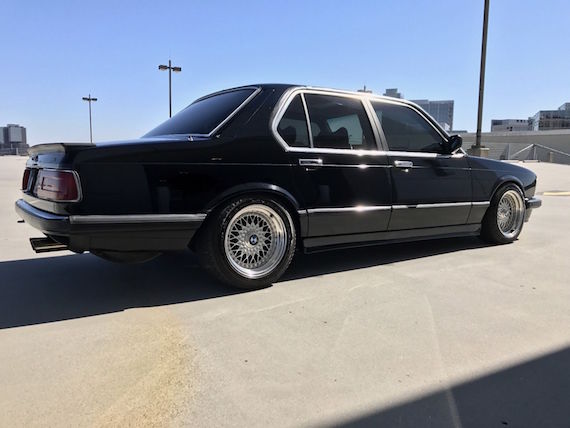 Year: 1984
Model: 745i
Engine: 3.4 liter turbocharged inline-6
Transmission: 5-speed manual
Mileage: 188,500 mi
Price: Reserve auction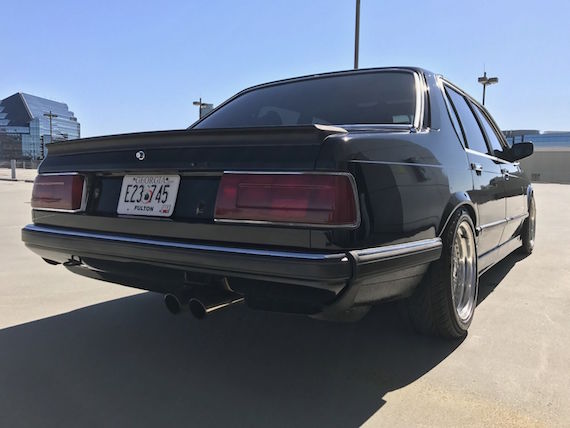 Driveline:
Manual 5-speed Transmission (g265/6)
Clutch Masters Stage 2+
Stainless Steel clutch line
3.27:1 LSD differential
m535 diff mount
AKG solid trans mounts
One M Engineering solid shifter mounts
z4 2.5 short shifter

Engine (350rwtq/300rwhp at 8PSI):
Team 745i adjustable boost controller installed (8-17PSI)
Jarmo chip
Cartech Rising Rate Fuel Pressure Regulator
Walbro 255 inline fuel pump
Custom turbo back 3″ exhaust with open wastegate dump
GT35R wheel in rebuild KKK27
TiaL 38mm wastegate
Forge Motorsport adjustable blow off valve

Cooling:
Low temp aux fan switches
s38 fan on OEM clutch

Suspension:
Custom inverted drift spec coilovers with custom camber plates – 9kg/11kg (500/615)
Bav auto strut bar
Motorsport series 3 way adjustable sway bars 29mm/23mm

Brakes:
Rebuild Calipers
Performance Ceramic Pads
Racing Blue Brake Fluid
Stainless Steel Brake Lines

Wheels:
16×9 BBS RS 075 ET +8 3 piece wheels with stepped and polished lip

Interior:
Racing dynamics steering wheel and matching shift knob
Auxiliary gauges installed in center console (boost psi, water temp, oil temp, oil pressure)
Wideband – AEM 6in1 AUGO installed on dash next to drivers side A pillar
Executive Edition package, with full buffalo hide leather (doors, seats and center console) all dyed black
Rubber floor mats from Bavarian Autosport helped to keep the carpet clean

Exterior:
Euro bumpers, front valence, headlamps and turn lamps
Motorsport series side skirts (very rare)

Stock options that the car came with:
Differential lock 25%
Alarm systems
Therm. insulat. glass green
Rear window safety glass
Glass roof, electrical
non-smoker package
Seat adjuster, electric, with memory
ELECTR.REAR SEAT ADJUSTMENT
Seat heating driver/passenger
Seat heating, rear
Automatic air conditioning
Cruise control

Maintenance:
The whole car has been gone through I have over $40,000 in receipts in a 3″ binder
-HVAC fully rebuilt (all vac pods, heater core, A/C system rebuilt and converted to R134)
-Rebuilt injectors
-Every single suspension bushing (front and rear) replaced last year
-All brake calipers, rotors, pads and front wheel bearings/hub are new
-Tires are new
-New clutch
-All new shifter bushings and short shifter
-All new fuel lines
-Oil pan gasket
-belts
-plugs
-wires

That's just what I can remember offhand… if you can think of it, it's likely been replaced

The bad:
cracked dash (but I have a dash cover on it)
Power steering leaks

The Good:
I have rebuilt a LOT of the running gear
I have all the records of repair/maintenance going back 20 years
Cluster and gears were repaired by PO and all functions work
The engine is strong, smooth and pulls hard
Car was resprayed about 12 years ago with the original Schwartz black
Interior leather was redyed
New set of Kumho tires on all 4 corners
I have washed/waxed/detailed the car as frequently as i can
I have the original instruction manuals in English
Complete toolkit
All electronic switch or function work

I have clean Georgia title in hand and Carfax report.

dyno run:
on youtube under "e23 bmw 745i dyno run"
350rwtq / 300rwhp at 8psi (low boost)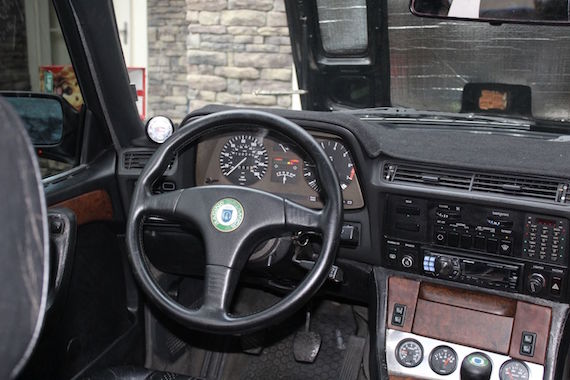 This black on black car appears mean and clean, a look that's aided by the deep dish rims, Euro bumpers, lower than stock ride height and smoked corners and tails. Sure, it'll offend the purists, but with modifications to practically every major system, including the brakes, suspension and exhaust, we're far beyond the purist's pail at this point anyway. The car is said to put out an impressive 300 hp at the rear wheels, which is about 50 more than the stock car puts out at the crank.
The seller lists a lot of recent maintenance, with the only flaws mentioned being a cracked dash and a power steering leak. While the miles are high (188k), the car appears to be in good shape. Indeed, it has clearly been a labor of love. The tricky thing is finding a buyer for such a personal project. At the time of writing, bidding is just under $7k without having met the reserve. It'll be interesting to see what it goes for.
– Craig