Here's a cool piece of e30 history. Check out this Hardy and Beck 327s on Roadfly (143k miles, $10.9k, California):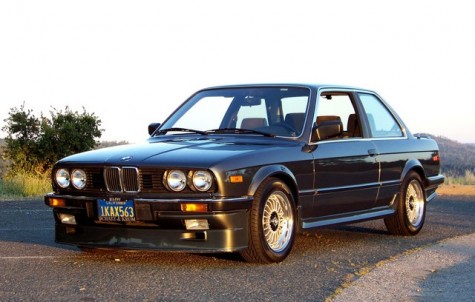 quote from the seller's listing:
1984 E30 327S. – Built Jan 1984 as a Euro 323i 5-speed Euro bumpers – Imported and modified by Hardy & Beck (formerly "Alpina West") in Berkeley, CA in 1984 – this is one of about 12 cars they built – Maybe the only original left – 2.7 bottom end, custom pistons and 323i head, some other performance modifications – Full H&B suspension – 3-piece H&B wheels 15×7 with 205/55-15 – original and perfect delphin grey paint, just clayed and waxed – original BMW cloth sport seats, very nice condition, rear headrests – el. windows and sunroof, A/C – Zender body kit (H&B installed) I bought the car in June this year, and have done the following (by Schatz & Krum in Sacramento): – Timing belt – waterpump – all hoses – new steering rack – control arm bushings – complete A/C overhaul (done by an expensive A/C shop in Auburn) – found and installed the super rare 3-piece H&B wheels to replace the Ronal LS – Italian period correct Dino steering wheel with removable leather center It drives like a dream, very fast (like an Alpina, H&B was named "Alpina West" before). Road & Track tested the car in 2/1985, and recorded a 0-60 time of 6.9s. I have a copy of the magazine. This car needs nothing. Car was serviced by H&B until a few years ago.
I couldn't really find much quality information on Hardy & Beck and their history. Sounds like a pretty small operation that used to go by 'Alpina West' and modified cars with Alpina parts. Gets blurry from there. Anyone have any good information about these guys?
In any event, an interesting car for $10.9k.
dc