Rarity and classic lines can make prices of some vehicles sky-rocket. When most people think of ultra expensive vintage Mercedes the 300SL gullwing springs instantly to mind or they may think of really old models like the 540K. The previously sleeping beauty of vintage Mercedes in my mind is the 1971 280SE 3.5. Several years ago these cars could be had for far less than their almost unbelievable $100,000 to $200,000 sale prices the cabriolets now bring.
With the 28SE, opposite the gullwing, the cabrio is far more valuable than the hard top coupe. So right now non-convertible 280SE 3.5s can be had at a small fraction of the cost. You still can have all the classic lines and purchase a car that, in my mind, is a fantastic investment. Just don't by a hard top with the intention of turning it into a convertible, that sort of shenanigans frowned upon. Beware of nice looking outsides with scary rusty under body.
The 108 coupe body style could be had as a 250SE, 2.5 liter inline 6, 280SE, 2.8 liter inline 6, or 280SE 3.5, 3.5 liter V8. Just over 1000 of the 3.5 cabrios were made and all 280 3.5 models combined totaled less than 5000 during their run.
The similar 112 chassis 300SE is also a place to look if this design appeals to you, but the price of the 3.5 does not.
Here are a couple of nice no reserve examples on eBay of several of these models.
Euro spec 1972 280SE Coupe hardtop
Unique black over red color combo. Mercedes occasionally made black roofed cars (My 1970 250C was black over silver), which added to an illusion of being a convertible, particularly when the windows are all down in the pillarless coupe.  This one appears well maintained. The no reserve and low starting price will guarantee a sale and provide a view of market value. Less than 100,000 miles can be considered low, my 250C ran strong and quiet with 200k. The 2.8 from this era was quite indestructible, (the same can't be said for the later twin cam 2.8 model) and provides a wonderful thrumming yacht/cabin cruiser like sound. Tell me this isn't a pretty car: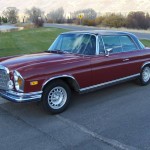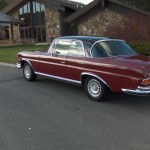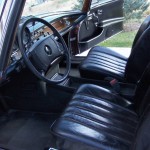 1966 250SE Coupe hardtop with 4 speed manual

German diplomat owned vehicle here so you can be sure it was optioned out. Again another example of the two tone paint job here with cream on top. An amazing 24,000 mile original being sold at no reserve, with a low starting price. Not as powerful as the 280, but the look remains. Interior shows class with wood, cracking can be a major problem, that still looks great and has a working Becker radio.  The four speed adds to this car's already great value.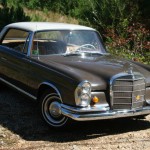 And for the high end a pair of stunning 1971 280SE 3.5 cabriolet models for sale to you at a bargain $139,000 for the first and a mere $175,000 for the second.
Both are restored column shifted automatics, you could get it with a floor shifter which is more fun. Very neat compact V-8.
The movie the Hangover brought these beautiful cars back into the attention of the masses as the ultimate Vegas boulevard cruiser, though the producers insanely thought it was necessary to destroy at least one for the films "intricate" plot to be properly told. Photos courtesy of locutus on fuzzyshot.com: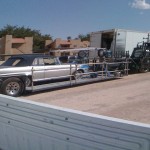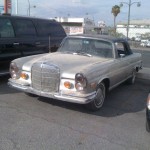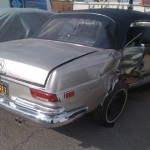 While it is always nice to buy the best example you can afford, Mercedes paint on cars like this during this era can be exceptionally well done from the factory. Finding one that has lost its luster and at first looks sad and faded may be a perfect opportunity for a deal. Spending a good amount of time with a series of correct polishing compounds and elbow grease can yield stunning results on faded Mercedes paints. Check out these photos courtesy of M-100.cc: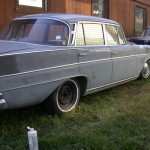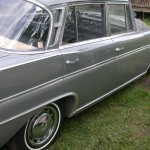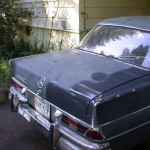 ~Evan