The 1984 Porsche 944 that Pablo delved into at the beginning of this month is back up for sale. Will this early, low mileage example find a home this time around?
The below post originally appeared on our site August 4, 2014:
Pablo, of flüssig magazine, gives us some insight into Porsche's successor to the 924, the 944.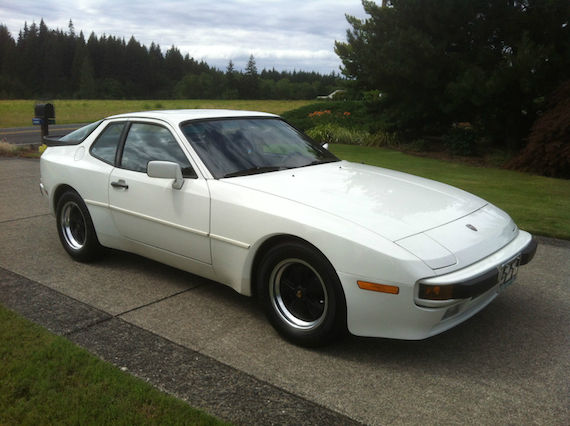 I'm sure there was some sort of deeper logic.
You see, back in 1980, the intention was launch the 944 in the old, scrawny body, of the 924 from which it was born. Here was Porsche, with its engineers standing cross-armed with a slight tilt to their heads staring at a quite successful and beautifully simplistic 924, wondering if she could go on another few years without any plastic surgery. Her body still looked good, it cheated the wind, and all of the tooling for it was amortized and paid for. Why not make use a good thing?
No.
Peter Schutz was having none of this.
As the legendary Dr. Ernst Fuhrmann, to who we owe our first born to for brazenly putting water-cooled Porsches on the map, was stepping out of office as CEO and at the end of that same year, Herr Schutz assumed the reigns in January of 1981. Schutz had big plans for Porsche, but unlike Dr. Fuhrmann, wasn't out to kill the 911. Ferry Porsche liked him instantly for that. When he caught wind of what the plans were for the new 944, he looked at the 924 Carrera GT with its aggressively flared front fenders and muscular rear haunches tacked on and said "this is how the 944 will be styled."
That styling was being reserved for the 944 Turbo due out in '84, be he preferred the normally aspirated 944 to have that "wide-body" look it instead. He was sold on that look. The rest, as the saying goes, is history.
Keep in mind, though, there was considerable debate about what engine would go in. Would it be a V8? Or maybe the bread-and-butter Euro PRV (Peugeot, Renault, Volvo) V6 that was already proven? If Porsche was trying to piss off its clientele, it was doing a damn good job by exploring such "non-Porsche" options.
There was a 924 Turbo engine fitted with twin counter-balancer shafts, an idea pioneered by Frederick Lanchester early in the century and later patented by Mitsubishi, that senior engineer Professor Helmuth Bott, he of 959 fame, really liked. Porsche needed this; they had to finally build their own water-cooled four to shed its VW heritage. They were going to do it with 2.5 liters paired with contra-rotating balance shafts and made almost entirely of aluminum alloys. This was Porsche's first water-cooled four cylinder engine and while the cars were assembled at Audi's former NSU plant Neckarsulm, like the 924 before it, the engines were to be made by Porsche in Zuffenhausen. The LT28 VW engines produced at their plant in Salzgitter served the 924 well, but they weren't going to be missed.
So now that you have the egg, I'll hand you the chicken with this 1984 944 since this particular car is very special for many reasons other than its impeccable condition and low mileage. Before the 944 made its debut in '82, it was tested and proven at Le Mans in 1981 as a 944 racing prototype but entered as "924 GTP" in prototype class. Porsche was very hush hush, trying to keep the press from looking under the hood because underneath it was the 2.5 liter mill destined for the 944 in Turbocharged form with a 16-valve head. Two and a half weeks after that race, the 944 was announced to the world strapped with pedigree. Little did any know that this was forbear to the 944…and to this day, some still haven't a clue.
In April of '82, we got our first 944s. Straight away it was the fastest selling Porsche ever produced. The body was all 924 save for the front fenders, rear flares, and much larger rear spoiler, but underneath the hood was the biggest change. This '84 is, of course, an early car which to some may be a deterrent, but not me. I happen to love Porsche's early models of a series, like the 1978 928. There's a certain purity of the thing, the factory was just getting its groove on building them, so there's lots of little quirks that make them that much more interesting. I'll get that in a moment.
1984 was also the year that the most 944s were made…ever; 26,539 units total with 16,618 obtaining US citizenship. Little changed from 1982 up until 1985.5 so let's focus on the goods the early cars, and this particular car has. Firstly, what's known as the early offset suspension geometry. This allowed use of the very desirable and strong as hell forged Fuchs wheels found on the 911 with an offset 23.3mm. This offset would be on every 944 until 1986, when the offset was changed to allow for ABS in 1987.
This means that you'd be envied with this car since you can sport these Fuchs (later offset cars can't), and the 16″ deep-dish Phone Dial wheels that came on the Turbo. You'd also have steel front control arms that, although oozing with VW DNA, are much easier to service when it comes to ball-joints and cheaper to replace if bent. The aluminum control arms that came out in mid-1985 are less forgiving. Not only are they expensive to replace, at around $500 as of this writing, the ball joint isn't replaceable…so that means when it's shot, you have to buy the whole arm or rebuild the old one. The rear trailing arm was also steel.
The '82-'85 had an external aerial on the fender, a windshield that wasn't flush to the body, you had the Tony Lapine-designed 3-spoke steering wheel that came on the 911 and 928 and cooler seat fabrics like the Pascha checkered pattern found on the 928. Obviously, I can't possibly tell you more juicy bits here because it'll fill a small booklet and is beyond our scope of this article, but you get the gist.
Right, so let's talk about this baby, VIN WP0AA094XEN455021.
The information I got from Porsche is pretty substantial on this car, so I'll just tell you the basics. The invoice date from the factory is December 13, 1983, an early build. The engine Typ, M44/02 with serial number 43E04694, developed 143bhp @ 5500 rpm and was attached (via a torque tube) to an Audi 5-speed gearbox Typ G016K bearing serial number QM30113V, non-limited slip differential.
It left Neckarsulm shod with Dunlop tires, in a shade of VW's classic Alpine White (the build sheet spelled it "Alphine") paint code P1 (L90E) with Interior trim code LU (brown partial leather front). What it didn't leave the factory with is the side protection moldings that are currently slapped on. They look, to be blunt, awful. It's not clear whether the dealer put them on, or a cautious owner decided it a smart thing to do, but look they
completely incorrect. Porsche's nicely beveled moldings don't end at the edges of the wheel well arches looking like they were cut with a butter knife. Moldings from the factory would show up in the build sheet as option code M418 – Side Protection Moldings.
Now for options, they're pretty numerous, but keep your knickers on…they're not necessarily mouth-watering.
Here goes:
M026 – Activated Charcoal Canister
M027 – Version for California
M157 – Three Bed Catalyst Oxygen Sensor and Digital
M185 – Safety Belts 3-Point Front and 2-Point Rear
M190 – Increased Side Door Strength
M218 – License Plate Brackets Front and Rear
M401 – 15" Forged Light Metal Wheels (Fuchs)
M454 – Automatic Speed Control
M464 – Without Compressor and Tire Pressure Gauge
M484 – Symbols and Instrumentation Version for US
M553 – Version for USA, Canada
M576 – No Rear Fog Lamp
M650 – Removable Sunroof
M912 – Without Nameplate
Although the opitons made yawn by the time I read M218, this was what a large percentage of 944s possessed in terms of goodies. Keep in mind—this was Porsche's only entry model in the US since the 924 took a sabbatical in 1982 on our shores not to return until 1987 as an S with the 944's engine. So chances were that buyers of these cars were already at the tops of their budget.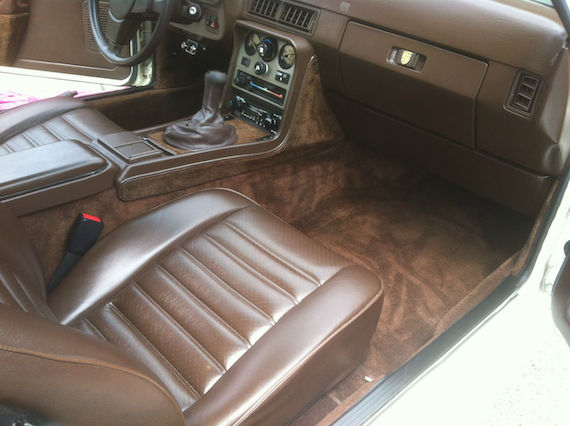 Year: 1984
Model: 944
Engine: 2.5 liter inline-4
Transmission: 5-speed manual
Mileage: 45,125 mi
Price: Reserve auction
Completely original 1984 944 five speed with 45,000 original miles. Enthusiast, PCA member owned. Second owner. Routine service and tune up just completed. Work also completed within the last 3k miles; new timing belt, updated tensioners, crank position sensors, cam seals, belts, water pump, hoses. Radiator and motor mounts have been replaced. Any issues have always been addressed and corrected. Air conditioning. Power windows. Cruise control. Everything works like new. Original paint, no accidents. All original glass. No dash cracks. Dash always covered with dash mat. Sunroof that is pop up or removable. Original factory sunroof storage pouch. Roll up luggage cover in rear luggage compartment is perfect and pulls out and retracts like it should. AM/FM cassette player, power antenna. Factory original tool kit, factory original spare tire with factory original extra lug bolt still in plastic bag, original tire jack. Alarm system with engine disable. Originally a California car, always garaged and covered. Buyer responsible for pre-purchase inspection if desired. Sold in as is condition. Nonsmoker, no pets. Carfax in hand.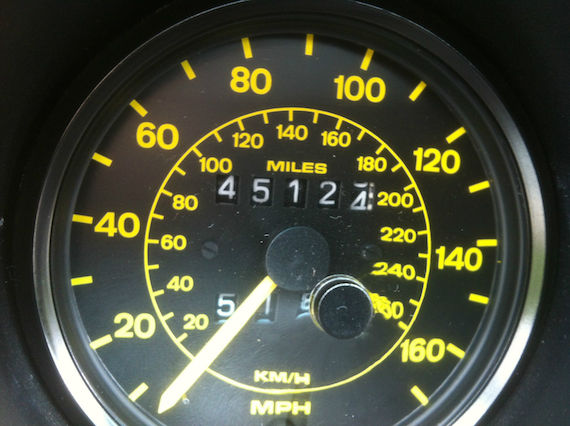 This would be the most PERFECT classic entry-level Porsche for any enthusiast wanting to sample the Kool-Aid from Stuttgart's other neighbor. Slightly lower maintenance, a little easier to work on than the later models, and best of all; it's in fantastic shape…and it has Fuchs wheels. I'd buy this one in a minute had I the space, it's just the perfect little time capsule and, according to Hagerty, their values are creeping up ever so slightly.
The only thing I would ditch, no, scratch that; remove, and sell on eBay, is that silly rear reflector plugged into the spot where the license plate should live. Unless you're a bit thick, vain, or insecure about the fact that this indeed a Porsche and not some rebadged Audi or VW hybrid, you
don't need the word "Porsche" scribbled on its rump T H R E E times. You already have it discreetly etched into the rear spoiler, then emblazoned across the rear under the tail lamps…so there's no need to be a redundant
twit about it.
Now I didn't write all of the minutiae I got from Porsche on this particular car for my health, I put it down so that if you're considering looking at this car, you'll be informed. Hey, you might even be mistaken for a connoisseur of all things 944 with this information. So print it and look smug.
I'll leave you with two interesting bits of information. One, the 944 made Car and Driver's 10 Best List for 1984. And two, the base price of $21,440 in today's money translates to roughly $49,183. Clearly not a cheap date when the average car cost $6,300, the median salary hovered around $12,497, and the average house set you back $110,610.
Put that in your pipe and smoke it.
Here's a brochure from MY 1983: (source: http://coochas.com/porsche/index.html)
A MY 1983 owner's manual (source: http://www.9ss1.dk/porsche944/garage/workshop.html)
For reference, here's Hagerty's valuation guide
In addition, here's a period video for the 944 including a few TV commercials:
Alles gute—
pablo