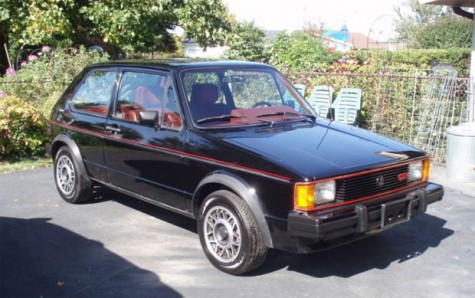 Saw this on the Autoblog feed this morning and my jaw dropped. That's no typo, this car only has 517 miles on it!
:
quote from seller's listing:
This 1984 GTI Rabbit is my father's car. He is the one and only orignal owner. He bought this little slot car in Jan 1985 brand new from the dealer. It was driven home and later driven to CMC Stereo Center to upgrade the stereo to a Blaupunkt stereo and four Alpine speakers, this was top of the line back then. The car was later rustproofed with the LATEST WAX treatment in his garage by a persponal friend. We have ALL documentation. Within two weeks my dad had back surgery. The car sat in his garage for months hoping to fully recover from surgery.Years went by….two more surgeries, 25 years later it is time to sell. He simply can't drive a stick shift anymore.My father had owned a Shell Service station for 50 years, he knows how to maintain a vehicle LOL and is quite the perfectionist.

You won't find a newer GTI like this anywhere. It still smells new inside. It should be in a VW museum somewhere. This car is truly a "TIME CAPSULE". All original, original owner, all original documents, blue car cover in trunk, 515 original miles, nothing needed but a set of license plates. We have put three new batteries in the car over 25 years , second set of tires . We have started this car monthly . All rubber is like new! Everthing is like new. Never driven in the rain snow or anywhere as a matter of fact. We garantee you will not find a newer one than this. the only flaws are a couple of bicycle handle bar nicks ( two small dings , one on front fender and the other on the rear). Nothing difficult to repair. This car starts perfect…….runs perfect ……….looks perfect…..It never sat out in the sun for any ammount of time. New, it sold for $8799.00 it should have held it's retail price. .LOL IT NEEDS NOTHING!!!! But someone to drive it, it handles like a slot car. I owned a similair one 18 years ago, they are a blast to drive and carve the curves like a true sports car.
There is quite a spirited discussion in the Autoblog comments and also a 4+ page thread on VWVortex about this car and what it's worth. I can see both side of the argument. Where do you think it will end up?
dc