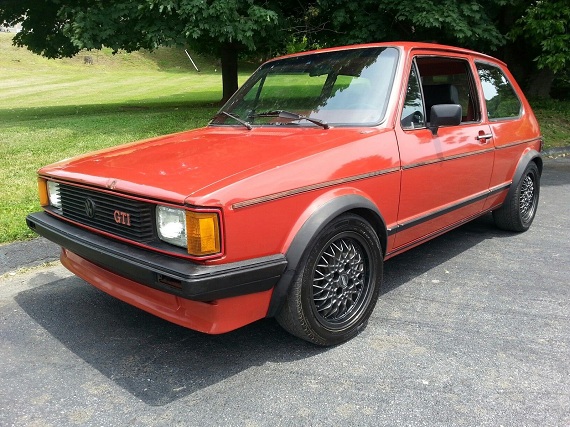 There's a "meme" circulating the halls of the interweb that strikes particularly close to home for me. It depicts a few images of cars – the first one being a total loss, and the last one being absolutely mint and perfect and the description reads "How I view the dent on my car" under the wrecked image and "how my friends view my car" under the mint condition photo. It's true; all three cars that live at my home are generally considered by many to be "ridiculously" clean, but I can tell you every nick, scratch and dent on all three without even leaving this computer. I'm guessing I'm not alone and that some of you also have the same "problem", but if not please let me know and my family will be happy to commit me. Either way, when I see this 1984 GTi, my initial response is thrill over such a great looking example – until I see that dent on the hood. Now, it's all I can see. I can look at the back of the car and still see it there, as if I'm some sort of demented used-car Superman with dent-ray vision. It's sad, because otherwise there's a lot like with this GTi: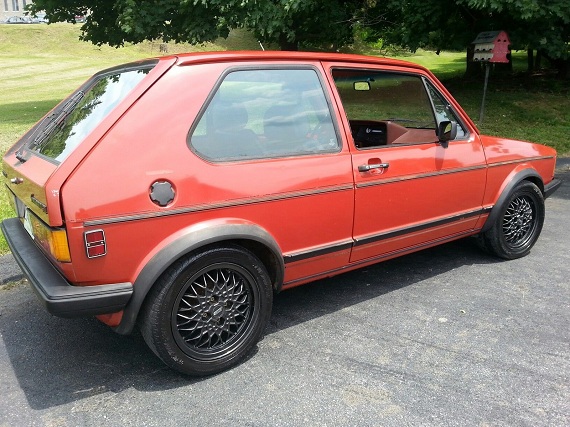 Year: 1984
Model: GTi
Engine: 1.8 liter inline-4
Transmission: 5-speed manual
Mileage: 90,399 mi (TMU)
Price: Reserve Auction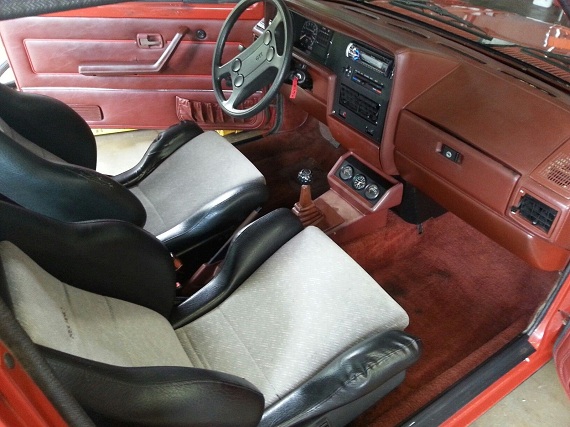 This is an unbelievably clean 1984 Rabbit GTI with all original paint. Runs, drives and looks great. Currently tagged and being driven. No Rust at all!

Red on Red with No Sunroof. Black and Grey Recaro's and 15 inch BBS wheels are OEM VW from a MK2 Jetta GLI.
The odometer is broken, which is common on these cars. Speedometer and all lights work, tachometer works 10% of the time.

So here it is, my dream Rabbit GTI up for sale. I have been looking for a rust free Rabbit GTI for some time, and couldn't believe it when I found this one in Pennsylvania. I bought it earlier this year from a fellow VW enthusiast. The only reason it is for sale is because a car I've wanted since 2005 is now available, and I can't afford both. This is an amazingly well kept example that will increase in value if kept properly. It came with the Recaro seats, BBS wheels and euro bumpers. Otherwise it is stock. If the buyer would like, I will include 2 very nice original red GTI seats. I bought them to put it back to original, but really like the Recaros.
Since I bought it, I have done an oil change, air filter, coolant flush, Timing Belt, Water Pump, Thermostat, Alternator, Valve Cover gasket, AC Delete, Coolant pipe and all connecting hoses, temp sensor, preheat hose and a shifter bushing kit.
Also, some trim items, such as a new headliner, 2 rear hatch struts, hood release handle and cable, correct lug bolts, wiper blades, bulbs, etc.
The car has no rust greater than surface rust. It seemed unbelievable to me too, but its true. I've had it on a lift, and been ALL over and under it. No rot anywhere. And the paint is 100% original. Every panel, so no accidents, and nothing hidden. The paint is far from perfect, and has dings and chips on all most every panel. The worst is obviously the edge of the hood. I care more about original paint, so I had no intention of fixing it.
A few minor things I haven't gotten to- Needs a drivers CV boot, boot included. Drivers front turn signal doesn't work, I will include a new socket to be wired in. While you're there, wire in the euro bumper turn signals, purchased from MK1 Autohaus and included with sale.

This car is listed with a very reasonable reserve. I reserve the right to end the auction early as the car is for sale locally. Please ask any and all questions BEFORE bidding! Car is being sold as is, where is. Thanks and good luck.
My 1984 GTi experience wasn't really all that great, to be honest. But, I did find my car in a field, rotting away, and tried to save it. Here's a hint to save some money, time and frustration – just buy this one. Overall condition on the car is certainly good enough to have a great looking driver; I like the BBS RA GLi-spec wheels, and amazingly the color even works in my mind though I'm usually not a fan of dark wheels. The seats look comfortable but also out of place to me, but originals are included and that's bonus since they look clean. The modifications are subtle but make a huge difference; the car sits lower than stock with Euro bumpers and slightly larger wheels, giving a much more purposeful look than the stock U.S. spec. I'd expect this is likely a $5,000 car in today's market, and for that money this car will generate lots of smiles for sure. Drive it with aplomb, and despite my fixation, don't fix that outside unless it's causing a problem. This car has the rough and ready character that is exactly what made the GTi so appealing.
-Carter