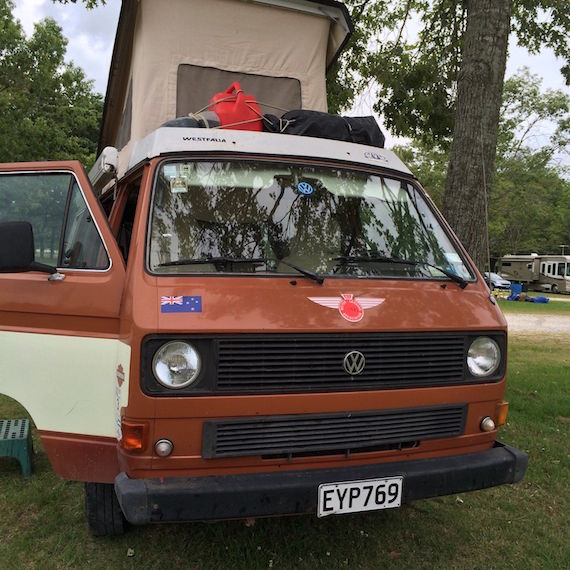 I'd imagine all Westy buyers imagine themselves picking up and traveling the world in their van, adventuring and accruing a healthy stash of stories. Most probably end up lucky to get the occasional overnight, lugging the pop top to sailing practice. The previous owners of this van have lived the dream, the first taking the van from Florida to Britain to New Zealand as he moved. The sellers then shipped it to Chile, where they drove it up the Pan American Highway to the northeastern US, where it currently resides. The seller is hoping for $12k but hasn't seen any bids at the opening $8k. Perhaps it's the conflicting info in the description versus the data frame; the difference between 100,000 miles and 1,000,000 seems worth clearing up.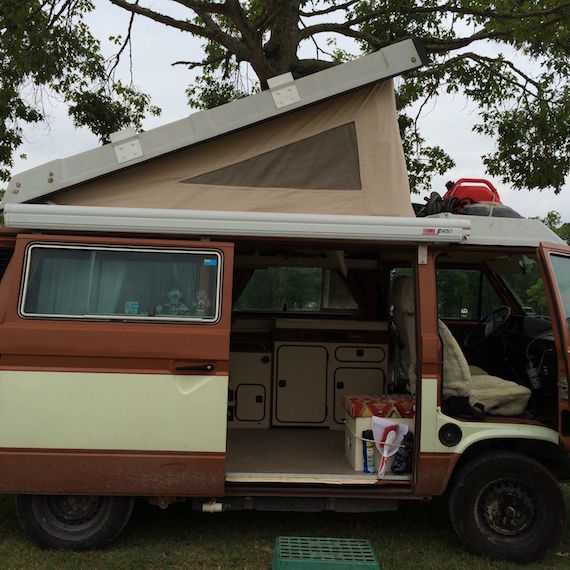 Year: 1984
Model: Vanagon Westfalia
Engine: 1.9 liter flat-four
Transmission: 4-speed manual
Mileage: 100,000 mi
Price: $12,000 OBO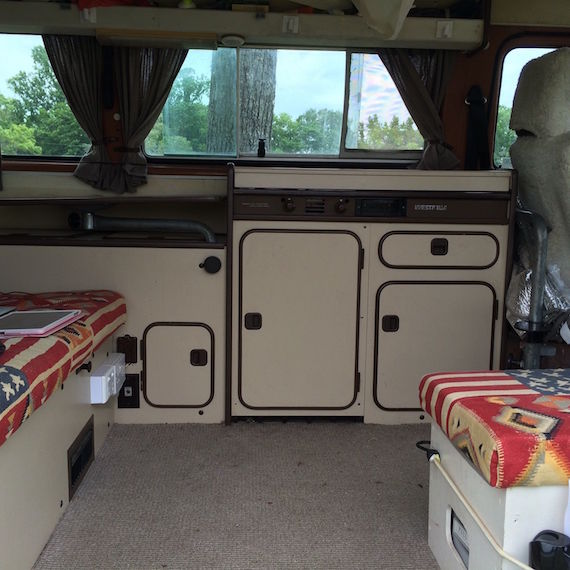 Here we have a wonderful example of this popular Westy .It has just completed the Pan Smerican Highway from Chile to New York, after being shipped from NZ in Jan 2016.if not sold it will be shipped to the UK for further travels in Europe.
1900 cc water cooled engine just ticked over 1000000 miles. Regular oil changes and filter changes en route.Motoe runs extremely well. GEarbox reconditioned prior to commencement of this trip.Body work showing its age PInt work crazed in some parts and small rust spots around front window.
Extra include : bike rack for 2 bikes
FIamma F 45 s awning
2 camping chairs.
Air conditioning and radio
Shower tent and solar shower ,extra icebox,sub ports,porta pottie.It is a fully self contained camper for freedom camping whenever one needs or wants to.spare petrol tank 20l.
Fridge runs on 220 /110 v plus 12 v ,sheepskin car seat covers for front seats.
Original seat coverings, curtains and carpet still in use. Except for front window curtain.
Some spares and tools, along with all kitchen and cooking equipment included in sale.
Vehicle currently registered in New Zealand but it is easily changed to USA registration.
The van willbe in New Hampshire by end of May for viewing.Currently in Washington DC and heading north.
This van started its life in Florida in 1984 It then went to the UK and when the owner emigaretd to New Zealand he took the van with him.WE purchased it and shipped it to Chile and drove it up to the USA where it is now offered for sale. IT is LHD.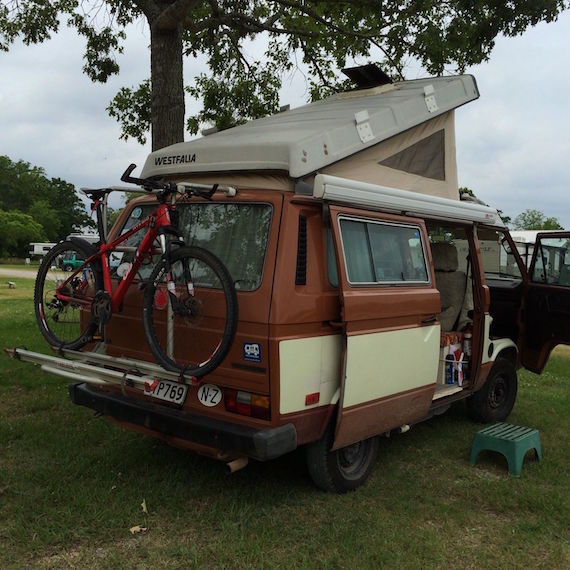 You can be the next author for this travel journal containing many full pages but plenty of blanks as well. The work of the other owners is enough for some great conversations as it will surely attract plenty of attention. Any Vanagon should come with an expectation of imminent maintenance needs, but at least this one has proved that it's truly a worthy world traveler. I'd be surprised if it can't find a new intrepid captain.
-NR