A while back I wrote up a very interesting Taiga Green 535is that had a lot of miles but was still an eye-catcher. Today we have a similar situation – a passed-down E28 with a lot of miles but also a lot of love, resprayed in an attractive viridescent hue. It's a little scary when you look underneath, but if you keep your eyes up you'll find a clean E28 that looks great in a unique color with shadowline trim and a black interior. If you believe the seller's history and are ready to continue stewardship (i.e. fixing endless little issues) on this classic, it could be a good looker for the money.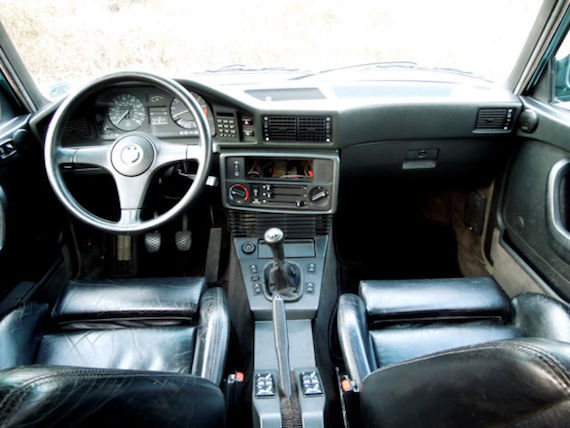 Year: 1985
Model: 535i
Engine: 3.5 liter inline-6
Transmission: 5-speed manual
Mileage: N/A
Price: Reserve auction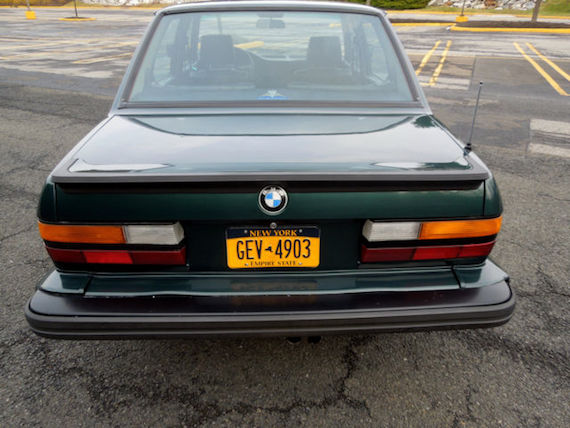 Up for sale is one of my personal cars. All of the cars that you might have seen in the past are for clients but this is my own car so know it VERY well. The story, this car has been owned by a friend and around me for about 20 years. It had always been very well maintained. I have 20 pages of all sorts of work that was done dating back to 1993 with totals of over $11,000. About 12 years ago it was forgotten and left in a garage in Bedford, NY and not driven much just fired up to keep the motor good. Friend called and said "I know your a car nut, do you want my 5 series". Being I love these and knew the car history back 20 years, it was a must. I went to see it for the first time in 15 years, it looked sad, dirty, barn find of sorts, wish I had a picture for you, flat tires, muffler rusted off and on the floor, filthy dirty. Car was running but needed A LOT of work to be road worthy again. I then spent over $6,000 to bring it back to life (have all records of work done) as it needed all new suspension rubber, major tune up and a lot of sorting out. It had been re-painted 20 years ago with an updated color, an amazing looking BMW metallic green. First thing I did was wash it off and polish it, the car looked great once again considering it has the same paint job you see here today. It was done very well, all the jambs, color matched filler panels, blacked out bumpers and all trim. That's how I came to get her and below will go over what I've done within the past 10 months.

New gas tank, both fuel pumps, value adjustment, belts, tune up, oil, rear dif oil changed, trans oil changed. All rubber, thrust bushings, sub frame bushings, center carrier bearing, rotflex, support rod bushings and clutch slave. Anything rubber after 12 years was shot. After all this was done in April of 2013 I was able to start driving it again for the first time in 12 years! I put about 1,000 miles on it and made a list of a bunch more items that needed fixing after having some miles put on it. Tach / speedo not working, brake light out, fog light out and a few other things that all got fixed. Car has never been hit hard that we know of or that I can find and is once again running and driving great. I have now driven the car about 3,000 miles with no issues. She runs and drives just great for a car with so many miles and 29 years old. It has a Dinan chip so pulls real nice and a set of comp springs so lowered and handles great.

The items that need some attention or can be left alone depending if you just want to have as a driver. The old dash cluster tach wasn't working, had shown 262,455 when I got it, what I think the car has on it and based on all records dating back seems correct. Replaced it with another unit so tach / speedo now working but not the odometer and shows brake/ABS/brake lining light. Had all checked and nothing wrong with brakes, I think the new used cluster is off a bit as well or needs work, this unit showing 236,000 ish. I hit the front spoiler on a curb stop so has a line crack running across bottom center 8 inches, cant be seen from 2 feet away and I touched up. The car has some rust, little spot on front right fender, some way down on the rockers and looks worse as your seeing the under coating peeling as well, small spot on front right shock tower and one inch spot on right front sub frame rail, neither an issue at this point and an easy fix. It had some crazy $5,000 stereo put in years ago (sub woofer box, amps) but I didn't try and get it working and not working at this time but all there. Has 8 way power seats, not all positions working but up down and back and forth do. BBS RS 3 piece, need cleaning up, see them out there for $2,500 — $3,000 for a done set so cant get hurt having them on the car, car also needs tires.

I do my best to be upfront and honest about all. Don't let the negative items or the miles scare you. If your a BMW person then I don't need to tell you, if not, be aware these cars go forever and are just great. This car is a great driver as it sits now or entry level classic. If you take on doing the balance of the work needed you will then have an even better car that will only go up in value as these are becoming collector cars. The car can be driven as is, I am still driving it 2-3 days a week and just haven't had the time to fix the stereo or front spoiler and not ready to have someone tackle the rust. The engine bay needs a good detailing – hood pads, the dash pad has cracks but overall the balance of car and interior is good.

Final thought, if your looking for a 100 point show car this is NOT the car for you, but, if your looking for a really great looking car that is running and driving great for a good price that has been well sorted out then maybe this is the one. I think the cars condition speaks for itself and the miles on it at this point of it's life really don't matter. If your a car person (or not) and willing to give it a bit more TLC and do the little more needed it will be a great great car for many more miles and years.

Please see our 100% feedback on many big dollar items. No games here and always do our best to represent a car. We also welcome your inquires if your looking to sell a car or a collection. We have a huge network and in many cases can sell cars before going public with it. Call with any other questions 7 days a week until 10PM EST Richard 646-477-8004 We welcome pre purchase inspections done by anyone of your choosing. We have financing options as well as free pick-up from NY metro airports. Arrangements for low cost shipping directly to your door are also available, International buyers welcome. Remember to "LIKE" us on Facebook to keep up on our new listings. Just search All Things in Motion.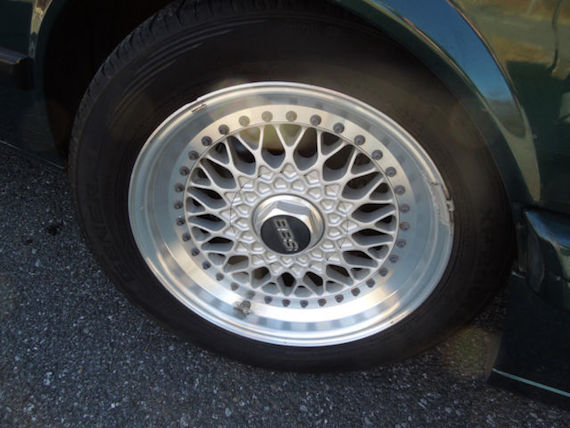 The condition of the undercarriage after a few hundred thousand miles is the main concern here, but it has some really nice pluses that balance it out as an interesting E28 proposition. I'm excited to see what the next interesting green we'll find a well-traveled 535 in, and hope that someone enthusiast buys this and continues the long line of love and life-support. At the same time, I can't see it being worth much more than the $5k it's been sitting at, reserve on.
-NR