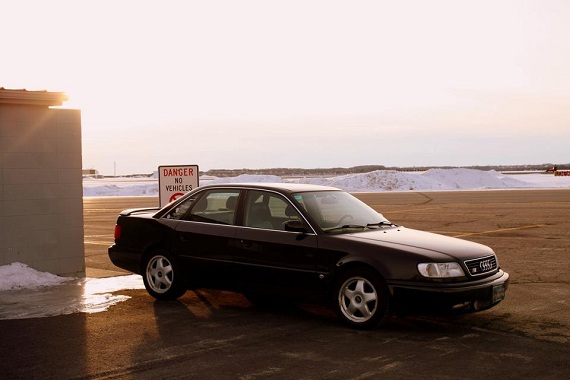 If today's 5000CS quattro Heap of the Week got your hopes up for older big Audi ownership on a budget, this S6 should get your blood flowing as well. That 5000 was going to need a lot of work to get it into shape, and in the post I suggested you could get a later 200 in better shape for less than it would cost you to resurrect that 5000. Well, here you go; an even more recent and arguably more desirable last-of-the-run 1995.5 Audi S6 in similar black over black: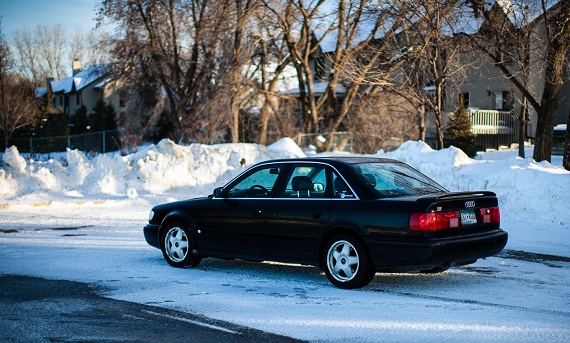 Year: 1995.5
Model: S6
Engine: 2.2 liter turbocharged
Transmission: 5-speed manual
Mileage: 278,000 mi
Price: $3,900
$3900 obo.

This car has all the desirable 95.5 S6 features such as 3 spoke steering wheel, strengthened 1st gear transmission, windows close with key, and updated Bose Delta stereo with 6 disc CD changer. 4x heated seats front/rear. Bulletproof 2.2l, Five-Cylinder, 20v Turbo engine and 5 speed manual transmission.

I have owned this car for going on nine years and it has been a dependable and fun to drive car on the street and track. It just turned 278k miles. It has been maintained to be a reliable and comfortable daily driver. Air conditioning works, all four heated seats work, cruise control works, fan does NOT squeak. These things are commonly broken on an Audi of this age but they have all been fixed by me. This car was previously a California car and the underbody still cleaner than one would typically expect from a 19 year old Minnesota car.

All maintenance and work has been done by Anderson Motorsports, Imola Motorsports, Stellar Autoworks, or by myself. I have a stack of receipts going back to the original owner that is included in the sale.

This S6 would make a reliable and relatively inexpensive daily driver for the enthusiast or a good basis for a big turbo project for the fanatic. This is the most capable Audi you can buy for the money.

I have a clean Carfax report I can email you, it shows the most recent major work done in 2011 in the report.

Specs:

Engine
MTM Stage I+ chipset. 280hp, 340ft-lbs.
VMAP-D, 4.0 bar version (set to 2.8 bar)
EFI-Express "Tom & Marc" FMIC
Samco silicone boost hoses
1.8T Coilpack conversion
N75J "race" valve
710N DV
Gutted cats

Interior
Autodim rearview mirror from B5 S4
Custom aircraft style boost gauge integrated to the instrument cluster
Hardwired for Valentine 1
Front 3 position map lights added
Leather interior is conditioned twice annually with Zymol leather cleaner and Zymol leather conditioner. No rips or tears.

Exterior
H&R Springs, Bilstein Sport shocks
Fuchs 16×8 ET40 forged aluminum wheels. Lightweight and strong!
General Altimax Arctics. good tread for another 2 or 3 seasons, 205/55R16.
55 watt, 4500k HID Kit by DDM Tuning.

Maintenance
Shell Rotella 5W40 oil + factory filters every 5k.

2013: New air filter. Entire car buffed and polished. Interior carpet steam cleaned. Power steering pump X-plug & seal.

2012: 5x new coilpacks, 5x new spark plugs. New HVAC blower motor. Ignition switch. Ultrasonically cleaned & refurbished fuel injectors. Turbo coolant return line.

2011: 240,999 miles: New timing belt, valve cover gasket, thermostat, front crank sprocket, alternator, front-left wheel bearing, Hawk HPS brake pads & brake rotors. New O2 sensor. New Redline MT90 and 75W90 trans & rear differential oils. Interstate Battery

2010: Cruise control fixed.

2009: New front control arms, strut bearings, factory rubber brake lines, fuel filter, DDM Tuning 55w HID kit, new fuel filter, driver's side seat heater fixed

2008: New radiator, new rear tierods. Camshaft Position Sensor (CPS aka Hall Sender). New Heater core valve. B5 S4 afterrun waterpump. Engine block coolant flange.

2007: New Sachs Sport clutch @ 167k, timing belt, Redline MT90 and 75W90 trans & rear differential oils.

2006: 1.8T coilpack conversion.

August, 2005, I purchased this car at 131,xxx miles from Orange County, California.

Pictures:
I have lots of additional photos available upon request.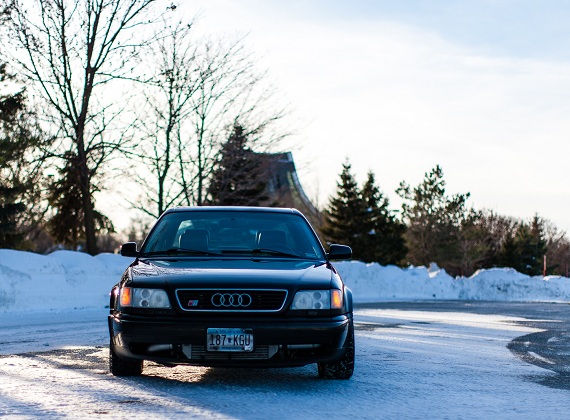 First off, this car looks fantastic in spite of the nearly 300,000 miles. The black paint shines well and the interior doesn't look overly worn. This model has the preferred and light Fuchs-made 16×8 5 spokes that appear to be still in good shape and are running meaty snow tires. There are a host of upgrades present, including items that will improve driveability as well as performance. As a package and under $4,000, this pretty much unbeatable in terms of value and performance. Sure, it's not a collector car with all of those miles, but you could drive and enjoy this car for many miles to come – and isn't that why we're all here? Throw a V8 torsen rear differential in the back and get to a frozen lake for some fun!
-Carter