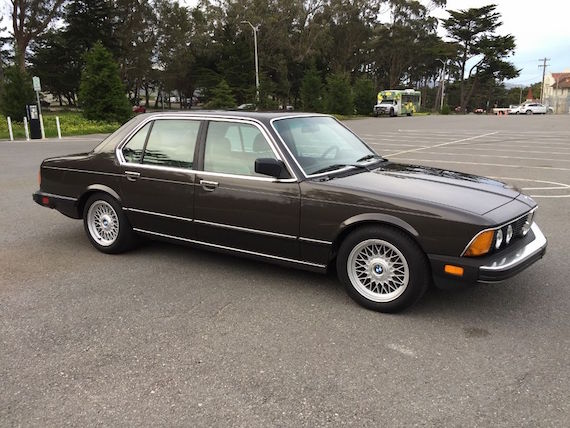 The E23, produced between 1977 and 1987, was the first iteration of the 7-series. It set the standard that BMW has followed, more or less, with each subsequent version of its luxury flagship. Large, comfortable, conservatively styled and packed with the latest technology for the time (ABS brakes, an onboard computer, electric seats and climate control, for example), these autobahn cruisers were for those who had arrived but couldn't quite afford a Mercedes, or preferred the driving dynamics of a BMW. Sadly, very few have survived the ravishes of time and they're quite a rare sight on today's roads. And that's a shame, because these are truly very handsome and classy cars, sharing a lot of styling cues with the gorgeous E24 6-series, including a sharply raked, shark-nosed front end. So it's refreshing to come across a low-mileage, nicely kept example like this one.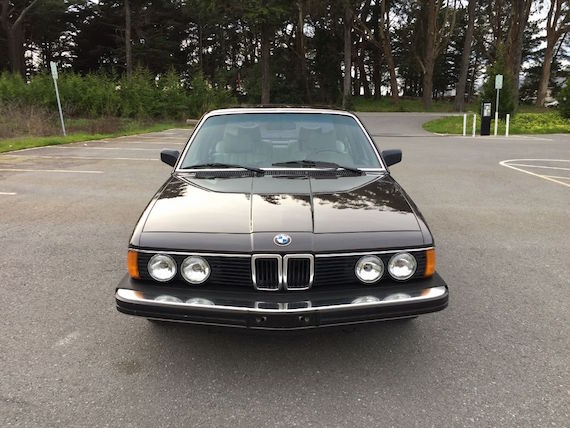 Year: 1985
Model: 735i
Engine: 3.4 liter inline-6
Transmission: 4-speed automatic
Mileage: 84,000 mi
Price: Reserve auction with $10,250 Buy It Now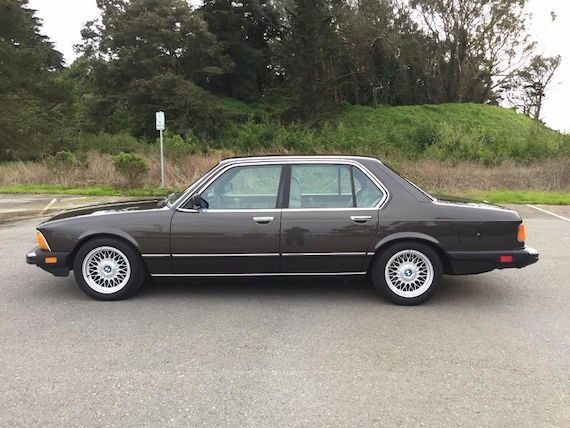 1985 BMW 735i – USA

VIN#: WBAFH8402F0970286
Transmission: Automatic Transmission
Color: Zobelbraun Metallic – 196
Upholstery: Perlbeige Leder – 7206
Production date: 1985-02-01
Options:
S290A – BMW Light –Alloy Wheel Star Spokes 44
S415A – Sun-Blind Rear
S458A – Electric Front Seat Adjustment
S551A – On-Board Computer II with Remote Control
Description:
This is a very original low mile survivor BMW E23 735i with only 84K miles from new. There is zero visible rust and the paint appears to be about 90% original showing no clear coat failure. Only the rear doors and lower passenger door show evidence of non-factory paintwork. However, the color and texture match is good and it is unnoticeable at first glance. All the glass has the original BMW logos and is in great shape. The car does have some minor dings that can be easily fixed with paint-less dent repair (PDR) to be perfect.

The interior is completely original (aside from the new radio) and is in exceptional condition for its age with supple leather seating showing very little wear except for a tear in the driver side bolster. The HVAC system is fully functional with cold AC and all electrical equipment and accessories work with the exception of the cruise control, power radio antenna and an intermittent driver seat recline mechanism that seems to work fine in warm weather. Carpets are very clean but have some scattered spots that can clean up. All interior wood and plastic is in great shape aside from some chipped away wood over the center console storage bin and a few minor cracks in the dash. The headliner is as from the factory, but is showing its age. The rear sunshade is near perfect showing minimal usage.

Mechanically, this car is very well sorted. It starts easily and idles smoothly. As expected, it drives like a low mile BMW E23 should; solid, comfortable and quiet and a joy to drive on the highway cruising at high speeds. New lowering springs and performance gas shocks make the car surprisingly agile. It handles very well with a nice supple, controlled ride.

Within the last 5000 miles: (by previous owner)
– New valve cover gasket
– New oil ramp banjo bolts
– Valve adjustment
– New battery
– New Bosch ignition coil
– New Bosch spark plugs and wires
– New Bosch distributor cap and rotor
– New Bosch oxygen sensor
– New fuel pressure regulator
– Oil and filter change
– New throttle gasket
– Cleaned throttle body
– Flushed power steering fluid and changed filter
– New OEM throttle rubber boot
– New vent hose
– New rebuilt hydraulic brake booster
– New ATE master brake cylinder
– New brake pressure accumulator
– New FTE brake lines
– Brake fluid flushed with Pentosin
– New Brembo brake rotors and pads
– New SKF front wheel bearings
– New pitman arm bushings
– OEM BMW E38 BBS 16″ wheels with new 215/55VR16 tires
– 4 New Pioneer speakers
– New JVC stereo CD head unit

Within the last 3000 miles:
– New straight pipe center exhaust section
– New rebuilt AFM
– Pressure wash & steam cleaned engine top and bottom and full undercarriage
– New driveshaft
– New drivebelts
– New Bilstein gas shocks and struts: Sport (F) & HD (R)
– New H&R lowering springs
– New OEM front and rear strut mounts, spring pads, absorbers, gaskets, guide supports, etc.
– New rebuilt AC compressor, AC expansion valve & R134 refrigerant
– Oil change (Castrol GTX 20W50) & OEM oil filter
– New magnetic oil pan drain plug
– Wheel alignment
– New Bosch OEM main fuel pump and Mahle OEM fuel filter
– New soft fuel lines
– Auto transmission service; fluid, filter & pan gasket

Recommended:
– Engine shock absorber mount
– Gas tank evaporator canister hoses
– Sunroof Seal gasket
Included:
– Misc. spare parts
– Original factory metric alloy wheels
– Original factory radio/cassette stereo head unit in working order
I am unable to post a photo album link at this time. If you would like to see more pictures please contact me via ebay messaging. Thanks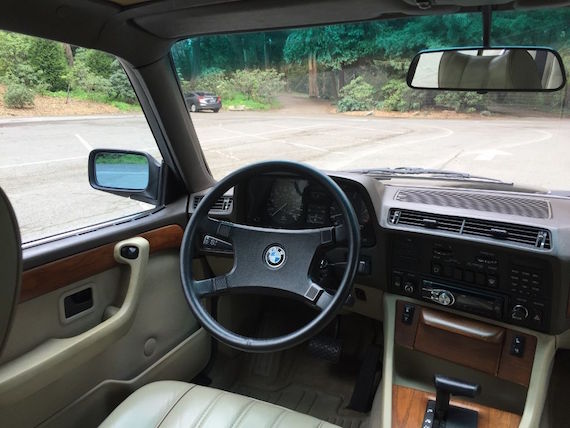 This 735i with 84k miles on the odometer is powered by the venerable 3.4 liter M30 engine and sits slightly lower than stock owing to some new suspension parts. It comes in a lovely, period appropriate color combination of Zobelbraun (Sable Brown) Metallic over Pearl Beige leather. The exterior looks excellent, though the seller does mention a couple of minor dings and points out that the rear doors have been repainted as some point. The 16″ wheels from a later E38 are a nice upgrade (especially since tires are hard to come by for the original metric-sized TRX wheels) and remain in keeping with the overall look of the car.
The interior looks good too. While not mint, the imperfections seem relatively minor and are limited to a few cracks in the dash, some marks on the carpet, a worn headliner and some chips in the dash wood. All electrical accessories apparently work correctly, with the exception of the driver's seat adjustment which is said to be a bit temperamental.
A good deal of recent maintenance is listed in the ad, including a general plugs/wires/cap tune-up, fluid flush and a suspension overhaul along with some other odds and ends. I guessed from the ad that the seller might be an enthusiast, and sure enough a google search yielded this thread over at myE28.com. Over there, the seller has posted the car with a sightly lower asking price than the eBay reserve. This seems like a neat, clean and well sorted E23 ready for its next owner.
– Craig